1U 2Post Cantilever Shelf 7in Depth
Great for Mounting Small IT or AV Equipment in a Rack
Mount in 2 post or 4 post racks
Fits most 19 inch EIA standard relay racks
Vented option to help airflow
Choose angle of the flanges to suit your equipment needs
Compatible with round, threaded or square rack holes
Made to Meet the Highest Standards
Made in the USA from high quality 16 GA steel
Weight Capacity: 30lbs (14kgs)
Slots for optional equipment straps
Over 20 years in the server mounting industry
Want something more versatile? Check out our configurable (opens in a new tab) version.
See "Additional Information" for Technical Specifications.
A Small, Cantilever Server Shelf Built for Mounting IT Equipment
Whether it's routers, switches, AV equipment, or small computers, this rack shelf can keep them secure in place. With a weight capacity of up to 30lbs, this shallow rack shelf easily supports IT equipment with a 7 inch depth.
Choose Between Different Designs
Vented shelves allow for more airflow and heat dissipation. Choosing the flanges up option ensures that the equipment won't slip off of the rack. The flanges down option allows more access to the front of the equipment.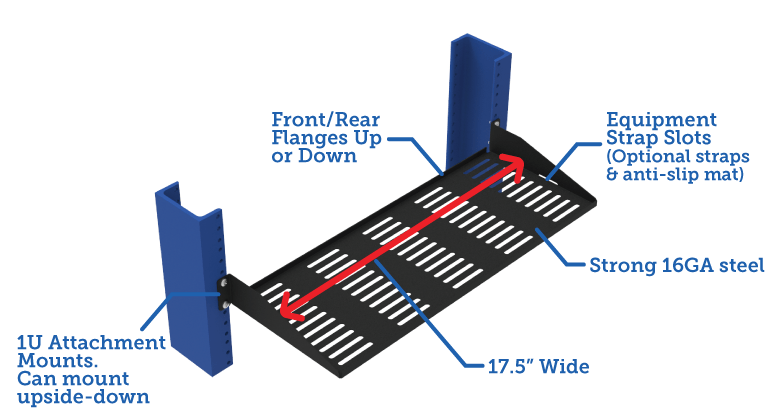 1U Cantilever 2 Post Rack Shelf Features
RackSolutions 1U Cantilever 2 Post Rack Shelf is available vented or solid with flanges up or down.
More Information
Country of Manufacture
United States
Included Hardware
1USHL-022HALF-7UV | 1USHL-022HALF-7US | 1USHL-022HALF-7DV | 1USHL-022HALF-7DS

Assembly Hardware:
(1) Shelf
(4) 10-32 Pan Head Screws
(4) 12-24 Pan Head Screws

Dell Part Number
1USHL-022HALF-7DV - A0445188
1USHL-022HALF-7US - AB291549
1USHL-022HALF-7UV - A0762056
For a full list of Dell SKUs setup in the Dell ordering system visit our Dell SKU page.
Synnex Part Number
1USHL-022HALF-7US - 5216051 1USHL-022HALF-7DS - 5881897 1USHL-022HALF-7UV - 4614648 1USHL-022HALF-7DV - 4614647
Ingram Part Number
1USHL-022HALF-7US - E93436 1USHL-022HALF-7DS - E93438 1USHL-022HALF-7UV - E93435 1USHL-022HALF-7DV - E93437
Assembly Notes
Phillips head screwdriver required
Equipment Depth
The equipment can be deeper than the rack mount shelf as long as the equipment is installed on the opposite side of the flanges. The flanges are used to increase the load bearing capacity of the rack mount shelf or used to prevent equipment movement. Max depth with the flanges up would be 6.88", max depth with the flanges down would depend on the use case.
Shelf Type
Solid , Vented
Rack Type
2 Post
Fixed/Sliding
Fixed
Shelf Surface Area
7" x 17.5" (177 x 445 mm)
Finish
Black textured powder coat
Mounting Depth Range
These relay rack shelves are cantilever mounted and will install into any relay rack as well as any 4Post server rack.
Weight Capacity
30 lbs (14 kgs)
Rack Units
1U
Tool-less/Standard
Standard
Overall Installation Depth
7"
Material
Made from high quality 16 GA steel
TAA Compliant
Yes
RoHS Compliant
Yes
Tech Notes
These relay rack shelves can be installed in a 4Post server rack.
Shelf depth is measured from front to rear excluding flanges.