1U-7U Rack Blanking Panels (19in)
Control Airflow In Your Rack
Prevents the mixing of hot and cold air to improve equipment performance
Conceals empty spaces in the server rack for a clean and professional look
Stability Flanges increase panel rigidity, reducing vibration and noise caused by airflow
Blanking Panels Suited for Any Rack Environment
Universal Blanking Panels: Installs in any 19" rack any hole using a Phillips head screwdriver
Tool-less Blanking Panels: Provide fast installation (no tools required), but only work in square hole racks
Snap-In Tool-less Blanking Panels: Plastic blanking panels that just "snap-in" for quick, budget-friendly solution (square hole only)
Vented Blanking Panels: Allow air to pass through while still giving the rack a clean look
Blanking Panels, also called "filler panels", are used to control the airflow inside of server racks. Without blanking panels, the hot exhaust air from the rear of the servers will recirculate through empty spaces in the server rack into the air intakes on the front of the servers. This reused hot air will significantly reduce the cooling efficiency of the system. Filler panels are the easiest and first step towards achieving your Power Usage Effectiveness (PUE) goals. Unlike many products on the market, RackSolutions Filler Panels use an innovative stability flange design to prevent airflow from flexing the filler panel. This reduces noise and vibration when a high amount of air is pushed into the filler panel. Along with the increase in airflow efficiency, RackSolutions filler panels give your rack a seamless and professional appearance. All our blanking panels are compatible with all EIA Standard 19" racks and cabinets.
---
How Blanking Panels Help Direct Rack Airflow
Without the use of blanking panels, hot exhaust air can be recirculated back into the cold aisle and reduce the cooling efficiency of the system.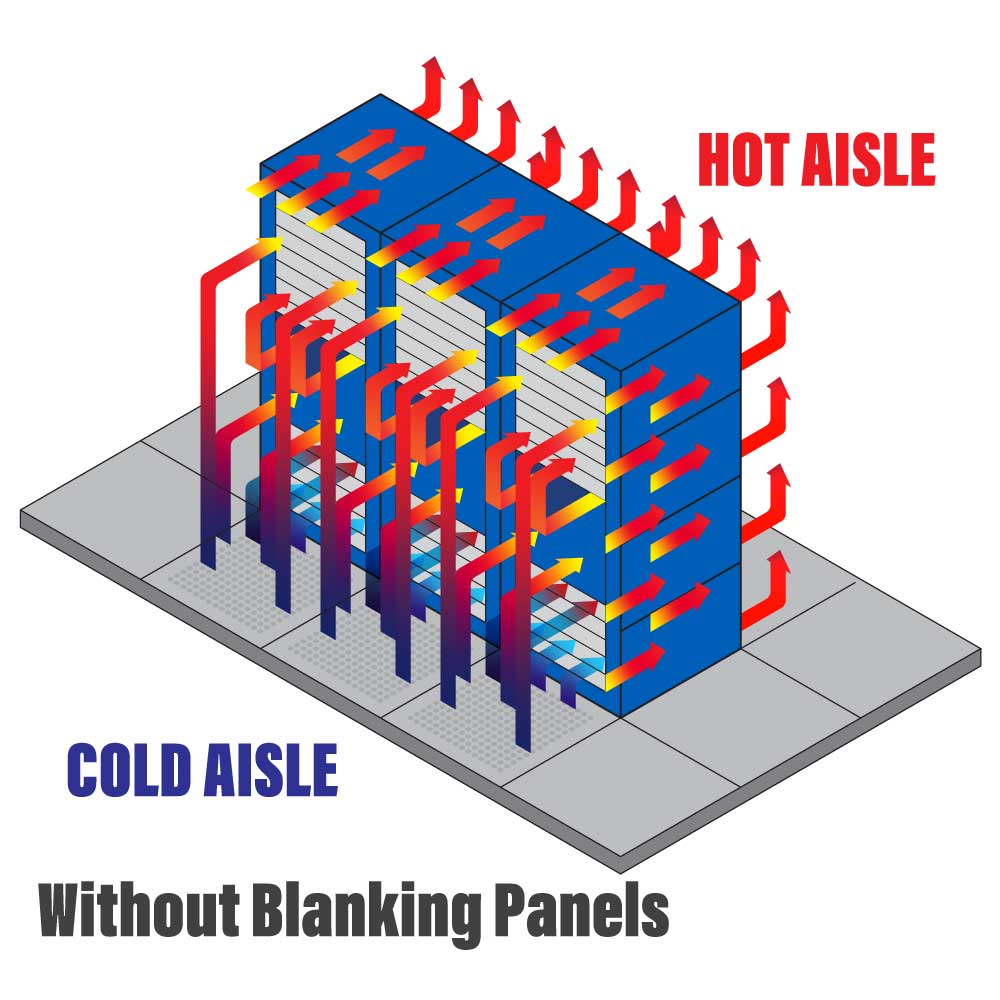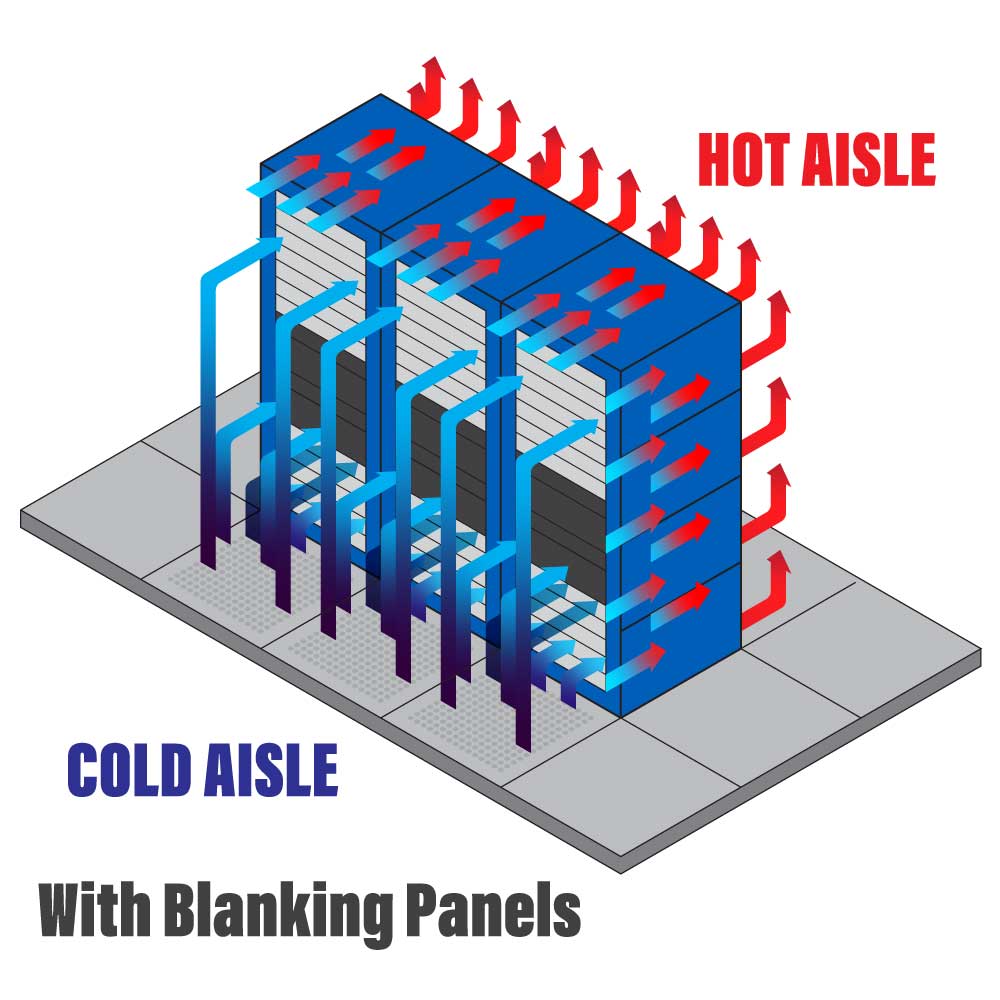 ---
Conceals Empty Spaces
Here is an example of how blanking panels can cover up un-occupied rack spaces to give the rack a clean look.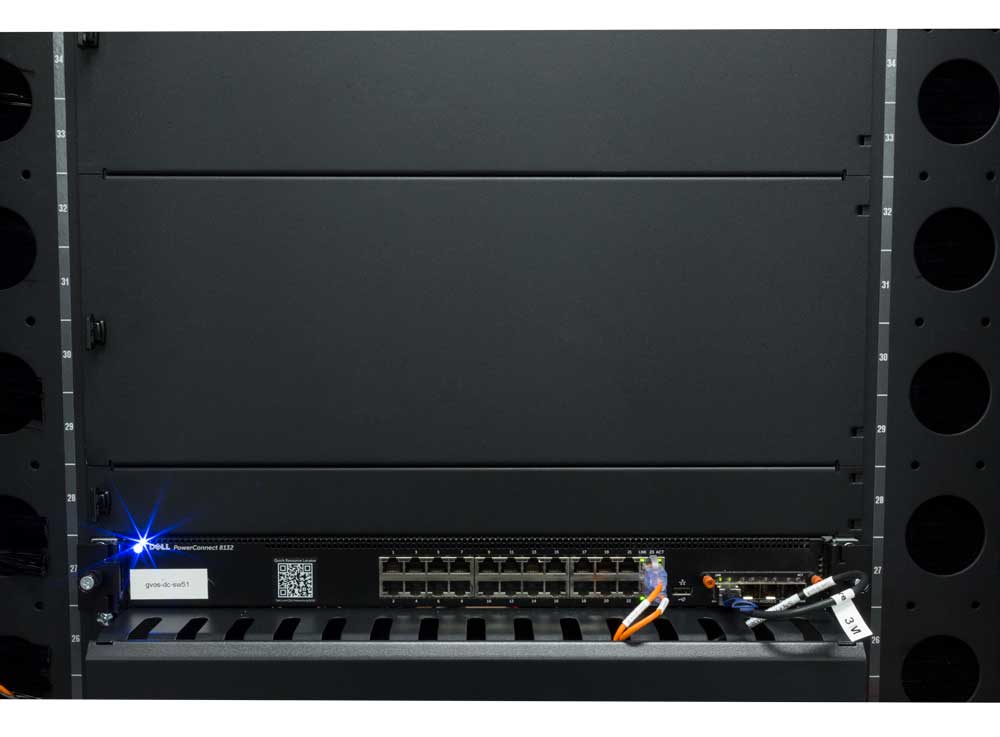 More Information
Weight (lbs)
0.000000
Country of Manufacture
United States
Dell Part Number
Universal Blanking Panels 102-1822: A7007389 102-1823: A5540770 102-1824: A7741632 102-1825: A5540792 102-1826: A7097764 Vented Universal Blanking Panels 102-1881: A7287252 Tool-Less Blanking Panels 102-1474: A4284039 102-1475: A4290591 102-1477: A9581850 180-5745: AB296416
For a full list of Dell SKUs setup in the Dell ordering system visit our Dell SKU page.
Synnex Part Number
102-1822 - 5123359 102-1823 - 5123362 102-1824 - 5123351 102-1825 - 5123353 102-1826 - 6216193 102-1827 - 5123363 102-1881 - 5527744 102-1882 - 5527745 102-1883 - 5527746 102-1884 - 5527747
Ingram Part Number
180-5265 - 5BH600 180-5745 - 7UN515 180-5746 - 7UN516 102-1474 - DN9589 102-1475 - DN9590 102-1476 - DN9591 102-1477 - DN9592 102-1479 - DN9594 102-1480 - UZ9588 102-1822 - LJ6804 102-1823 - LJ6805 102-1824 - LJ6806 102-1825 - LJ6807 102-1826 - LJ6808 102-1827 - LJ6809 102-1881 - DV0274 102-1882 - DV0275 102-1883 - DV0276 102-1884 - 6TU691
Included Hardware
Universal Blanking Panels 1U-4U

(5) #12 screws
(5) #12 cage nut

5U-6U

(7) #12 screws
(7) #12 cage nut

Material
Plastic, Steel
RoHS Compliant
Yes
Vented/Non-Vented
Non-Vented, Vented
TAA Compliant
Yes