105-A Wall Mounts for Lenovo ThinkCentre Tiny
Wall Mount a Lenovo ThinkCentre Tiny With a Monitor
Mounts a ThinkCentre Tiny Desktop and monitor to a wall
Utilizes PC's small form factor to create a compact all-in-one solution
Perfect for mounting computers in public spaces for displays or public use
Attaches to monitor using a 75 mm and 100 mm VESA hole pattern
All required mounting hardware is included
Customize it to your needs
Mount it to a wall, behind a standing monitor, or under a desk
Compatible with almost any LCD monitor
Add an adjustable tilt bracket to set the monitor at the preferred angle
Combine with a keyboard wall mount for a fully wall mounted solution
Optional lock upgrade to deter theft
NOTE: See "Additional Information" below for all compatible PC models. PC & Monitor NOT included.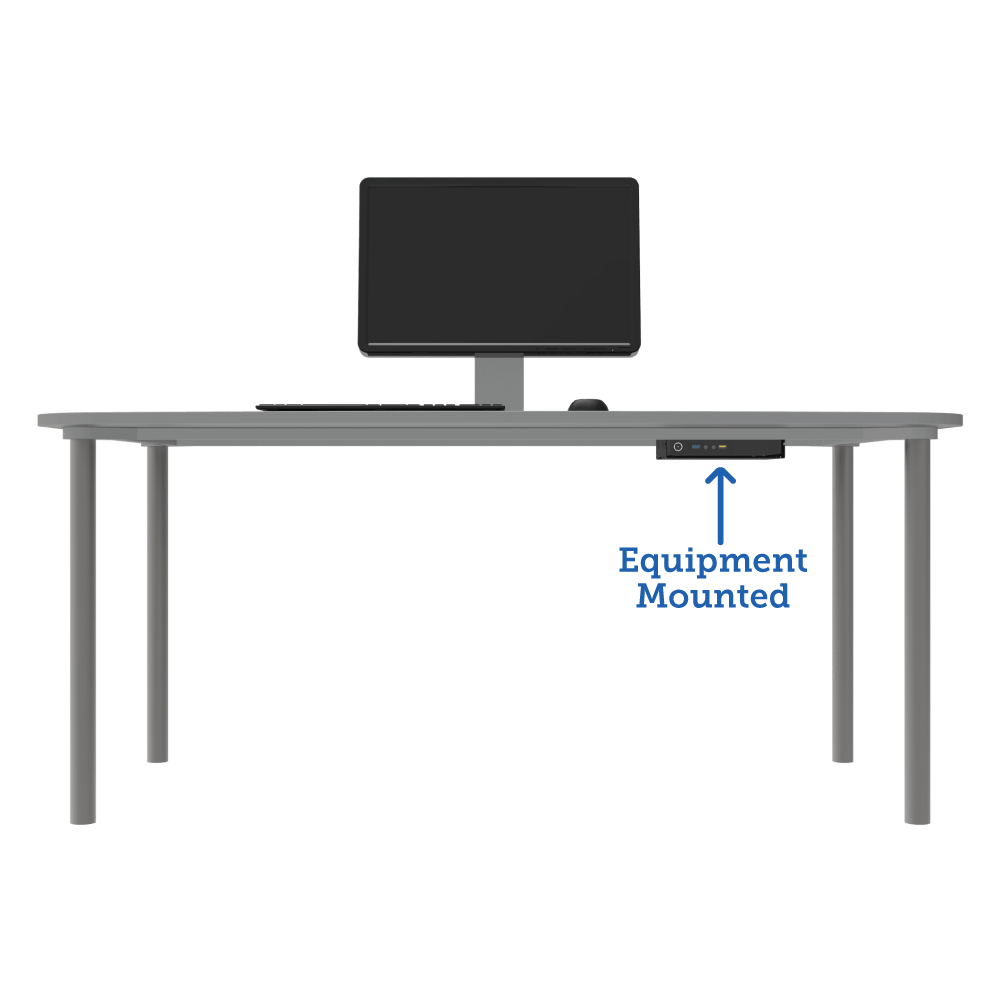 Mount it on a wall or under a desk
The vertical wall mount rack's low-profile flush mounts networking equipment against the wall can hide it under a desk.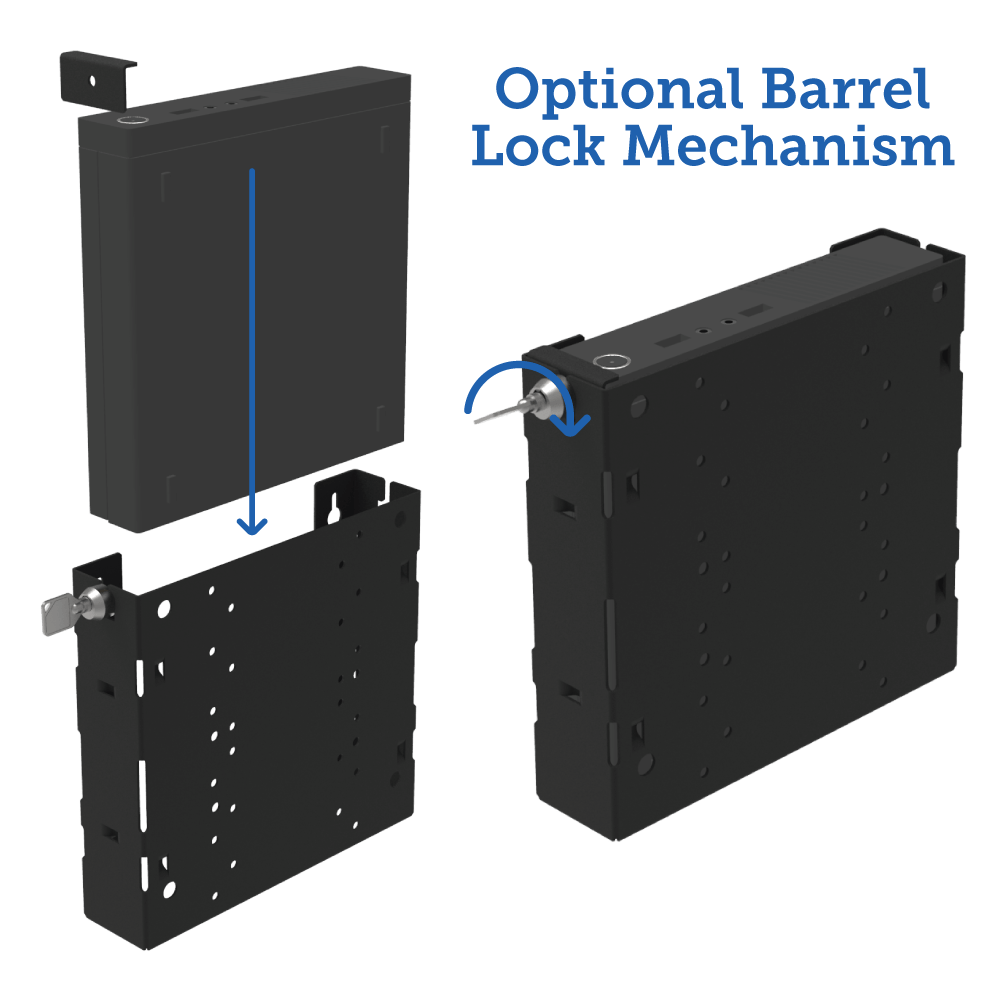 Optional Lock Upgrade
Secure your Lenovo ThinkCentre Tiny Desktop computer with an optional barrel lock upgrade.
RackSolutions' Lenovo ThinkCentre M93p Wall Mount utilizes the Tiny Desktop's ultra SFF to create a more efficient and compact workstation by mounting the device to a wall with a LCD monitor. In addition to being mounted to a wall, the steel enclosure can also be used to mount the PC behind a monitor or under a desk. A barrel lock bracket upgrade is available to prevent the PC from being stolen. Two versions of the wall mount are available, one that allows your monitor to tilt and one that stays fixed. Monitors attach the mount using the 75 mm and 100 mm VESA hole patterns on the front of the mount. The Lenovo ThinkCenter Tiny Desktop wall mount is compatible with Lenovo M93p, M92p, M600, M700, M900, M53, and M83 Tiny desktops. All required mounting hardware is included.
For more information on VESA Mounting Standards and what VESA stands for visit VESA Mounting Standards Explained (opens in a new tab).
More Information
Country of Manufacture
United States
Included Hardware
104-5201 | 104-5202

Assembly Components:

(1) Mount Bracket
(1) Tilt Monitor Bracket (104-5201 Only)
(1) Hook and loop strap

Wall Mount Hardware Package:

(4) Drywall Anchors
(4) 8-32 x 1.250 Pan Head Screws

Tilt Monitor Bracket Hardware Package (104-5201 Only):

(4) 8-32 x 0.375 Pan Head Screws

Fixed Monitor Mount Hardware Package:

(8) Spacers
(4) M4 x 0.7 x 10mm Pan Head Screws
(4) M4 x 0.7 x 18mm Pan Head Screws
(4) M4 x 0.7 x 25mm Pan Head Screws

101-5205

Kit Contents

(1) Security Lock Key
(1) Locking Bracket
(1) Security Lock

Compatible Products
Lenovo M53 Tiny Desktop Lenovo M600 Tiny Desktop Lenovo M700 Tiny Desktop Lenovo M70q Gen3 Tiny Desktop Lenovo M70q Tiny Desktop Lenovo M73 Tiny Desktop Lenovo M75q Gen2 Tiny Desktop Lenovo M80q Gen3 Tiny Desktop Lenovo M80q Tiny Desktop Lenovo M83 Tiny Desktop Lenovo M900 Tiny Desktop Lenovo M90q Gen3 Tiny Desktop Lenovo M92p Tiny Desktop Lenovo M93p Tiny Desktop
Synnex Part Number
104-5202 - 4841835 101-5205 - 4841843 104-5201 - 4841840
Ingram Part Number
104-5202 - 01TT48 101-5205 - 7R6086
Compatibility
Lenovo
Finish
Black, textured powder finish
RoHS Compliant
Yes
TAA Compliant
Yes