Universal All-In-One Desktop and Monitor Stand
Works with most small computers
Compatible with most monitors
Pre-assembled for fast installation
Monitor slides and tilts up and down
Equipped with a handle for easy transport
All-in-one unit
Built in cable tie points for monitor and PC cables
Works with any LCD with VESA 75 mm or 100 mm hole pattern
Rubber feet under base keep the unit from slipping
Monitor is attached to stand with one thumb screw
Chassis is secured with nylon strap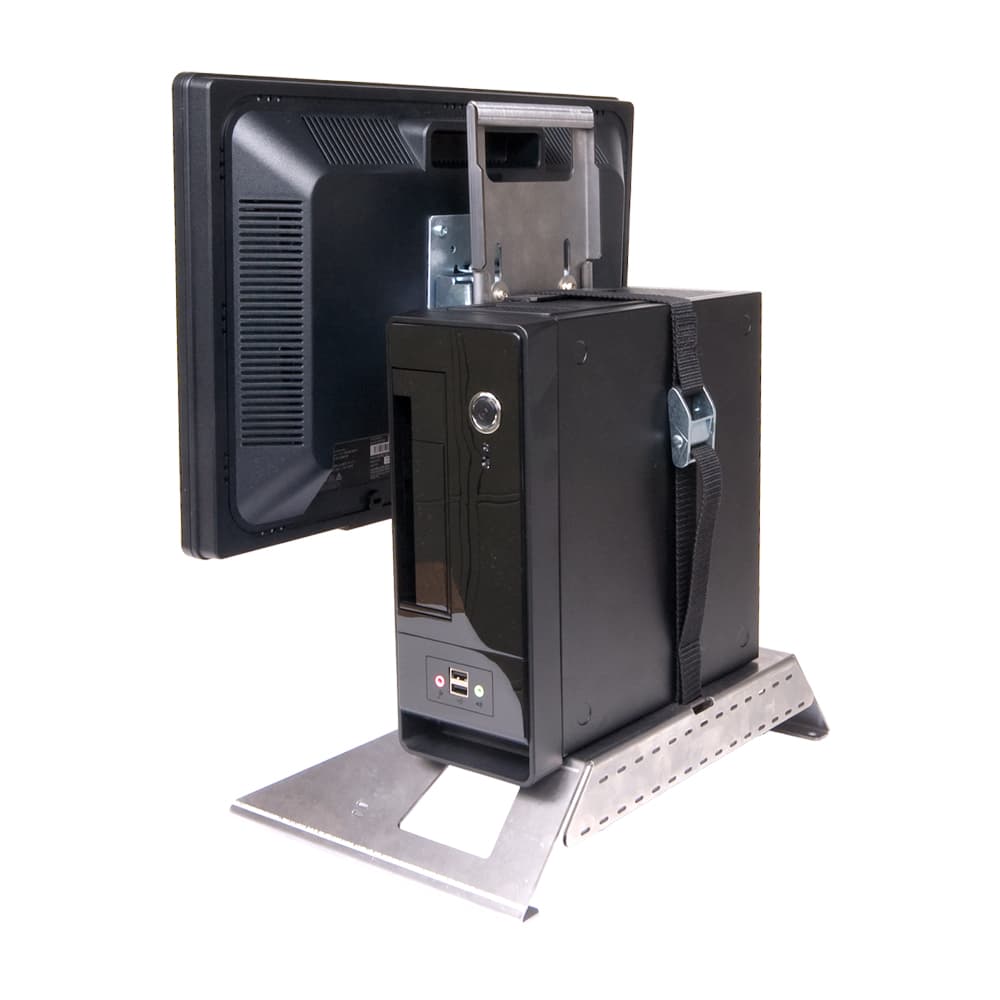 Easy Transportation
Our Universal All-In-One for Small PCs is ready to be moved around your work space while also staying decluttered. The strap secures your PC to the back of the mount ensuring that it will stay in place when moved. The handle located at the top of the mount is built in to make transporting your PC and monitor easier.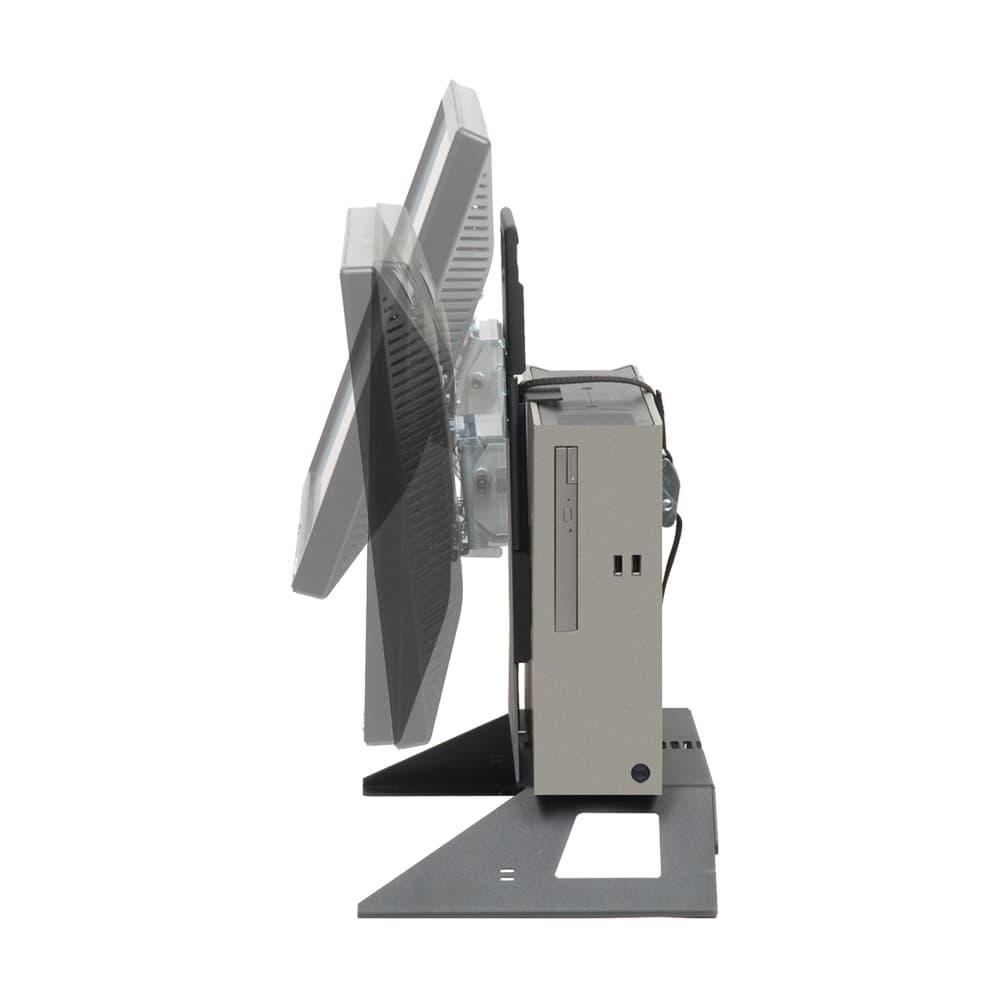 Adjustable Monitor
The VESA Monitor mount allows for your screen to be tilted up or down and also raised or lowered. This mount is designed for VESA hole patterns 75 mm or 100 mm.
The Universal All-In-One mount for small PCs is designed to take up as little space as possible. It is compatible with most monitors and allows for it to slide or tilt up or down. The Universal All-In-One is designed with rubber feet under the base to keep the unit from slipping and is equipped with a handle for easy transport. Also built into the mount are tie down points for cables to ensure a clean work space wherever you go. This mount works with any LCD monitor with a VESA 75 mm or 100 mm hole pattern. Included with your purchase is the preassembled mount, cinch strap, VESA monitor bracket, and hardware.
More Information
Weight (lbs)
14.000000
Country of Manufacture
United States
Included Hardware
RETAIL-AIO-017

Assembly Components:

(1) Stand Assembly
(1) VESA Monitor Bracket (Attached)
(1) Strap

Monitor Hardware Package:

(8) Nylon Spacers
(5) M4 x 10mm Pan Head Screws
(5) M4 x 18mm Pan Head Screws
(5) M4 x 25mm Pan Head Screws

Assembly Notes
Phillips head screwdriver required
Dimensions
10.0" (254 mm) deep x 15.05" (382 mm) wide footprint
18.63" (473 mm) Height. Computer Depth: 3.35 to 5.05
Monitor may be raised higher depending on screen size
Finish
Black textured powder coat
Cable Management
Built in cable tie points for monitor and PC cables
Monitor Adjustment
Monitor height is easily adjusted up and down 3.75" (95.25 mm)
Monitor tilts down 5 degrees and up 22 degrees
Compatibility
Universal
Computer Compatibility
Made for small chassis computers
Height: 7" (177.8 mm) to 14" (355.6 mm)
Depth: 3.35" (85.09 mm) to 5.45" (138.43 mm)
Width: 10" (254 mm) to 20" (508 mm)
Note: This dimension can be any reasonable width
Monitor Mount
VESA 75 mm and 100 mm hole pattern. Multiple length screws and spacers included.
Monitor is attached to stand with one thumb screw
PC Mount
Chassis is secured with nylon strap
RoHS Compliant
Yes
Monitor Compatibility
Works with any LCD with VESA 75 mm or 100 mm hole pattern
Transport
Ergonomic handle allows easy transportation
Tabletop
Rubber feet under base keep the unit from slipping
Ingram Part Number
RETAIL-AIO-017 - V10306
TAA Compliant
Yes