Intel Launches Chip for Edge Computing
The internet is growing and evolving at an increasingly exponential rate. Naturally, the technology used to promote this growth has transformed in accordance. Sophistication and speed have become integral to keep up with the rising demand for faster speeds and higher processing power. Computing is now being pushed to the edge, literally.
Edge computing (processing data via the cloud) has emerged as a rising technology and Intel intends to meet this shift. The company has announced a new chip known as the Intel Xeon D-2100 processor, specifically designed for users who want to make the transition into cloud computing. This chip has been created to meet the 5G advent as well as accommodate to the vast number of devices currently on the market.
Tech Specs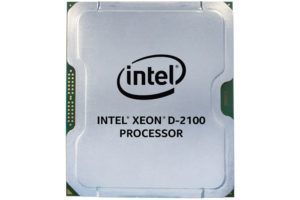 The Xeon D-2100 processor is a system-on chip (SoC) processor designed to work smoothly with edge computing and network applications previously hindered by space and power requirements. This chip boasts a 1.6x increase in computing power, 2.9x increase for network performance, and 2.8x gain in storage (up to 512 GB) from their previous generation processor. In addition to performance enhancements, the chip comes installed with connectivity options including:
10 Gigabit Ethernet quad-port
PCI Express 3.0
16 SATA 3.0 ports
4 USB 3.0 ports
Security was high on the priority list when Intel was designing this processor. The chip features a 100 Gbps of preinstalled cryptography, decryption, and encryption acceleration. It has been assured to withstand vulnerability to the Spectre and Meltdown security failures previously brought to light.
Jennifer Huffstetler, the VP and General Manager of Data Center Product Management in the Data Center Group at Intel said, "By expanding the capabilities of the data center outward to the network edge, solution providers can process more data closer to endpoint devices, reducing application latency and opening up a whole new world of potential services and experience."
Moving Forward
Intel is hitting the ground running with this chip, announcing initial partnerships with major companies like Dell EMC, NEC, NetApp, Palo Alto Networks, and Ericsson. Additional partnerships and companies using the Intel Xeon D-2100 will undoubtedly be announced in months to come.