Intel's New SSD Packs 1 Petabyte Into Single Rack Unit
When it comes to data storage options, the amount of drive space per drive (whether traditional disk, or solid state) has gone up dramatically over the past decade. What hasn't changed much, however, is the look of the drives. They have long been the standard 2.5-inch or 3.5-inch options, which look more or less the same today as they did ten or more years ago. That may be about to change.
Intel has been working on providing higher capacity drives for quite some time now, and quite successfully. Even with all the growth available, many people will be impressed to hear about the new 'ruler' style drive, which will hold as much as 1 petabyte (yes, that is 1000 terabytes) in a single solid-state drive.
This drive will be long and skinny, resembling a ruler, which is where it gets the name. There haven't been any exact details on how big or long the new drive will be, but it will be made to slide right into server racks for easy mounting and storage.
A New Form Factor
Intel isn't just changing the look of the drive to be different, the new look is engineered to provide users with some important advantages, including the following:
Cooling – These solid-state drives can be added right into standard server racks, including the 1U server rack, so they can be cooled efficiently without adjustments to the configuration of the rack itself.
Power – The power requirements of a single ruler style solid state drive will be notably lower than requirements for current drives, including SSDs.
Rack Space – The ruler drive will make it so 1 petabyte of SSD space can fit in a 1U server rack. Using the current standard of 10TB 3.5'' drives, it would be necessary to use the much larger 4U rack to be able to fit a full petabyte.
Aesthetics – Keeping a server rack looking clean and professional is important in many businesses. Having the new ruler style drive will look great, and very modern.
When Can We Get Our Hands On One?
While Intel says that these new drives will be available 'soon,' they have not yet given a release date. Given that these are strictly going to be used for business or cloud data storage needs, it can be difficult to predict when Intel will make them available. Given the rapidly growing need for large scale storage, however, we can hope that it will be sooner rather than later.
Summary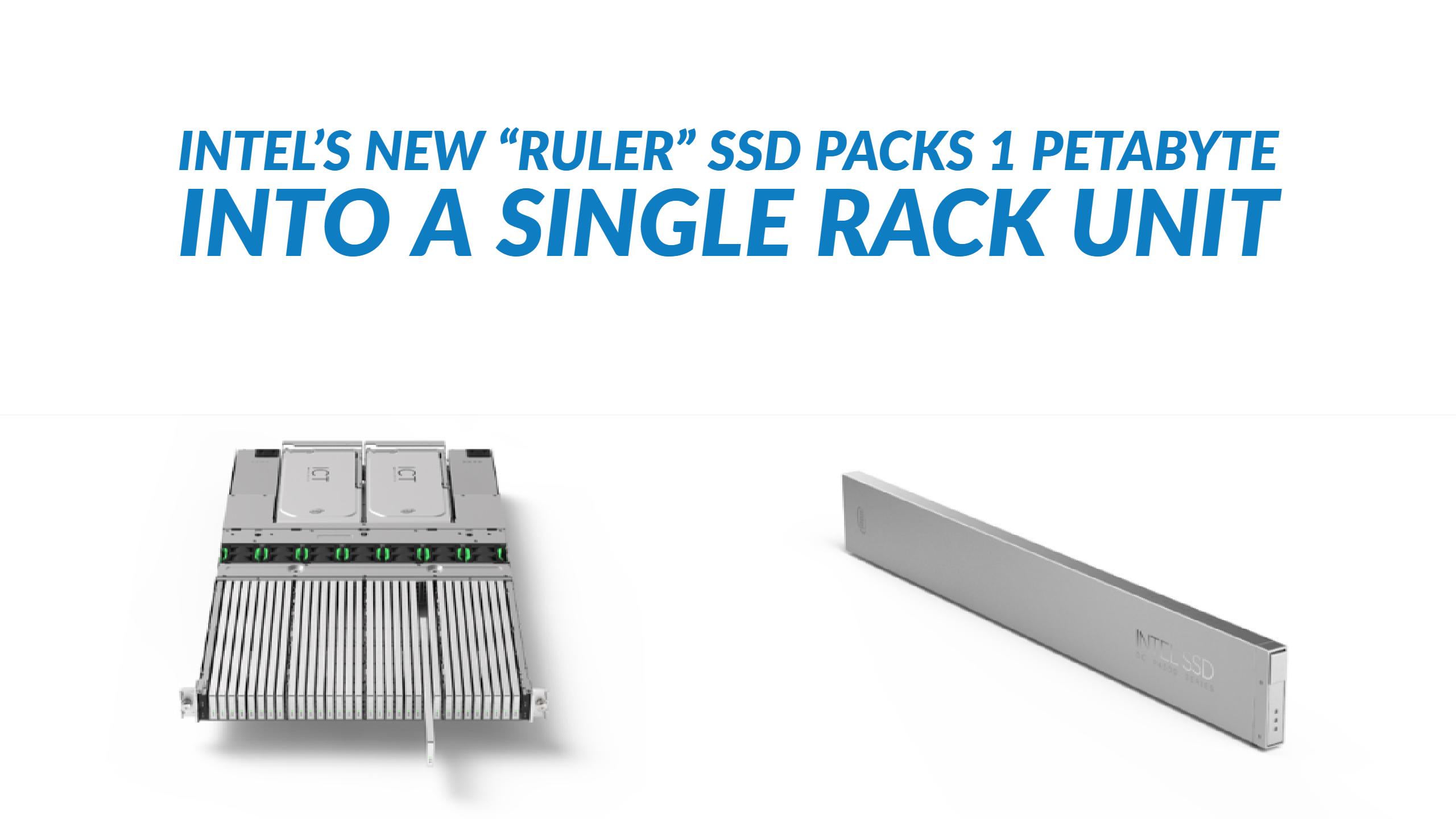 Article Name
Intel Packs 1 Petabyte Into 1U With New Ruler SSD
Description
The new 'ruler' style drive, which will hold as much as 1 petabyte (yes, that is 1000 terabytes) in a single solid-state drive.
Author
Publisher Name
Publisher Logo