Aisle Containment Can Improve Data Center Efficiency
Keeping the hot air generated by servers, switches and other equipment separate from the cold air created by a data center's cooling infrastructure is critical to an efficient data center.
According to a recent Data Center Knowledge report, aisle containment is one of the best ways to keep equipment in server racks cool without increasing the energy output of cooling and exhaust systems.
Aisle containment is actually a relatively simple concept that involves enclosing aisles between server rack enclosures and venting unwanted air out of the space while bringing cool air in.
While the theoretical basis behind aisle containment is simple, the report said actually applying the concept can be challenging. Vendors have developed many ways to create both hot and cold aisle containment systems, and the diversity in approaches creates more complexity.
Regardless of how a data center chooses to deploy aisle containment, the report said the tactic will create new challenges for fire suppression that must be dealt with as part of the data center's disaster recovery and prevention plans.
Whether companies are using aisle containment or other advanced technologies, efficiency is becoming critical in the data center. A recent Gartner report said smart design and energy efficiency will dictate data center projects in the near future.
Summary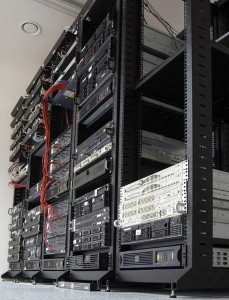 Article Name
Aisle Containment Can Improve Data Center Efficiency - RackSolutions
Description
Aisle containment, which involves enclosing aisles between server racks to vent hot air out and bring cool air in, makes it very easy to keep server rack equipment cool.
Author
Publisher Name
Publisher Logo