Data Center Trends: 2017 in Review & Looking Ahead to 2018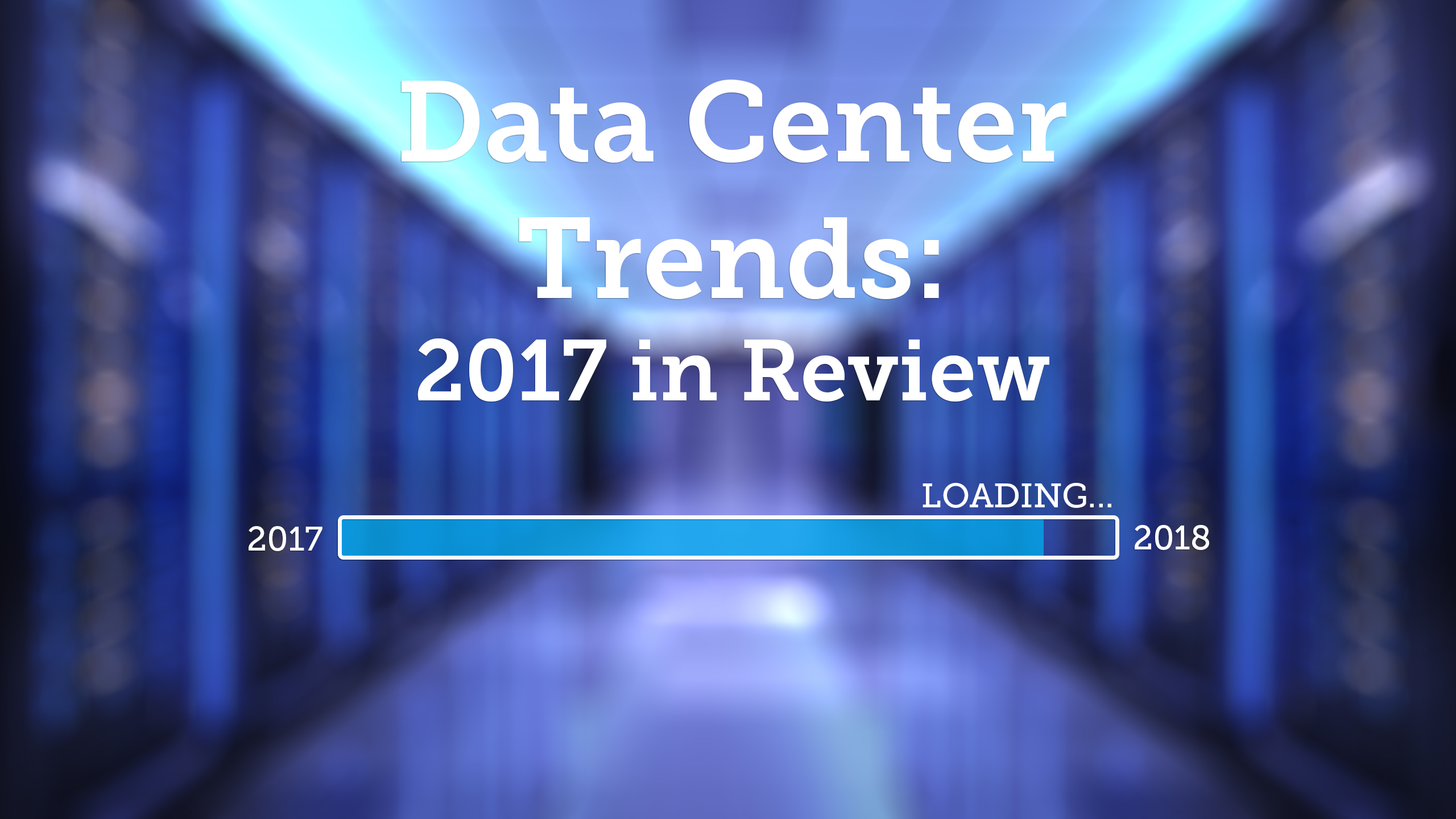 2017 was quite an interesting year in the world of data centers. This year, we saw a lot of investments made into ultra-large-scale data centers used for major corporations, as well as smaller data centers focused on edge computing. As predicted, the placement of new data centers was chosen deliberately, with heavy emphasis on finding areas with great supplies of renewable energy, as well as natural cooling options (cold air, cool ocean water, etc.)
A lot of these trends were driven by the ever-growing need for powerful processing, affordable storage space, and lightning fast speeds. Technologies like augmented reality, virtual reality, facial recognition, and of course, video streaming, helped to keep the advancements of data center technology growing. 2017 also witnessed the beginning of large scale Bitcoin mining in data centers, which may quickly become one of the largest uses for these facilities in upcoming years. 2018 is already shaping up to be just as exciting.
Geoplanning
We have seen geoplanning in previous years, however, it will remain a major priority for data center companies throughout this one. More than perhaps any other single factor when building a new data center facility, the physical location of the facility is going to be extremely important.
Companies have found that strategic geoplanning will allow them to drastically cut their energy needs, and provide for improved reliability. This is not just good for their bottom line, but also for the environment. Data centers will be built near areas that have some combination of cool air, cool water, abundant green energy, and great physical security.
Focused Technologies
The new year is likely going to bring data centers that have a much more focused set of services. Entire data centers, for example, may be built specifically to mine cryptocurrency. Others could be used for virtual reality programs. Some data centers may have multiple types of services available, but they will likely segment them within the data center due to the need for specialized hardware.
Data Center as a Service (DCaaS)
Data centers aren't just the infrastructure that facilitate technologies anymore. Today, data centers are required to deliver specific services based on the exact needs of their customers. DCaaS focuses on providing custom made solutions to customers from around the world.
Identifying what systems can be pushed into a cloud environment, what requires edge computing, and what systems should be kept in-house is something that will be discussed extensively between IT managers for companies and engineers in data centers. In the coming year, data centers will likely be seen much more as a technology partner than just a location to keep tech equipment.
Security is a Priority
2017 was a year with seemingly endless numbers of hacks and other security breaches, which ended up costing consumers and companies millions. Businesses are taking security more seriously than ever and that will start with physical security at the data centers.
DDoS Protection
DDoS attacks are becoming more and more common and are often accompanied by more sophisticated forms of hacking and malware. Data centers will become a true first line of defense in protecting data by working to provide DDoS mitigation services such as data scrubbing and IP blocking. In addition, many data centers will likely offer advanced virus and malware scanning services at multiple layers to help to avoid having systems within the data center become infected.
Whatever comes in 2018, we can be sure that data centers are going to be an essential component of the overall information technology industry.