Private Cloud Will Reach Mainstream Tipping Point in Less Than 3 Years
A recent study conducted by Microsoft indicates that the majority of businesses will rely on the cloud within two and
a half years. Just over two thirds of study participants stated that they have plans to institute hybrid cloud models during this time period. Over one half (52 percent), of the study's participants stated that utilizing the cloud is beneficial in terms of developing new business strategies and/or spurring organizational growth. Some respondents indicated that they are planning on using cloud service providers for overarching solutions. In total, 1,500 customers throughout the world were surveyed for the analysis.
The results of this study are a clear indicator that businesses across all sorts of industries will desire full service style hosting capabilities in the near future. The collected data shows that businesses plan on ramping up their investments in databases, backup and recovery, security services, shared servers and managed hosted desktop. Microsoft is in the so called "catbird seat" to satisfy this anticipated demand. It has boosted its alliances with hosting partners by 4,500 over the course of the past year.
Microsoft recently implemented a cloud approach with its Office 365 productivity suites. It is sold through subscriptions and has been adopted by over one million customers in merely three and a half months. The product's popularity is a testament to the allure of cloud-based technologies. The success of Office 365 surprised many industry analysts customers typically frown upon paying monthly or yearly fees to access software. Those who fail to renew their subscriptions will lose the ability to edit files that they have already generated. They also will not be permitted to create new documents.
While the typical IT head will argue that his team is perfectly capable of supporting cloud infrastructure, this can be characterized as an exercise in wishful thinking. IT organizations haven't adopted cloud infrastructure at the pace
that most originally expected. While vendors widely agree that the cloud truly is the technology of future infrastructure, implementing it in a seamless manner has proved to be quite the challenge.
Industry experts believe that private sector employees have high expectations for cloud technology in the workplace. Most expect it to offer similar capabilities as public cloud storage. That means considerable elasticity, quick and easy access, consumption oriented cost and governance with minimal overhead. The reality is that the typical on-premises cloud is quite costly, involves excessive governance, is highly complex and offers limited capacity. While the private sector cloud probably won't keep pace with the rapid growth of public cloud computing, there is little doubt that corporate cloud computing will soon reach mainstream tipping point.
Summary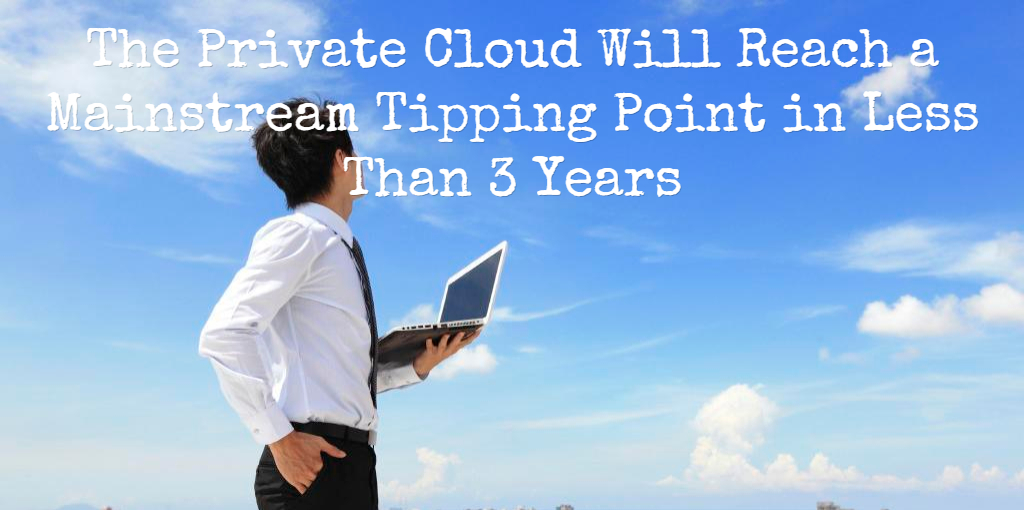 Article Name
The Private Cloud Will Reach a Mainstream Tipping Point in Under 3 Years
Description
A recent study conducted by Microsoft indicates that the majority of businesses will rely on the cloud within two and a half years. Just over two thirds of study participants stated that they have plans to institute hybrid cloud models during this time period. Read more about this shift here!
Author
Publisher Name
Publisher Logo