3 Tips For Purchasing The Right Data Center Rack
If your business has a data center, then the cabinets and racks you choose to hold your hardware are almost as important as the hardware itself. These racks and cabinets are meant to protect the hardware as well as make it easily accessible for modification, alteration or repair as the business evolves and changes over time. The rack itself, where the servers sit, may be the most important part of the set-up, as it's what the server sits directly on and must hold it's weight constantly. If this rack is not right or strong enough, it can seriously impede a servers functioning capabilities, which can slow business to a grinding halt. Below are three tips for picking the right data center rack for your servers and your business needs.
STURDY ENOUGH
First and foremost, you need to be sure your data center rack is sturdy enough to support the servers and all the other components you will need to run the business. These pieces of hardware are like the beating heart of many companies and if they are damaged, due to a data center rack breaking because it's not strong enough to hold it, it will hurt the business a company can do and probably cost a lot of money. So first make sure that the data center rack is physically sturdy enough to hold the hardware.
SLIDING OR REGULAR RACKS
There are two types of shelves that come with these data center racks: sliding and regular. Sliding racks slide in and out of the cabinet and allow easier access to the servers for maintenance and up keep. They are more expensive due to this and may break down over time as there are more moving parts. Regular shelves are sedentary and simply hold the hardware. They are sturdier in the long run and less expensive, but make it more difficult to do routine maintenance on a piece of hardware. Make sure you choose the right one for your needs!
IS IT BIG ENOUGH?
If you're going to buy a data center rack, make sure you buy one that is the correct size and has extra space for more servers, in case your company needs them and grows in the future. It's OK to have a little extra space.
Summary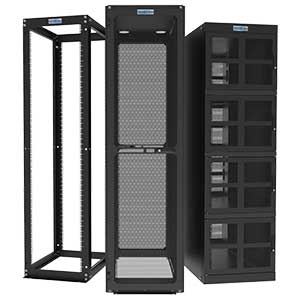 Article Name
Description
Before purchasing a data center rack, it's important to ask yourself if it's sturdy enough, if it comes with sliding or fixed shelves, and if it's large enough.
Author
Publisher Name
Publisher Logo