Facebook Plans to Power Data Center With Wind Farm
Facebook's new Fort Worth data center will soon be powered by a gigantic wind farm. The project is estimated to cost one billion dollars. The campus will receive renewable power directly from a wind farm positioned about two hours to the northwest of Dallas. The Forth Worth data center is the social network's fifth. Facebook executives scoured the globe for the ideal location until settling on the north Fort Worth site positioned on a tract of land purchased from Ross Perot Jr.'s Alliance-Texas development.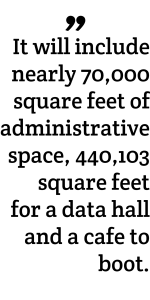 Facebook selected the north Fort Worth site for a number of reasons. It is shovel ready, has accessible fiber along with renewable energy in a space that is conveniently located smack dab in the center of the United States. The 110 acre site, situated by State Highway 170 is already under construction with general contractor DPR Construction Co. heading the job. Facebook executives have stated that the initial phase of the project will be complete by summer of 2016. It will include nearly 70,000 square feet of administrative space, 440,103 square feet for a data hall and a cafe to boot. The company anticipates adding two more data halls for a total of 1.25 million square feet. A facility of this magnitude is necessary to support the popular social network's ever-growing user base. All in all, Facebook has 1.5 billion users.
Facebook anticipates that it will need at least 40 full-time employees at the Fort Worth location. Eventually, 100 more employees will be added to the site. Facebook chose to power the new campus with a wind farm as it is nearly 40 percent more energy efficient than the alternatives. The company's focus on sustainability is certainly commendable. Facebook executives state that the Fort Worth campus will be powered by 50% renewable energy by the end of 2018. However, the ultimate aim is to eventually power the campus with 100% renewable energy. The company's gigantic 202-megawatt wind farm, currently under construction about 90 miles away in Clay County, will make this bold goal a reality. In and of itself, the wind farm will cost a total of $287 million. Starwood Energy Group Global LLC and Alterra Power Corp own the farm in a 50/50 partnership. The site's operations are expected to launch toward the end of 2015 or, at the latest, by the beginning of 2016.