H-Squared's Easy Pay Point of Sale Mount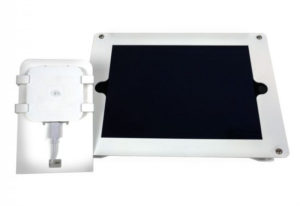 Choosing a Point of Sale System can be daunting with all the different systems and brands currently on the market. H-Squared's Easy Pay Point of Sale (POS) Mount makes that choice easy! Designed for the Apple iPad Air 2, the Easy Pay mount is custom designed by RackSolutions engineers to secure your iPad with high quality American made steel.
Making a sale has never been easier or faster with H-Squared's Easy Pay Point of Sale Mount. Any flat surface is a viable location for this stand and it is perfect for easy access payment methods. This mount is fully adjustable and can be rotated (while still remaining in place) to give you and your customer a full view of the iPad screen. This seamless transition will make getting customer signatures easy and hassle-free.
The Easy Pay Point of Sale Mount by H-Squared, integrates Square's Contactless + Chip reader with your iPad Air 2. Each of these products can be purchased separately, however when used in conjunction with one another, efficiency and profitability is maximized. The Point of Sale Mount can be used as a portable stand or secured to a flat surface, depending on the level of security required.
We understand that a good POS system is integral to business success, our Easy Pay mount will allow for quick processing of sales without sacrificing security needed for your system.
Manufactured right here in the USA, you can be sure that this mount is made from high quality steel, engineered to last. All the necessary assembly hardware is included when you purchase an Easy Pay Point of Sale Mount by H-Squared.
Easy Pay Point of Sale Mount
Designed by H-Squared
Same day shipping for orders placed before 3PM central time!
Order Yours Now!