2U 4Post Rackmount Sliding KVMs
Monitor, keyboard, trackpad
Use your own 15 - 19" VESA (opens in a new tab) monitor
17 - 19" monitors available
Space saving trackpad
Keyboard plug is 54 1/2" long
Cable included prerouted
Cable management arm
Compatible with KVM switches, USB, PS/2
NOTE: Belkin or Raritan KVM Switches are not compatible with these products.


Install in any 4Post, 19" rack
Square, round, threaded holes
Mounting depth 15.5 - 31.5" (394 - 800 mm) 2UKVM-125
Mounting depth 13.5 - 29.5" (343 - 749 mm) 2UKVM-135
Please call for shipping rates to Hawaii, Alaska and Puerto Rico.
The RackSolutions Rackmount KVM lets users efficiently mount a keyboard and monitor in server racks with installation depths of 15.5" to 31.5" for the 2UKVM-125 and 13.5 - 29.5" (343 - 749 mm) for the 2UKVM-135.

The Rackmount KVM is designed to support monitors ranging from 15" to 19", making it a suitable platform for users to install their own flat panel computer monitors. For installation purposes, the monitor must also feature 75 mm or 100 mm holes. The product is available as a standalone rackmount or with a 17" or 19" monitor included.

The rail used to support the Rackmount KVM is a 28" travel server rack rail equipped with ball bearings for extra support and easy slide control.

The keyboard that comes with the device features a standard PS2 cable and a USB adapter. It also supports the full functionality of a standard rackmount keyboard and features a standard embedded number pad with numerical keys and 12 function keys. The keyboard's plug is 54 1/2 " long.

When you purchase the Rackmount KVM, USB Keyboard, without Monitor (2UKVM-125USB) OR the Rackmount KVM, Keyboard, without Monitor (2UKVM-125) the Rack Solutions USB Dongle for PS2 keyboard is included.

The Rackmount KVM is compatible with most KVM devices and will ship with the hardware necessary for installation. It comes fully-assembled with the keyboard and monitor cords already routed. The only assembly necessary is the monitor, which will not be assembled with the rest of the device when shipped.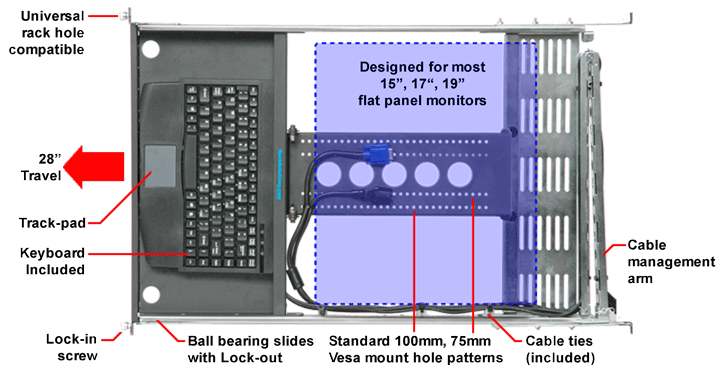 RackSolutions 2U KVM
Our 4 Post KVMs come with a keyboard and we offer a monitor to purchase separately.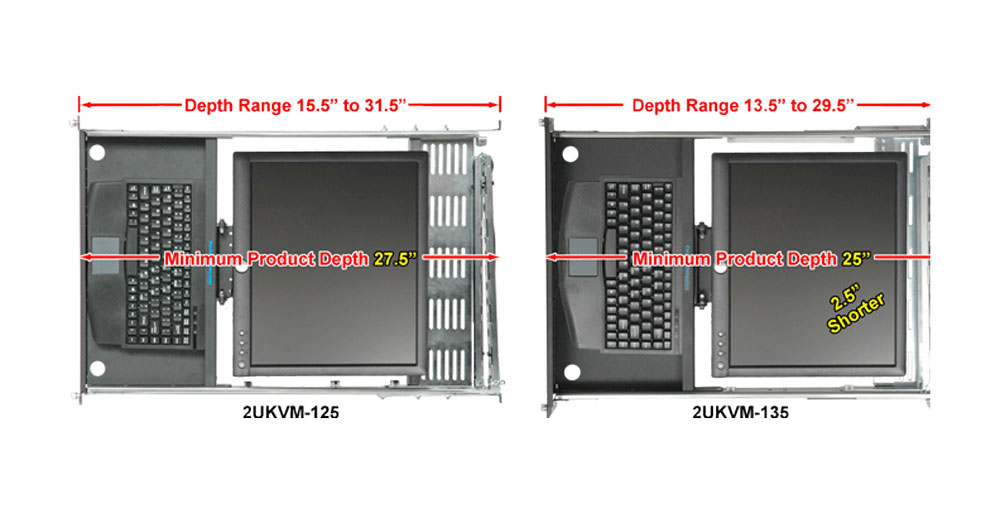 2UKVM-135 & 2UKVM-125 KVMs
The 4 Post KVMs come in two different sizes of equipment depth. The 2UKVM-135 is the shallow version and the 2UKVM-125 allows for more room to mount a switch.
More Information
Country of Manufacture
United States
Included Hardware
2UKVM-125 | 2UKVM-135

Kit Contents:

(1) Partially Assembled Shelf w/Door
(1) Mini Black Keyboard (PS2)
(1) Cable (PS2 to USB)
(2) Rear Brackets
(1) Cable Management Bracket
(2) Cable Management Arms
(18) 11" Tie Straps

Rear Hardware Bag:

(4) 8-32 x 3/8" Pan Head Screws
(4) 8-32 Nuts

Rack Mount Hardware x8 Bag:

(8) 12-24 x 1/2" Pan Head Screws Zinc
(8) 10-32 x 1/2" Pan Head Screws
(8) 12-24 Cage Nuts
(8) 12-24 Square Nuts

Generic Monitor Hardware Bag:

(4) 1/8" White Nylon Spacers
(4) 1/2" White Nylon Spacers
(4) Pan Head Screws M4x6mm
(4) Pan Head Screws M4x25mm
(4) Pan Head Screws M4x30mm

Dell 17V/19V Monitor Hardware:

(4) 1/4" White Nylon Spacers
(4) Pan Head Screws M4x14mm

KVM Type
Keyboard and Monitor Mount
Mounting Depth Range
15.5" - 31.5" (394 - 800 mm) 2UKVM-125 13.5 - 29.5" (343 - 749 mm) 2UKVM-135
Rack Type
4 Post Rack
Overall Installation Depth
31" Minimum (787 mm) 2UKVM-125 26" minimum (660 mm) 2UKVM-135
Cable Management
Articulated cable management arm
Hole Type
Compatible with the industry standard 3/8" square hole racks
Cage nuts included for square hole mounting
Compatible with all standard round (non-threaded) holes
Compatible with all standard threads including 10-32, 12-24, and Metric M6
Assembly Notes
Fully assembled, except for optional monitor
Power, VGA, and keyboard cables are pre-routed
Rail Type
28" travel (394 mm)
Ball bearing slides
Fixed/Sliding
Sliding
Monitor Specs
17" (432 mm) monitor specs
Monitor is Dell E170S (optional)
Height 15" x Width 14.8"
1280 x 1024 pixels @ 60Hz max resolution
TFT active matrix
250 cd/m² brightness
800:1 image contrast ratio
VGA signal input

19" (483 mm) monitor specs
Dell E190S (optional)
Height 16.2" x Width 16.3"
1280 x 1024 pixels @ 75Hz max resolution
TFT active matrix
300 cd/m² brightness
800:1 image contrast ratio
VGA signal input
Keyboard Specs
PS/2 or USB
USB Interface requires the use of an adapter (included)
88/89 keys have the functionality of a 104/105 rack mount keyboard
Embedded numeric keypad and 12 dedicated function keys
VESA Mount
100 mm or 75 mm VESA (opens in a new tab) hole patterns (required)
Most LCD display have 4 VESA mounting holes on the back
The VESA holes may be hidden by the display stand
Monitor Thickness
LCD display thickness: 2.75" (70 mm) maximum
Exceeding this thickness will require more than 2U of rackmount space
Monitor Width
LCD display width: 17.5" (444 mm) maximum
15", 17" or 19" (381 mm, 432 mm or 483 mm) LCD display will typically fit
Dell Part Number
2UKVM-125USB: AB131755 For a full list of Dell SKUs setup in the Dell ordering system visit our Dell SKU page.
Synnex Part Number
2UKVM-125USB - 5182298
Ingram Part Number
2UKVM-135 - 8RP543 2POST-2UKIT/2 - 8W3425 2UKVM-125USB - 2CR164
RoHS Compliant
Yes
TAA Compliant
Yes