Please call for shipping rates to Hawaii, Alaska and Puerto Rico.
Rack height 5U - 58U
Universal square holes, cage nuts included
Dell, HP, IBM, Cisco compatible
58U, 55U, 52U, 50U, 44U, 36U, 30U, 24U, 16U, 5U
3000 lbs (1360 kgs) capacity
Meets EIA, 19" standards
Optimizes cooling and makes wiring easy
5" Vertical cable organizer included with all sizes excluding 5U, 50U, 52U, 55U, and 58U)
Streamlined support for power strips, PDUs
Ships FedEx (except 55U and 58U) Not expensive, non palletized freight
Quick and easy assembly
Designed for data centers
24" width is perfect for data centers
Flush floor mount spreads load on floor tiles
Optional side & filler panels
Optional top panel with cable pass-throughs
Applications
High density installations
Cloud & virtualization providers
Note: Height kit and depth kit required to purchase complete rack.
---
Rack accessories
Rack tops, caster kits, side panels & power strips may be purchased separately. Follow links in each accessory section below for offerings.
RackSolutions' Open Frame Rack provides users with a versatile, customizable solution engineered to meet a diverse set of rack mounting needs. Ranging in heights from 5U to 58U, this rack optimizes cooling and promotes easy wiring, making it ideal for high density installations. It is perfect for data center deployment. It includes a vertical cable organizer (sold separately with 50U, 52U, 55U & 58U), as well as support for power strips, PDUs and for APC tool-less mounting. This rack features square holes for cage nuts, works perfectly with tool-less rails, and it's quick and easy to assemble. The Open Frame Rack is compatible with 19" equipment developed by all of the leading OEMs including: Dell, HP, IBM, and Super Micro.Read more about Open Frame Racks. (opens in a new tab) The Open Frame Server Rack also features a number of new design attributes built specifically for data center deployment. The bottom of the open case has flush floor mounts that spread the rack's payload evenly over the floor. It can also be ordered with optional side and top panels. The top panel comes with or without holes for cable pass-through.
---

---
Rack Top Options
Close out the top of this rack with one of four Rack Top options. Choose from black or galvanized Rack Topswith or without cable pass-throughs. These are useful on short racks for providing additional storage space. Hardware included.
---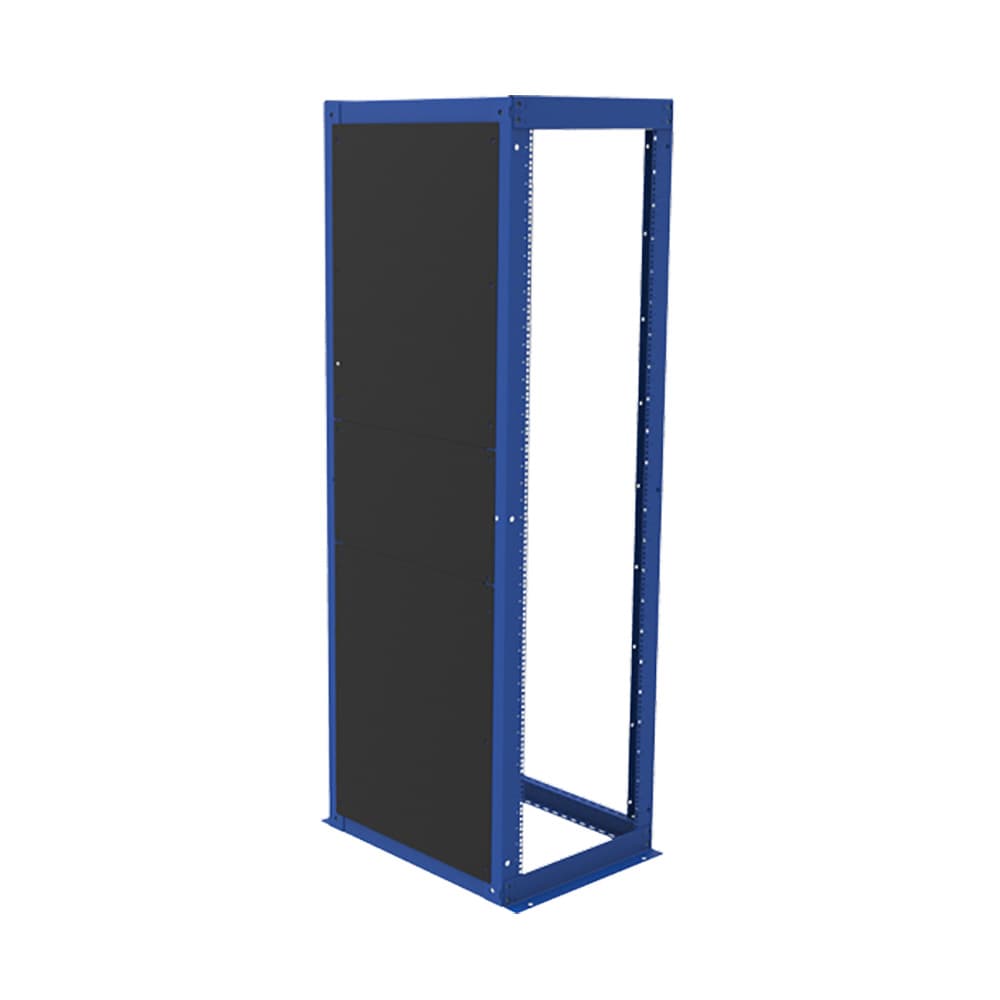 Rack Side Panels
These tool-less, non-locking, Side Panel Kitscome in 16U, 24U, 30U, 36U, 44U, 50U, 55U and 58U sizes. Each side panel kit is broken into 1, 2 or 3 sections (depending on U height) to make installation easy. 58U, 55U, 50U and 44U rack panels are broken into 3 sections per side. 36U, 30U and 24U rack panels are broken into 2 sections per side. 16U has 1 section per side. You must order 2 side panel kits per rack if you wish to install side panels on the left and right side of the rack. Open Frame Rack-111 side panels are easy to install. Side panels are only compatible with Rack-111 racks that are 28.875" deep.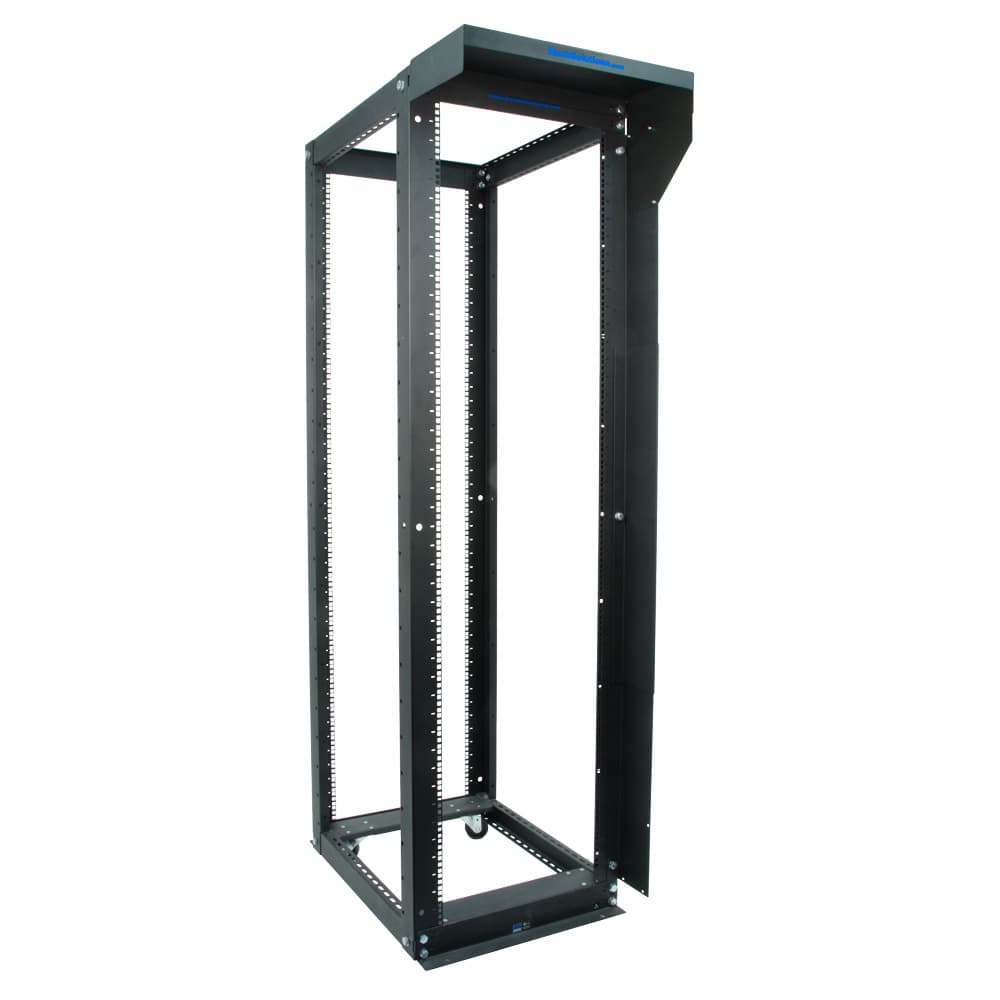 Rack Air Dams
The Air Dams from RackSolutions help direct the air toward the rack equipment, instead of at the ceiling. Choose between a 5" or 10" air dam that runs the length of the Rack 111. The adjustable size of the side air dams allow this option to work with Rack 111's in heights from 44U-58U.
---
Power Distribution: Choose from 8, 16 or 24 Outlets
Baying Kit
1 Baying Kit is required to join 2 of these racks together. 2 Baying Kits will join 3 racks together and so forth. Every rack is designed to be coupled to one-another (same height rack).
Vertical Cable Organizers
OneVertical Cable Organizeris included with each rack (sold separately with 50U, 55U, and 58U). There are eight (8) locations to mount this vertical organizer (front/rear, right/left, and inside/outside). The organizer supports up to four (4) power strips. Holes included for cable pass-thru. Multiple wire tie points. Management bar is shared with adjacent racks.
Caster Kit Option
Provides convenient rack access in tight spaces. The maximum capacity on casters is 800 lbs.
For safety reasons, this Caster Kitis only recommended on racks heights of 30U or less. Casters add 1.5" to overall rack height. Seeinstallation instructions (opens in a new tab)for more details.
---
Installation Examples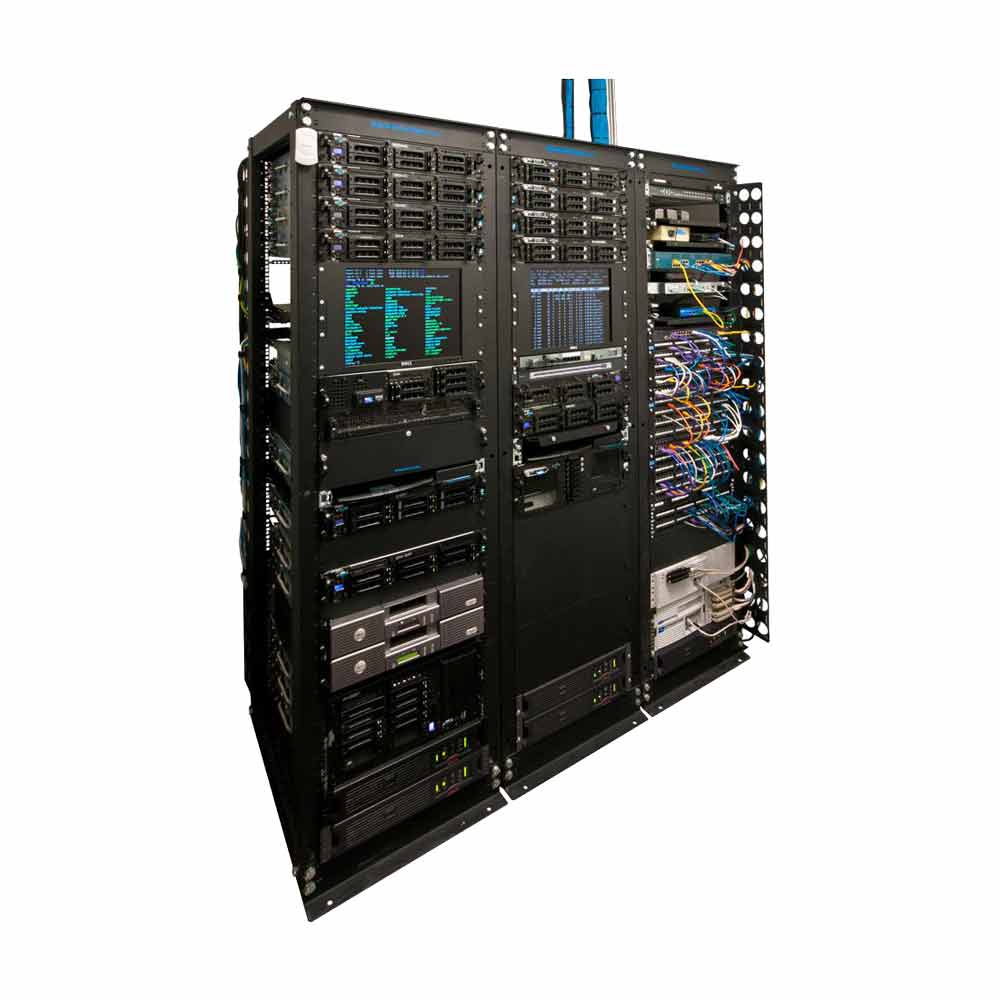 Note: Above is a great example of three, Open Frame Racks bayed together in a server room.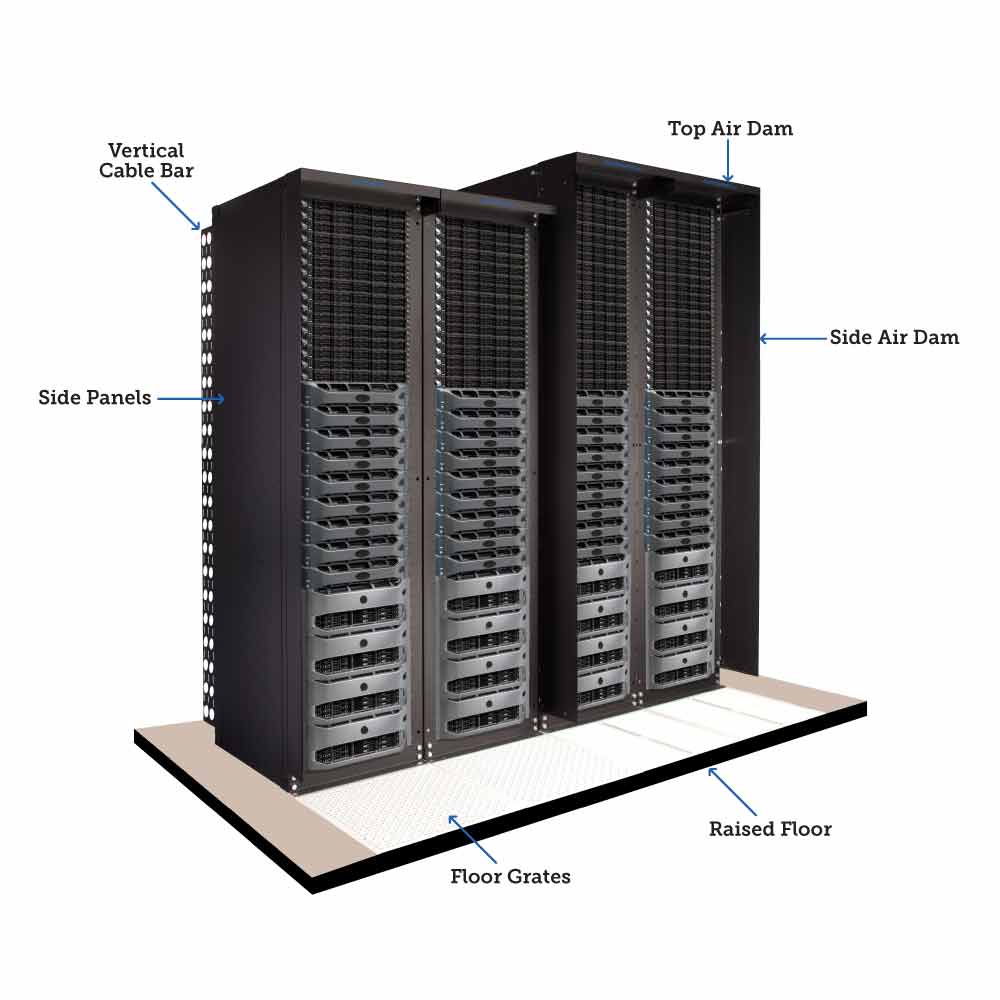 Note: Above is an example of two, 50U, Open Frame Server Racks bayed together with two, 55U Server Racks in a data center.
---
More Information
Country of Manufacture
United States
Included Hardware

Metal Parts:

(4) Vertical Rack Posts
(4) Front-to-Rear Braces
(2) Top Angles
(2) Bottom Anchor Angles
(1) Vertical Wiring Bar

Fasteners:

(27) 1/2-13 Bolts
(11) 1/2-13 Nuts
(27) 1/2 Washers
(40) 12-24 Cage Nuts
(40) 12-24 Screws
(1) Floor Anchor Kit w/ Drill

Rack Type
4 Post Rack, Open Frame
Hole Type
EIA 3/8" (9.5 mm) square hole
Rack Internal Width
EIA 19" Standard Rack
Rack Mount Depth
28.875" (733 mm) 24" (610 mm) 20" depth (508 mm)
Dell Part Number
111-1725 - A0608138
111-1726 - A8930311
111-1728 - A1119234
111-1729 - A0608140
111-1731 - A5698624
For a full list of Dell SKUs setup in the Dell ordering system visit our Dell SKU page.
Synnex Part Number
100-1319 - 4793664 111-1725 - 4614597 111-1726 - 4614600 111-1727 - 4614599 111-1728 - 5601941 111-1729 - 4614598 111-1730 - 5994426 111-1731 - 4614601 111-1778 - 4911538 111-1779 - 4771860 111-2258 - 6049404 111-4596 - 4793663 137-0314 - 4614605 137-0315 - 4614604 137-0317 - 4614603 137-1707 - 4793652 PSV-F8-15A-Q - 4771867 PSV-F16-15A-R - 5527735 PSV-F16-20A-U - 4942640 PSV-F24-15A-S - 5527736 PSV-F24-20A-V - 4742438 RACK-111-PSMOUNT - 4771866 PSV-F8-20A-T - 5527737
Ingram Part Number
100-1319 - NA1116 111-1725 - DY9817 111-1726 - PC4688 111-1727 - LB0492 111-1728 - 3B0382 111-1729 - DY9818 111-1730 - XR2014 111-1731 - LJ8100 111-1778 - NE9993 111-1779 - 3F5106 111-2258 - 3J1804 111-5758 - 7MQ980 137-0315 - 3J0374 137-0316 - 4E8580 137-0317 - DY9820 PSV-F8-15A-Q - PG5628 PSV-F16-15A-R - E66437 PSV-F16-20A-U - T32998 PSV-F24-15A-S - NA1114 PSV-F24-20A-V - PF1238 RACK-111-PSMOUNT - NA1115
Tech Notes
UL certified
Finish
Black, textured powder coat
Rack Post Shape
J-Form
Assembly Notes
3/4" (19 mm) wrench required Assembly time is approximately 10 minutes
Rack Outside Dimensions
Width = 24" (609 mm)
Depth = depth kit you select (28.875", 24" or 20") plus 5" or 11" based on the vertical cable bar selected
Example: 28.875" + 5" = 33.875" depth

Height


5U = 15.0" (381mm)
16U = 34.5" (870mm)
24U = 48.5" (1226mm)
30U = 59.0" (1493mm)
36U = 69.5" (1759mm)
44U = 83.5" (2115mm)
50U = 94.0" (2382mm)
52U = 97.5" (2471mm)
55U = 102.5" (2604mm)
58U = 108.0" (2737mm)

Rack Casters
Optional Caster Kit with a weight capacity of 800 lbs. 111-1731
RoHS Compliant
Yes
TAA Compliant
Yes
Dimensions
Rack Height Options 5U,16U, 24U, 30U, 36U, 44U, 50U, 55U, 58U