RackSolutions Introduces its first Wall Mount for HP PCs
There are many times when it is necessary to display information up on a wall. In data centers, for example, it is quite common to have monitors that show the status of various systems as part of a monitoring system. Even in waiting rooms and public areas, many companies like to be able to put up information about their company to customers who are around.
Having a wall mounted monitor and PC is a great way to be able to easily keep everything together so it is properly organized, and easy to manage. For those with HP brand computers and monitors, the new HP SFF Wall Mount from RackSolutions is the perfect solution. Knowing that the mount is designed specifically for your type of equipment will give you confidence that it will work properly.
HP Wall Mount Specs
The HP SFF Wall Mount is designed to make it quick and easy to mount HP PCs and monitors on almost any wall. Some of the best features of this system include:
Monitor Compatibility – You can use this model on almost any type of flat panel display. It has mounting holes positioned for both the 75mm and 100mm VESA patterns, which covers most models.
PC Compatibility – This wall mount will work with many different types of PCs including the HP Compaq Elite 8300, HP ProDesk 600 G1 SFF, HP Compaq 6300 Pro SFF, HP ProDesk 400 G1 SFF, HP Elite Desk 800 G1 SFF, HP Compaq 6305 Pro SFF, and others.
Convenience – Having one wall mount that allows you to easily position the PC and the monitor together removes the need for lengthy video cables. It also provides a clean looking display.
Durable – The optional mount bracket, this wall mount can hold up to 50lbs, which is more than enough for virtually any HP PC & monitor.
Adjustable – There is an optional tilt monitor bracket that allows you to position the display up or down for better viewing.
Safe – With the included hardware it is possible to install this wall mount directly into the studs so it is securely held in place. Both the PC and the monitor are also securely held so that there is virtually no risk of them falling out and causing injury.
Installing the Wall Mount
Once this wall mount arrives, it is easy to install on the wall. Most people will run an electrical outlet up behind where the wall mount will go, which eliminates the need to have any type of wires threaded behind the walls for the computer or monitor itself. Since most modern PCs will have wireless network cards, it is easy to hook the computer up and connect it to the WiFi in just minutes.
Some people will then just hook up a keyboard and mouse only when it is needed. Others will place the keyboard and mouse on top of the PC, behind the monitor, so they are out of the way until needed. Still others will actually configure the PC for remote access so that the wall mounted computers can be accessed and used from another computer on the network.
Summary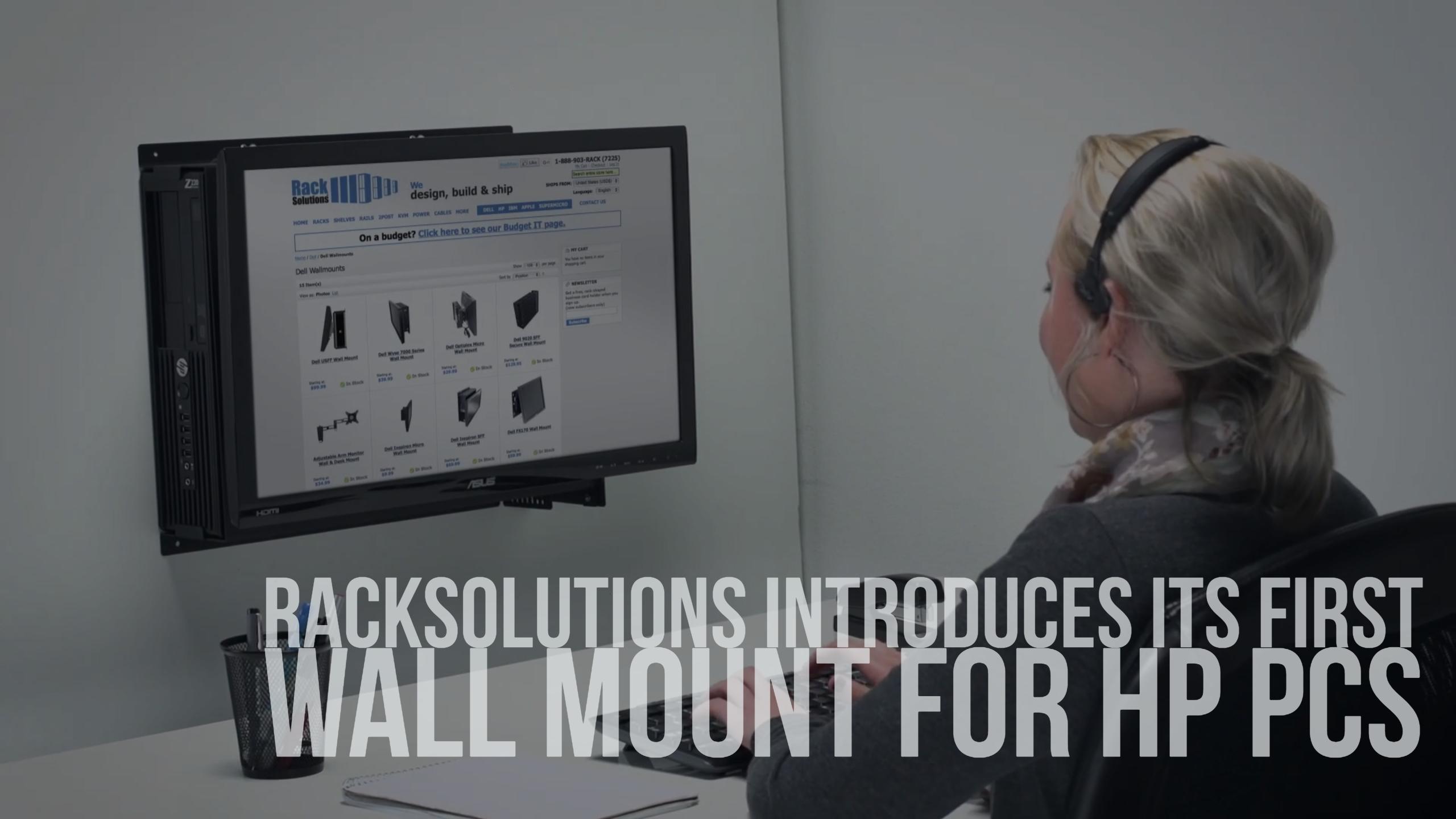 Article Name
RackSolutions Introduces its first Wall Mount for HP PCs
Description
The HP SFF Wall Mount is designed to make it quick and easy to mount HP EliteDesk 800 G1 SFF PCs and monitors on almost any wall. Features include:
Author
Publisher Name
Publisher Logo