Computer Monitor Mount: Why Your Home or Business Needs it
Computer monitors take up far less space than in previous years, but they still sometimes get in the way. In addition, it can be difficult to ensure your monitor is in the perfect location for your particular needs. The best way to keep monitors in a safe and convenient location is to use a computer monitor mount.

Computer monitor mounts attach to the back of a monitor and allow you to mount it in virtually any location. There are a variety of different models and styles that can be used in many different situations. Understanding how to use a monitor mount is important for everyone from an individual home-user to major IT facilities.
Benefits of Mounting Your Computer Monitor
There are many advantages that come with a computer monitor mount. Of course, these advantages will vary from situation to situation. The following are some of the most common benefits:
Improved Use of Desk Space – A monitor mount allows you to place the monitor up off the desk, if necessary. It's also possible to set up multiple monitors that attach to one mount on the desk to minimize the amount of desk space they consume.
Easier to Reposition Monitor – Many monitor mounts use adjustable arms that allow the user to position it in multiple ways.
Ergonomic Benefits – Having a monitor mounted in the proper position can help to minimize neck strain and encourage proper sitting positions, which is important for those who work long hours in front of computers.
Security – Monitors in public spaces need to be protected. Physically mounting it on a wall or other location can help to minimize the risk of theft or damage.
Convenient Display – Monitor mounts allow you to put the display in almost any location needed. This allows for a more convenient and effective display.
Can All Monitors be Mounted?
The simple answer to this question is yes, all monitors can be mounted. The vast majority of monitors today come with a mounting plate on the back, which makes it extremely easy to use popular monitor mounting products. Even older monitors or old CRTs that don't have this setup can still be mounted. These simply require a mount that attaches to the sides or bottom in order to secure it in place.
In almost all cases, the best option is to look for a wall or rack mount whose design specifically fits the monitor that you are using. Due to the fact that multiple manufacturers often follow the same or similar standards for designing the mounting plates, there are mounts that will work on a large number of different monitors.
For example, there are mounts that will attach a monitor to a PC workstation, which then gets attached to a wall to completely free up desk space. Other mounts will attach directly to a wall, and then have an adjustable arm to move the monitor to any position needed.
Rack Mount Monitor
For commercial settings, it is often necessary to mount a monitor within a server rack. These monitors can attach to various devices within the rack to allow technicians to interact with servers, switches, routers, and other equipment. It may be a direct connection to the equipment, or it may go through a KVM device. Either way, having the monitor secured in the rack will help ensure ease of access and protection.
Depending on the type of monitor, the type of rack, and other details, there are quite a few ways that you can rack-mount a monitor. A common way is to use a KVM tray, which will attach to the inside of the rack. Another popular option is to place the monitor on a rack shelf. This allows you to pull the monitor in and out for easier access.
Computer Monitor Wall Mount
Wall-mounted monitors are very popular in commercial settings. You will often see them, for example, in retail and fast-food locations where large monitors are used to display instructions, advertisements, menu items, and much more. In IT facilities, large monitors can serve to display monitoring information, key project details, and much more. Regardless of its use, it is important to secure your monitor in a good quality wall mount.
A computer monitor wall mount needs to be installed in such a way as to easily support the weight of the monitor. This typically means choosing a mount designed to hold the size of the monitor in question. The mount will then be secured to the studs behind the wall using strong bolts. Once installed, the monitor will attach to the wall mount where it can remain in place for years to come.

Summary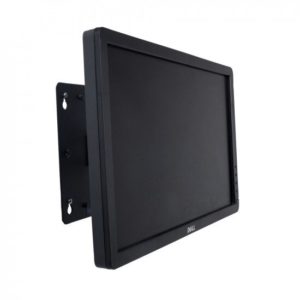 Article Name
Computer Monitor Mount: Why You Need it - RackSolutions
Description
A computer monitor mount has several benefits which include freeing up space, providing a more convenient display of your monitor, and others.
Author
Publisher Name
Publisher Logo