400 Million New Servers Might Be Needed by 2020
Due to the ever growing popularity of the Internet, the need for IoT is expected to increase substantially in the near future. IoT refers to the Internet of Things, which is the network of devices, buildings, vehicles, and other physical objects that are embedded network connectivity, electronics, sensors, and software to enable communication.
The Need for Data Centers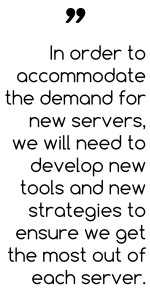 By 2020, there may be a need for as many as four hundred million new servers. Diane Bryant from Intel stated that the device to server ratios are 120 to 1 for tablets, 20 to 1 for digital signs, and 20 to 1 for surveillance cameras. Gartner believes that over 25 billion devices will be connected to the Internet by 2020. On the other hand, Cisco believes the figure is closer to 50 billion. These predictions do not only take into account devices like PCs, tablets, laptops, and smartphones. They also take into account Internet-connected devices like dishwashers, cars, toasters, weather sensors, and more.
Right now, there are about 100 million servers that are currently being used all around the world. A substantial number of these servers are owned by Google and Microsoft. This estimate is based on more than a dozen varying sources. If there are about seven billion connected devices in the world, this means one physical device supports roughly 70 devices.
If we have about 30 billion connected devices by 2020, we will need about 425,000,000 servers to support these devices. 30 billion devices also happens to be a rather conservative estimate, since Cisco believes the figure will reach 50 billion by 2020. Based on our historical technology demands, there may be a data center on practically every corner by 2020.
Speaking of data centers, you may not be sure what 400 million new servers will mean in terms of the demand for new data centers. A large data center has about 5,000 racks. Each rack holds about 20 servers. This means the average large data center can support 100,000 servers. In order to support 400 million new servers by 2020, the world will need approximately 4,000 new massive data centers. Each data center will measure about 50 mega watts of power and 400K SF each.
New Tools & Strategies Needed
In order to accommodate the demand for new servers, we will need to develop new tools and new strategies to ensure we get the most out of each server. Today, the average utilization of the CPUs of servers is below 20% on a global level. Google servers tend to be the very best of the best. Despite this, Google's servers typically only utilize about 65% of the CPU on average. Therefore, there is plenty of room for new technologies and platforms that will help us effectively utilize our existing server resources.
We simply won't be able to keep up with the demand if we don't change the ways we build and utilize our servers. Our dependence on combination virtualization, large applications, brute CPU power, and extra people simply won't cut it anymore.
Infrastructure team members will also need to become more efficient in their work. Server management and deployment should follow the example of Facebook and Google. Even these companies, however, can afford to make improvements. It is important to realize that it is impossible to scale people and rely on snowflake deployments.
Overall, businesses need to be ready for the changes ahead. Businesses that fail to make changes to keep up will be washed out by the competition.