Everything You Need to Know About Universal Server Rack Rails
How do universal server rails work?
So how do universal server rails work? Companies like Dell, HP and IBM make rails that are meant to fit specific devices, so why is it that a rack manufacturer can fit any server onto one rail?
Well, first off, universal rails aren't exactly like traditional fixed or slide rails. Slide rails need an inner rail to be attached to the server chassis and an outer rail that attaches to the rack. The inner rail that attaches to the server does so by utilizing "shoulder screws and nuts" on the server chassis that slide into "J-slots" on the rail. Similarly, fixed rails use the shoulder screws and J-slots to attach to a single rail that connects to the rack. 
Universal rails don't utilize shoulder screws because they are often placed in different areas depending on the chassis. It would be impossible to put enough J-slots on a rail to satisfy every server model.
The solution to varying depth and shoulder screw spacing is modifiable depth and an L shaped flange that supports the server chassis. To achieve modifiable depth, the rail is split into two parts that can be connected in many places. The L shaped flange gives a place for the server chassis to rest while still allowing it to slide out for easy access.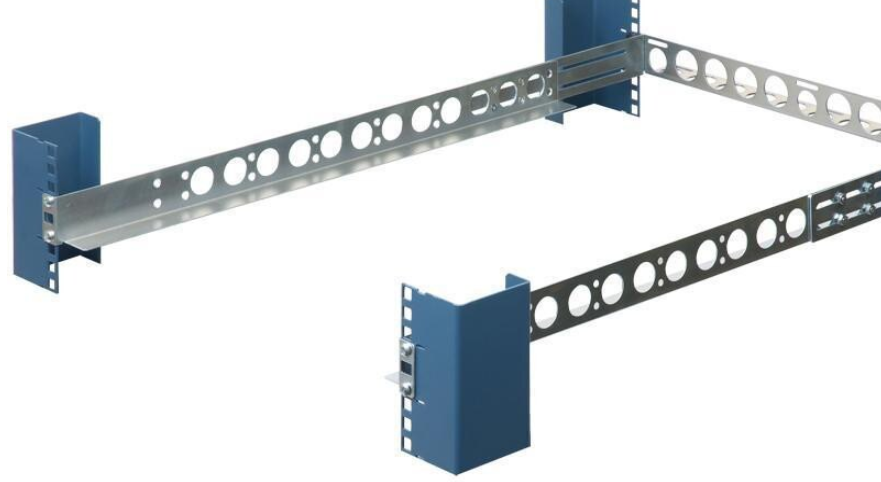 How to install a universal server rail
Assembling universal server rails can be done in four steps. All supplies needed to install the rail should be included in a kit along with instructions.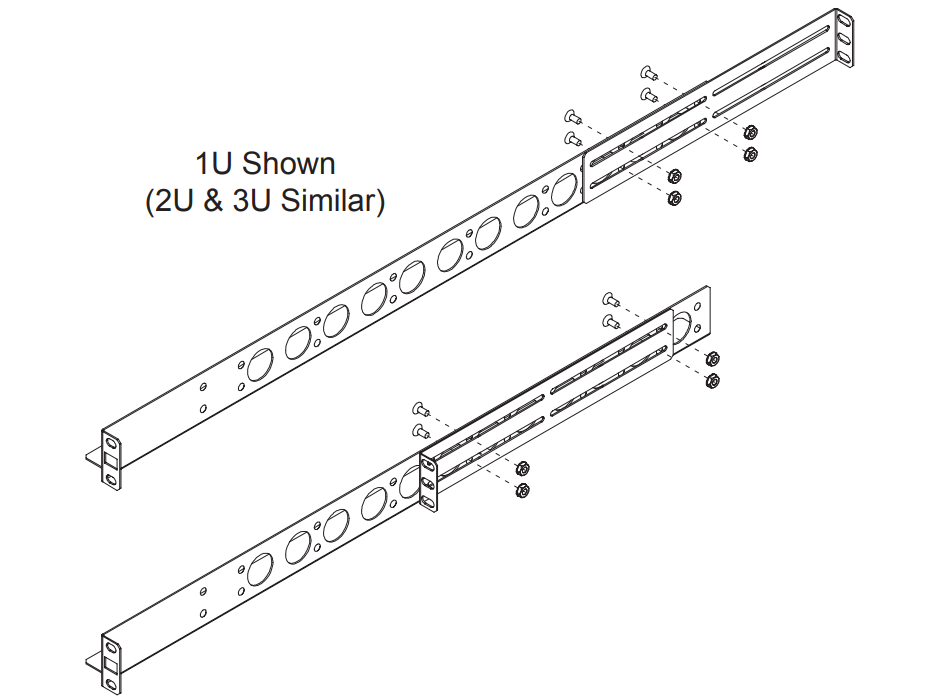 First, attach the rear brackets to each fixed rail with 8-32 flat head screws and nuts. The fixed rail will attach to the front of the rack and the rear bracket will attach to the back. 
Second, attach the front of the rail to the rack. Before you do, make sure to check that you have the screws and cage nuts that match your rack and server requirements.
Square: Use 12-24 screws with 12-24 cage nuts or 10-32 screws with 10-32 cage nuts.

Threaded: Use 12-24 or 10-32 screws with no cage nuts. Whichever fits your rack.
Third, attach the back of the rail to the rack. Your rack should have the same hole types on the front and back, and the same rules apply from the last step. If you have square holes, use the cage nuts and if they are threaded, use the appropriate screws. 
Next, you will need to install and secure the server. 
How to secure your server on the universal server rail rack
Placing your server into the universal rail is simple – it just slides in. The L shaped flange at the bottom will support its weight.
In order to completely secure your server into the universal rail, your server will need to support thumb screws. These fit in the middle of your allotted U-space. For instance, if you have a 1U rail, that will take up 3 holes. The top and bottom holes will be used for mounting the rail and the middle hole will be used for a thumb screw. 
Equipment required to install a thumb screw is dependent upon which server brand and type of rack you are using.
Dell Equipment

installed in 10-32 threaded racks will support thumb screws with no additional effort 

Square hole racks

require 10-32, 12-24 or M6 cage nuts, depending on what screws your server is compatible with. These will be inserted into an appropriate rack hole that isn't being used to support the rail.

Round hole racks

require a cage nut to be installed backwards. Essentially, the cage nut will clamp between the rail and rack, protruding outwards.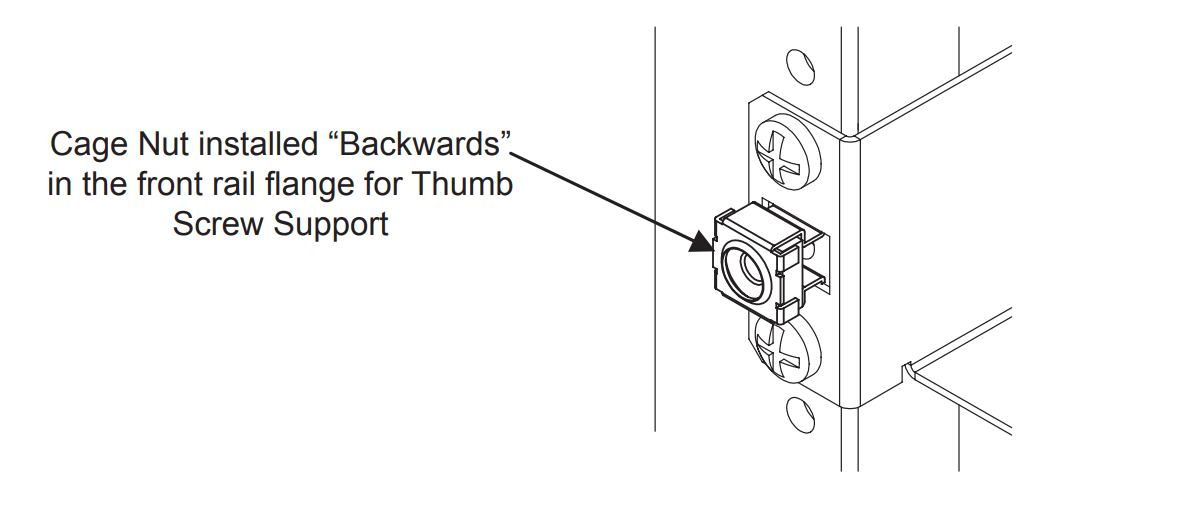 Benefits of choosing a universal server rail over OEM rails
Buying equipment that is built for your specific server feels like the intuitive thing to do, so why exactly would you choose a universal rail?
OEM rails often aren't manufactured for as long of a time as the server is functional. Servers can last longer than 10 years, but the accessories associated with them may not. Universal rails, on the other hand will function the same as long as industry standard dimensions are consistent. Additionally, some brands don't offer server rails after the initial purchase.
Universal rails are sometimes cheaper than OEM rails. Depending on the type of server you own, it might be a better deal to go with universal rails. If you want to mount a variety of servers, it might be easier and less costly to purchase one type of rail for all of them.
When you update server equipment, your OEM rails will be useless. Universal rails save time spent selling old OEM rails and money updating when equipment is changed.
How to install Universal Server Rack Rails
Summary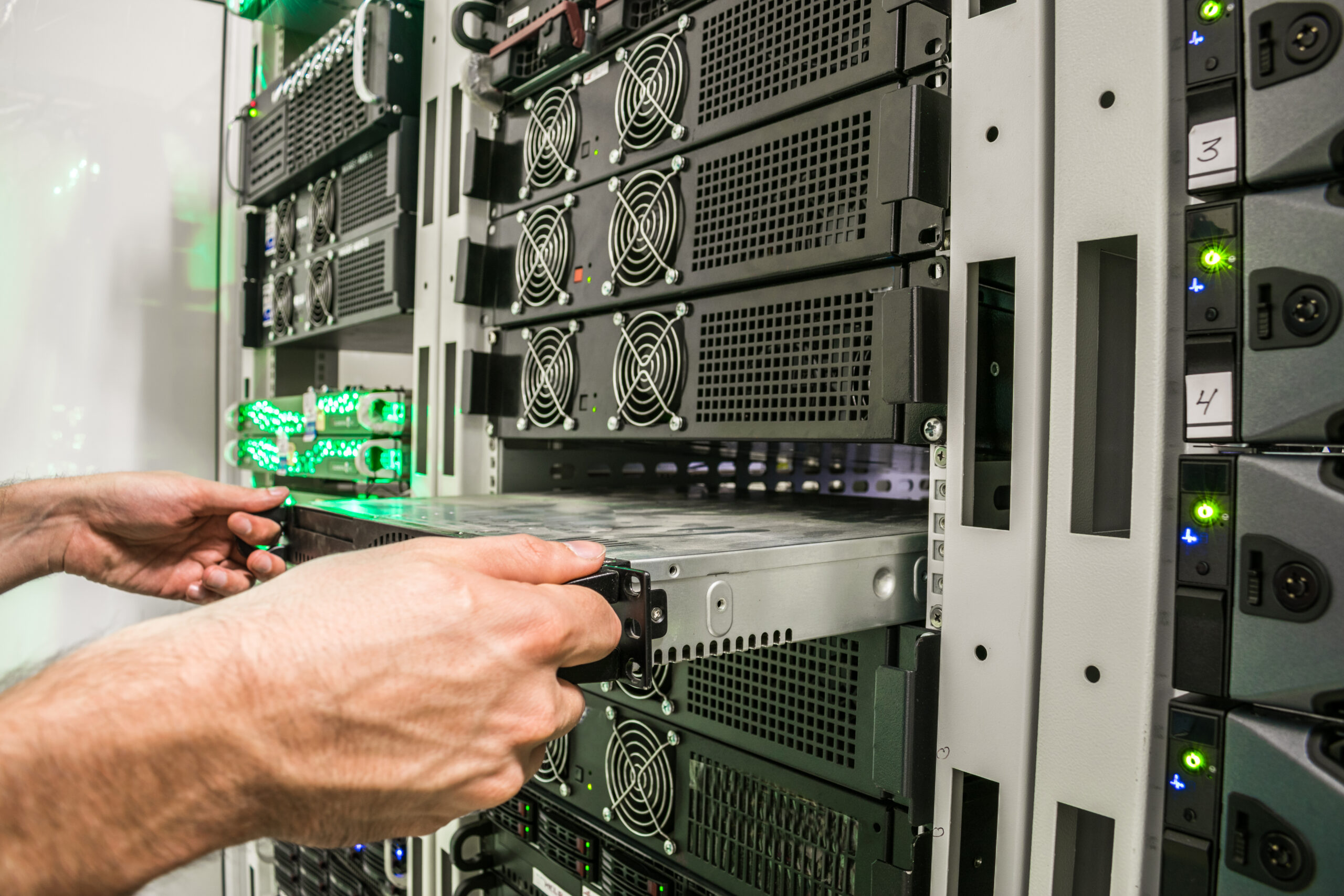 Article Name
Everything about Universal Server Rails - RackSolutions
Description
Universal server rails are an alternative to OEM rails that fit any kind type of server. They are widely used in the IT industry.
Author
Publisher Name
Publisher Logo