What is a Server Rack Rail?
A server rack rail is used to mount servers in a 2-post or 4-post rack. There many types of sizes and models of server rails making it easy to find the perfect fit for your use case.
Types of server rails 
OEM or server specific rails are tailored for your exact server ensuring an easy and secure fit. These hold servers using shoulder screws and j-slots, which are able to provide a secure fit while using a minimum amount of space. Because of the many different configurations of server chassis, these usually only work with a few or as little as one server model.
Universal rails hold servers by the corners, meaning that shoulder screws are not required and any server will fit within the rail's criteria. Many server specific rails are only offered by the manufacturer at purchase or are discontinued within a set amount of years after release. Universal rails not only ensure that you will be able to mount any server, but have something to relay on if your OEM rail stops working years after it is purchased.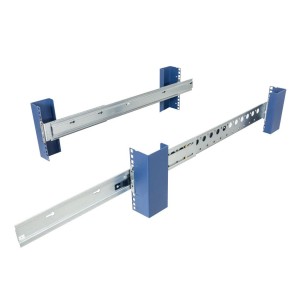 Styles of server rails 
When it comes to server rail functionality, there are three categories – tool less, fixed and sliding. Universal rails are not latched in with shoulder screws, so they function as both fixed and sliding rails depending on whether or not it is locked with a thumb screw.
Tool less variants are available for both server specific and universal rails. They make rail installation significantly faster, especially when done in bulk. The most popular rack hole type, square holes require cage nuts to install rails using threaded screws. Tool-less rail kits are designed to latch onto square holes with tension, meaning you won't need screws or cage nuts.
Using a fixed rail kit means that a server will be either locked in or detached. If you want to perform maintenance on a server mounted on a fixed rail, you will have to remove it completely which can be difficult if there is equipment on top and below the server. However, fixed rail kits generally use less metal and therefor are more cost effective than slide rails.
Slide rails allow your server to be removed like a drawer. This means that you can perform maintenance while it is still attached to the rack and remove it even when other equipment surrounds it.
TLDR
Rail kits are used to mount servers and other necessary IT equipment within a 19" sever rack. You can purchase rails for 2-post racks that allow for both center mounting and flush mounting. When you purchase your server rack rails, ensure you are buying rails that match your rack hole type (10-32 threads, 12-24 threads, M6 threads, round, and square). You can read Rack Screw Holes: Understanding the Differences to learn more about the different types of holes within your rack.
Click here to view RackSolutions selection of server rack rails! We maintain a sizable choice of server rack rails for all of your needs.
Summary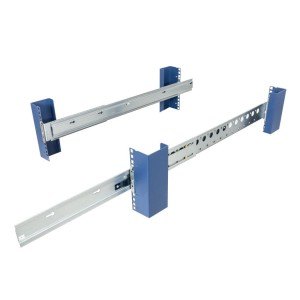 Article Name
What is a Server Rack Rail?
Description
A server rack rail is a rail designed specifically to be mounted in a 2-post or 4-post rack. Rails are sold in kits can come in varying sizes and "U" shapes
Author
Publisher Name
Publisher Logo