How This Team Mounted AV Equipment Inside of a Ceiling
In early December, Impression AV was excited to report to RackSolutions that our Vertical Wall-Mount Brackets helped them solve a unique and interesting Audio/Video (AV) request from a client. After receiving the challenge to make a large screen presentation system invisible, they mounted a complete AV system somewhere in this packed room. 
Judging by the picture above, where do you think they stored the equipment? 
Finding Space to Mount AV Equipment
The client was a real estate agent and property consultant in Cambridge UK. Each month, the company gathers for a meeting in the only space large enough to fit over 100 people – the coffee shop. 
Beyond AV equipment taking away from the clean look of this area, adding a shelf and cables would only have decreased available space. Inevitably, this led to a request that there be no visible racking and no external trunking for cabling. 
If you haven't guessed by now, this left them looking inside the ceiling panels.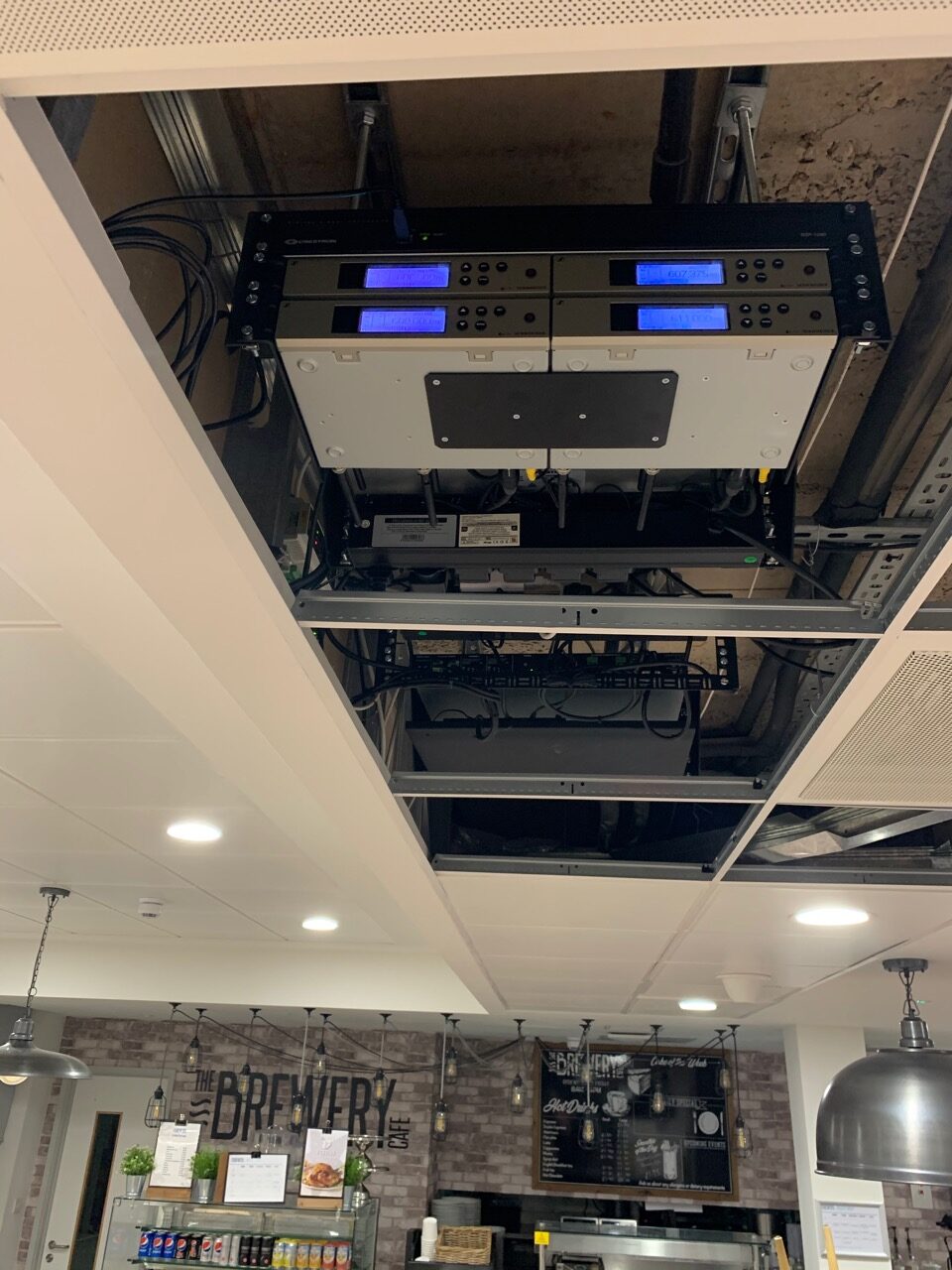 How the Ceiling Mounted AV Equipment was Installed
While it's typical to have a projector hanging from ceiling tile, mounting a complete AV system is a bit different. 
The company has a discrete projector suspended from the ceiling in a usual manner. A few panels away from the projector are four Sennheiser G4 wireless handheld microphone receivers, a Crestron Avia 12×8 Digital Signal Processor and a Lab.Gruppen E-Series Amplifier.
Since projectors are often hung from the ceiling, it's easy to find one that can be mounted between panels. This is not the case when it comes to audio equipment though, and that is where RackSolutions comes in. 
Our 3U Vertical Wall-Mount Brackets happened to fit perfectly within the ceiling void while being hung from a grid. Power supply units were mounted to the grid as well. 
"The Vertical Wall-Mount Brackets proved the perfect fit as we found space in the ceiling void. Having one rack for everything wasn't going to work as the physical space didn't exist, so we split the racks into 2 elements of 3U each. Using Unistrut and threaded rod we were able to allow flexibility in the depth of each rack, and the results were fab!" – Tim Headley, Specialist at Impression AV
Hiding Cables in the Ceiling Space
Cables are a breeze to route through a ceiling void. Since all of the speakers are on the corners of the ceiling and wall, there is no need for drilling holes in visible areas. The projector being close by makes routing audio output cables easy as well. 
Projector cables are often routed outside of the wall in an enclosure. This can often be seen in classrooms where budgets for aesthetics are low. Cable enclosures can match the color of a wall, but still protrude unlike anything else in the room. 
Impression AV was explicitly told to not have external trunking for cabling, so there were two obvious options to get a video connection from a computer to the projector. They could either use a wireless audio/video transmitter or create a wall outlet that included an HDMI port. 
From the pictures, it's not clear what path Impression AV chose, but there are clear trade offs for each option. Wireless AV transmitters add latency to the setup and are generally less reliable than a direct connection. The benefit being the ability to present from anywhere in the room. Using a wired HDMI cable would be cheaper, easier to replace and most presentations would be given from the same area anyways. 
A Near-Perfect Solution for an Improvised Meeting Room
It isn't common to see our rack mounts in a ceiling void. Still, this company isn't the only group of people who could benefit from increased space and a clean appearance. This type of creativity has the potential to transform a cluttered room into an area that owners would be proud to show investors. 
In terms of cost, this solution wouldn't differ very much from using a full sized rack. The biggest disadvantage is maintenance. Malfunctioning equipment now requires a technician to be in the middle of the room with a ladder. Sending a technician to a closet that stores IT equipment is much less intrusive.
In this case, maintenance inconvenience was a small price to pay for a cable-less, modern setup. Impression AV satisfied the customer's needs while improving their own portfolio. 
As 'mounting problem solvers' ourselves, we love hearing how customers solve their racking dilemmas with our products! 
Summary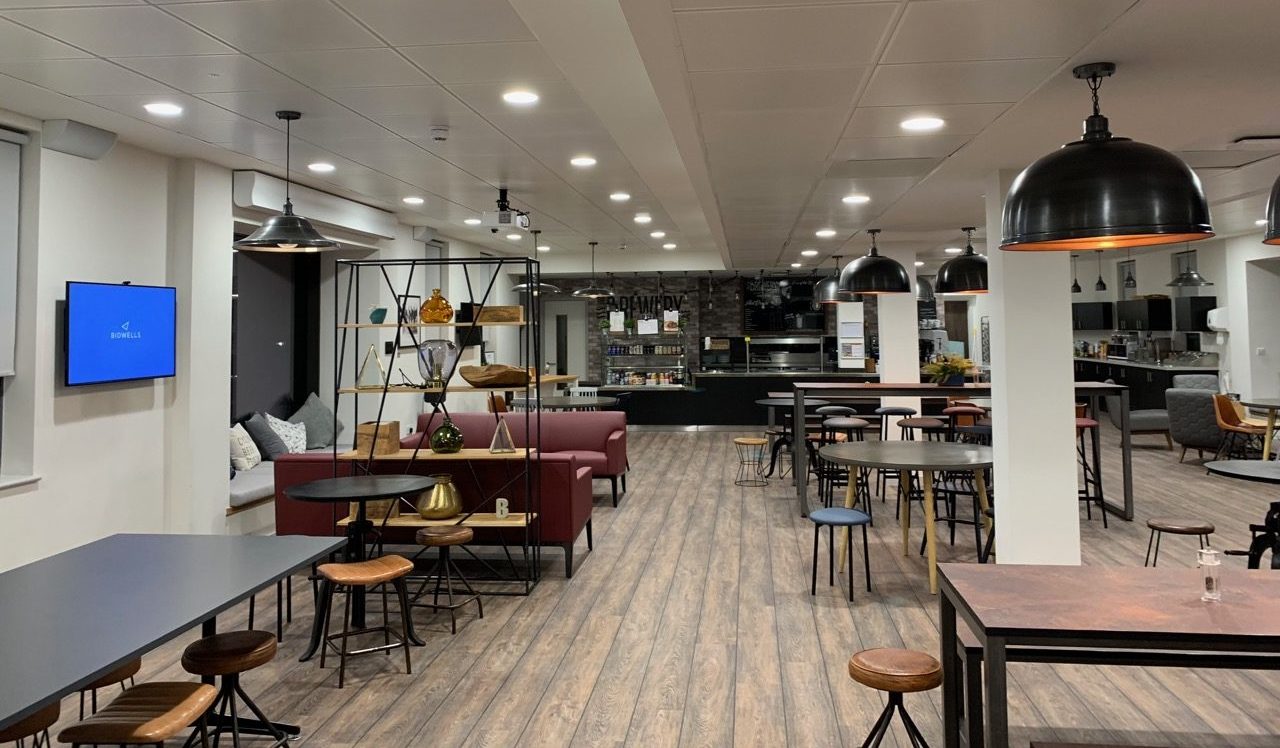 Article Name
How This Team Mounted AV Equipment Inside of a Ceiling - RackSolutions
Description
Given strict requirements, Impression AV used RackSolutions' Horizontal Wall Mounts to achieve ceiling mounted AV equipment
Author
Publisher Name
Publisher Logo