How to safely hide cables behind a wall
There are plenty of products available that help polish up your entertainment room, but no still better way to hide cables than running them behind your wall. It's a destructive, delicate task that can be a pain to repair, but if you're aiming for the best looking room, it's very necessary. 
Like for most other tasks, preparation will make everything go smoothly. There are only a few steps needed to get this right, but don't start without reading them or you might be watching a spackling compound dry for 24 hours.
Tools for hiding your cables behind a wall
Installation is relatively straight forward. At the end of the day, as long as you make two holes in the wall and drop some cables down, everything will technically work.
It's important to pay attention to details though, if you would like a safe and clean installation. Running raw power cables behind a wall is a fire hazard, but there are solutions to mitigate that risk. Also, the more effort you put into finding specific hole covers, the better your entertainment system might end up looking. 
ETL In-Wall Certified Power Cords

– TVs and game consoles' power cords

aren't up to fire codes

. Ready to use alternatives are easy to find on sites like

Amazon

. They are built to be operational behind a wall and often come with everything else needed for your installation. 

Wire Cable Hole Covers

– If you don't need to run power cords behind your wall, you can opt for basic

wall hole covers

. They make your wall hole not look as much like a wall hole, and protect your room from whatever might be lurking inside of your walls.

Electric, Adjustable Drill

– You'll need a special drill bit piece in order to create a perfectly sized hole. Therefore, you will also need a drill that can attach all different types of drill bits. Look for something like

this

. It has lots of good reviews, is low priced and likely will suffice for this small project.

Drywall Hole Saw Bit – These bits attach to your drill to make a perfectly sized hole in your wall. You will need to make sure that the hole cover and hole saw are the same size to ensure a good fit.
Cable Pull Push Kit

– Unless you are running your cables straight down, it might be a challenge to pull an end out of the receiving hole.

Kits like these

are designed to assist you in running cables through the back end of a drywall.

Wall Mounts (Optional)

– Wall mounts go a long ways in terms of appearance and organization. These can place your

Apple TV

/

PS4

/

Xbox Series X

closer to your TV or wall hole, making cables less of a chore to deal with.

If you purchase an all encompassing kit like the first linked, it will include a perfectly sized drywall hole saw bit, cable covers, in-wall certified power cords and potentially something to help direct cables through the wall.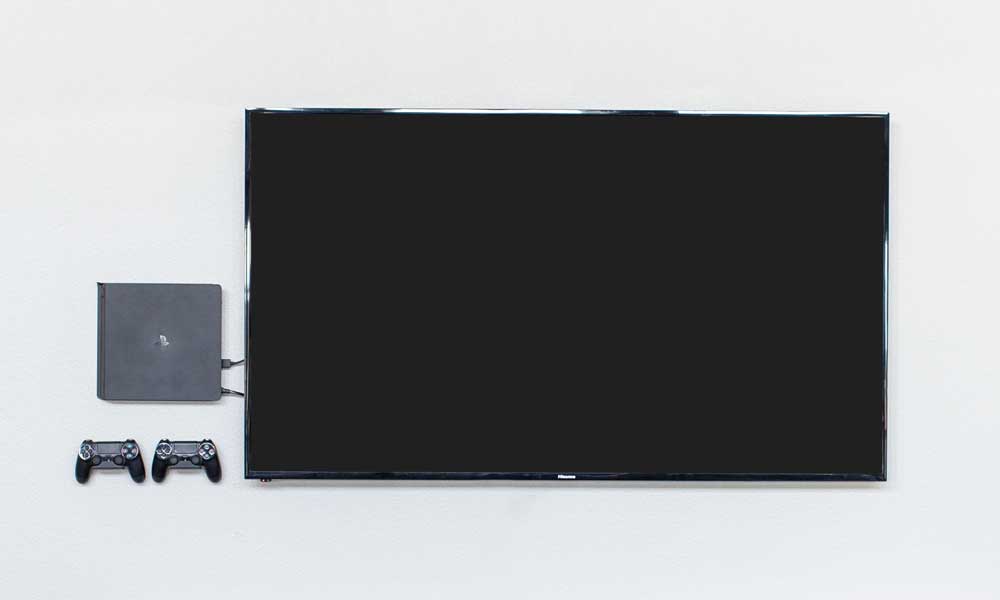 Otherwise, you will need to make sure that the hole cover is larger than the largest parts of your cable, your hole saw bit is the same size as the hole cover and the pull push kit is an adequate length. Potentially, the only thing you may need to purchase separately is the electric drill.
Step 1 – Map out hole placement
If your TV is currently mounted on the wall, you'll need to remove it or create room between it and the wall. Ideally, your hole will be hidden by the TV when it's in a common position. 
The best location for your holes will depend on three things: A spot behind the TV where there are no studs and when looking beneath that spot, there is a nearby outlet. 
Here's another reason why the originally linked kit is useful. The hole cover is attached to an extension cord that is safe to run behind a wall, allowing for increased slack to reach that nearby outlet. 
Step 2 – Drill the holes 
As long as the location of choice matches the three criteria above, you are ready to drill. 
If you've never attached a drill bit before, it can be a bit confusing. Go ahead and watch this video which covers all types of different chucks and how to install drill bits in them. 
All you have left is to hold your drill up to the wall and pull the trigger. Encase you're nervous, here's another video that shows this step being correctly executed. 
Step 3 – Fishing for cables 
If you purchased a kit, make sure to check with their instructions as this step can vary greatly with different equipment. These instructions will only cover a more general idea on how to complete this process. 
For kits that come with power cables and outlets, these will need to be installed first. They typically have holes within them that AV cables can be run through after installation. 
If your top and bottom holes are directly perpendicular to one another, it should be easy enough to drop them through the top and grab them with your fingers at the bottom. If they are not perpendicular or if they get caught on something within the wall, simply pull out your pull push rod and force them towards your direction. 
Rinse and repeat
After these steps, you will have a long lasting setup for hiding cables behind your wall. This method can be used in any room of a modern house, as long as there is drywall and you have the equipment. Just make sure to not cut any corners.
Realistically, repairing these holes shouldn't be anymore difficult than this as long as you have the right materials. All you'll need is some paint, self-adhesive mesh patch and spackling compound. Other than waiting for things to dry, it's a 10 minute process, well worth the benefits you get from a clean entertainment system.
Summary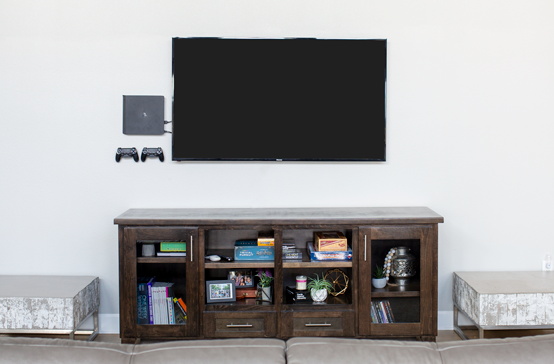 Article Name
How to safely hide cables behind a wall
Description
There's no alternative the sleek appearance of an entertainment room with cables routed behind a wall. Unfortunately, getting there is a delicate process.
Author
Publisher Name
Publisher Logo