Xbox Wall Mount – 6 Reasons Why You Need One
If you own an Xbox or any game console for that matter, you want to be able to enjoy it at all times. You can play video games, watch movies, stream shows, and use other cool applications, so of course, it should be fun. But what about after you turn the console off? If your gaming center is left unorganized, if things are stacked on top of your console, or if you just wish you had a little more space and a little less clutter, this can take the fun out of the whole experience. Fortunately, there is an awesome and inexpensive solution: an Xbox One Wall Mount.
By wall mounting your Xbox One or Xbox One controllers, you'll find that a lot of these inconvenient issues disappear. Here are 6 reasons why you should invest in an Xbox one wall mount.
1. Ditch the pile to protect your game console
If you own an Xbox, you already know that it sometimes becomes a glorified shelf. If not well taken care of, people will stack games, controllers, cords, random appliances, books, etc. on top of their Xbox. Additional weight on top of the Xbox can cause structural damage, which results in problems later down the road. Even if there is very little weight on top of the Xbox, additional appliances or accessories can trap dust or heat. This requires more cleaning and could cause system overheating, resulting in a shorter life for your console. By wall mounting your Xbox and controllers, you get rid of the pile and extend the life of your console.
2. Cleans up your entertainment center
With an Xbox One X or Xbox One S wall mount, you get rid of any additional clutter in your entertainment center. By getting your Xbox off the entertainment center and on the wall, it frees up space for other appliances. Wall mounting your console can also allow you to give up your entertainment center entirely by putting everything on the wall for a clean and modern minimalist look. Additionally, after a long gaming session, it's so easy to leave your controllers lying around, as there's no real designated place to put them. This only adds to the mess. By investing in Xbox controller mounts, you can designate an area to place your controllers and prevent any messes.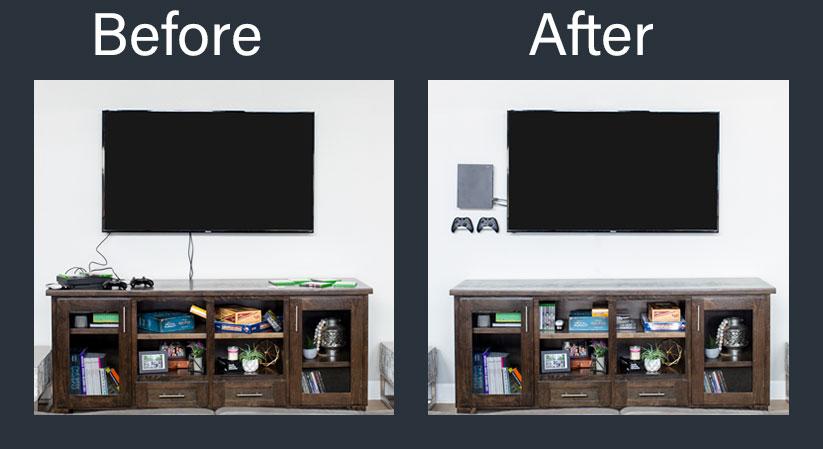 3. Mount your Xbox pretty much anywhere
By using a wall mount for your gaming console and accessories, the placement options are endless. If you want to proudly display your clean, sleek gaming center, you can wall mount your Xbox and controllers right next to the TV. This makes it simpler to connect your Xbox to your wall-mounted TV with a shorter cable distance and less room for tangling cables. You could also mount your Xbox behind your TV if you want a more discreet display. This would keep it away from prying eyes as well. Finally, for the most complete gaming center, you could even mount your Xbox under your desk. That way, your Xbox and controllers are just a short reach away.
4. Keeps Xbox out of reach of small children and pets
Everyone loves their pets and (most of the time) their children, but if you look away from them for just a few seconds, you might have a mess on your hands. This is especially true with your appliances and, of course, your gaming console and controllers. If you want to prevent your dog from chewing up your next Xbox One controller or your child accidentally dropping it, wall-mounting is the way to go. With a wall-mount, you can place your gaming console and accessories up and out of the way.
5. Makes cable management more… manageable
Perhaps the biggest headache with any console, TV, or other technology is cables. How often have you looked behind your entertainment center to unplug something and with the tangled bundle of cords in front of you, you have no clue what goes where? An Xbox wall mount makes managing your console's cables a breeze. You can run your cables straight down from the mount to the correct outlet, as well as mount your Xbox as close to any outlet as you'd like. By mounting it up and off a flat surface, it's also much easier to trace the origin of the cables.
6. Installing an Xbox One Wall Mount is fast and simple
An Xbox wall mount can be mounted in minutes and you can do it yourself quite simply. There are only a few, very straightforward steps in this process. First, find the area you want to place your console and controllers. Next, drill a few holes in the wall, aligned with the holes in the mount. Finally, just place your mount in accordance with these holes and fasten the appropriate screws and anchors. This is great for people who want a simple, DIY Xbox One wall mount, and can get you back in the game in no time.
Quality mounts for a quality gaming experience
If you want to get the most out of your Xbox One, you need to invest in an Xbox One Wall Mount. There are plenty of options, including the Xbox One X wall mount, Xbox One S wall mount, and even Xbox controller mounts. If you want to free up tons of space, lose the clutter, and boost your gaming center with a sleek look, these mounts are your solution.
Summary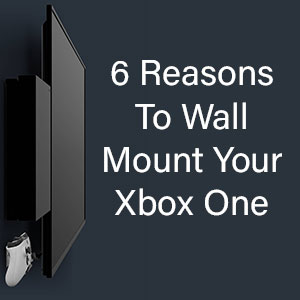 Article Name
6 Reaons Why You Should Wall Mount Your Xbox One
Description
An Xbox One wall mount is an effective way to organize your entertainment center. See how an Xbox One X or Xbox One S Wall mount can help you get organized.
Author
Publisher Name
Publisher Logo