OEM: What it is and Why it Matters in the Data Center
What Does OEM Stand For?
People have seen the acronym "OEM" in many places ranging from auto parts to computer software, and even in data center racks and other equipment. OEM stands for "Original Equipment Manufacturer." An original equipment manufacturer is any company that makes a part, or multiple parts, that another company uses in its products. One common example would be the company Maxtor, which creates hard drives for computers. They manufacture the hard drives and then sell them to computer builders like Dell or HP to install.
Some OEM products are made by well-known companies, and others by businesses that the average consumer has never heard of. In either case, however, the parts that they make must meet the specifications of the company they are selling to. They can also sell them directly to consumers, which is how people can get high-quality parts at an affordable price.
What Does OEM Mean in the Data Center?
There are many types of hardware in use in the average data center. If you are managing a data center, you will want to make sure you are getting the best deals on the highest quality equipment possible. Some examples of OEM equipment you can buy to use in a data center include:
Server Parts – If parts of a server begin breaking down, you need to replace them as quickly as possible. Hard drives, CPUs, RAM, and other parts can be purchased from OEM suppliers to save money without sacrificing on quality.

RackSolutions provides OEM universal rails for servers

Networking Equipment Components – Routers, switches, modems, and other networking equipment have fans and other parts that can go bad over time. Replacing them with OEM components will help ensure they operate properly for years to come.
Server Racks – Having server racks that fit your equipment properly is essential for keeping everything safe and secure.
Server Rack Equipment – You must have replacement rails and mounting hardware that can fit certain types of servers and racks. OEM parts ensure that you can fit your computer equipment well into the future.
You can purchase OEM equipment in a variety of ways. Working with a supplier to find OEM equipment for a specific brand, such as Dell, will help make it easier to order what you need. When you buy equipment designed for Dell, you can be confident that it will fit properly and will be compatible.
OEM vs ODM
OEM and ODM are two different types of companies, but they have a lot in common so many people get them confused. ODM stands for "Original Design Manufacturer." Rather than simply making existing products for another company, an ODM develops the products and then sells the products to another company.
An original design manufacturer will have to have their own research and development department, their own facilities to manufacture each product, and be able to convince companies to purchase their equipment. Original equipment manufacturers, on the other hand, simply make the products that another company wants, according to the specifications given. From the consumer's perspective, however, both ODM and OEM parts are high quality options that will work perfectly in the equipment they were made for.
Are Aftermarket Parts Better than OEM?
Purchasing OEM parts comes with some important advantages that you won't always be able to get from other sources. First, since the manufacturer builds these parts specifically for the company that assembled your equipment, you can be certain that it meets the necessary standards. In addition, you won't have to worry about compatibility issues if you are replacing a part that has gone bad with a new one from the Original Equipment Manufacturer.
OEM parts aren't necessarily better or worse than parts from any other company when it comes to quality. While all Original Equipment Manufacturers make products according to the specifications required by the companies they build for, that doesn't automatically mean they are of the highest quality. Some third-party manufacturers choose to use superior components or take more care in manufacturing, which makes their parts better. When shopping for any type of part or equipment to use in your data center, it is a good idea to work with a trusted seller, and research how to get the best parts on the market.
Why are OEM Parts So Expensive?
Many people wonder why OEM parts are so expensive, but that is somewhat of a misleading question. In most situations, they will be more expensive than some third-party manufacturers, and less expensive than others. They are almost never the cheapest on the market, however, because they must be made to meet the standards of the company that made the original order. This typically means that the OEM part is going to be above average, which can drive the price up a little bit.
What Cautions to Take 
When shopping for OEM items there are a few things that you'll want to watch out for. The most common issues to be aware of include:
Warranty – Not all Original Equipment Manufacturers offer a warranty with their products, especially if you are buying directly from them.
Sources – While some companies work hard to provide the best, most affordable OEM equipment, that can't be said for everyone. Always take caution before buying from a company you don't know and do some research of your own.
Outdated – In some cases the OEM parts on the market are available only because they are out of date. In this case, the manufacturer is probably trying to unload their extra inventory. This happens when a new model comes out, for example. Always do your research before buying outdated parts.
Summary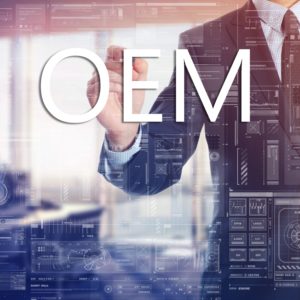 Article Name
OEM: What it is and Why it Matters in the Data Center - RackSolutions
Description
OEM stands for "Original Equipment Manufacturer." An OEM is any company that makes a part, or multiple parts, that another company uses in its products.
Author
Publisher Name
Publisher Logo