RackSolutions Awarded Two US Patents for Multi-Rail Design
RackSolutions Has Been Awarded Two US Patents for a Multi-Rail Design:
The current method of installing servers is (1) rail kit for (1) server. If you are deploying (1000) servers, you must install (1000) rail kits. Why hasn't someone come up with a better method? With RackSolutions Multi-Rail Design you can install up to (10) rail kits at a time. If you are installing (1000) servers, you only need to install (100) rail kit modules which will significantly reduce the deployment times for your servers.
This new Multi-Rail System supports most major OEM equipment from 1U to 4U form factors. It does not require the use of the OEM rail kits and can be re-used across multiple generations of equipment.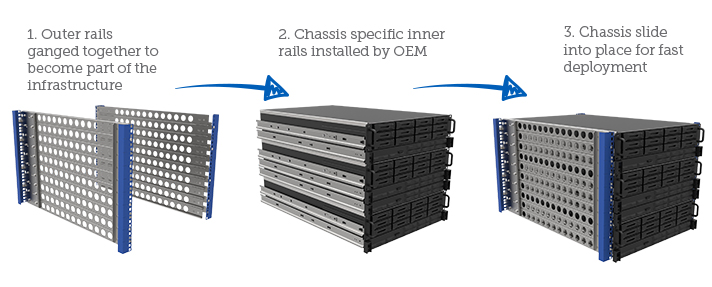 Advantages of the RackSolutions Rail Kits
Reusable – with these rail kits,  you do not have to buy new and expensive OEM rail kits EVERY time you buy a new server. Whenever you do a hardware refresh, you can reuse the existing rail kits
Durability- they do not have any moving parts making them more durable. For example: if you have a damaged rail kit, this could prevent the deployment of your equipment; requiring you to buy a replacement rail kit. Without moving parts, the RackSolutions rail is highly unlikely to break.
Time Savings– RackSolutions works with OEMS and have them pre-install one of the components. Once the rack components are installed, you never have to install rail kits again.
Cost – the fact that these rail kits can be reused through every hardware refresh, means they will pay for themselves
For more information call RackSolutions Sales and Technical Support at 1-888-505-7225
Summary

Article Name
RackSolutions Awarded Two US Patents for Multi-Rail Design
Description
RackSolutions has been awarded two US Patents for a Multi-Rail Design: US009924611B2& US00D830819S.
Author
Publisher Name
Publisher Logo