Why colocation cabinets are so effective
Colocation data centers allow customers to rent out rack space. They've become increasingly popular in recent years as companies have been to offer affordable, fast and easily accessible remote services across the world. 
Because space in a colocation center is so closely shared by different tenants, infrastructure demands are more niche than what can be provided by a typical server cabinet. In this article, we will discuss exactly how colocation cabinets fulfill those unique needs.
What are colocation cabinets used for?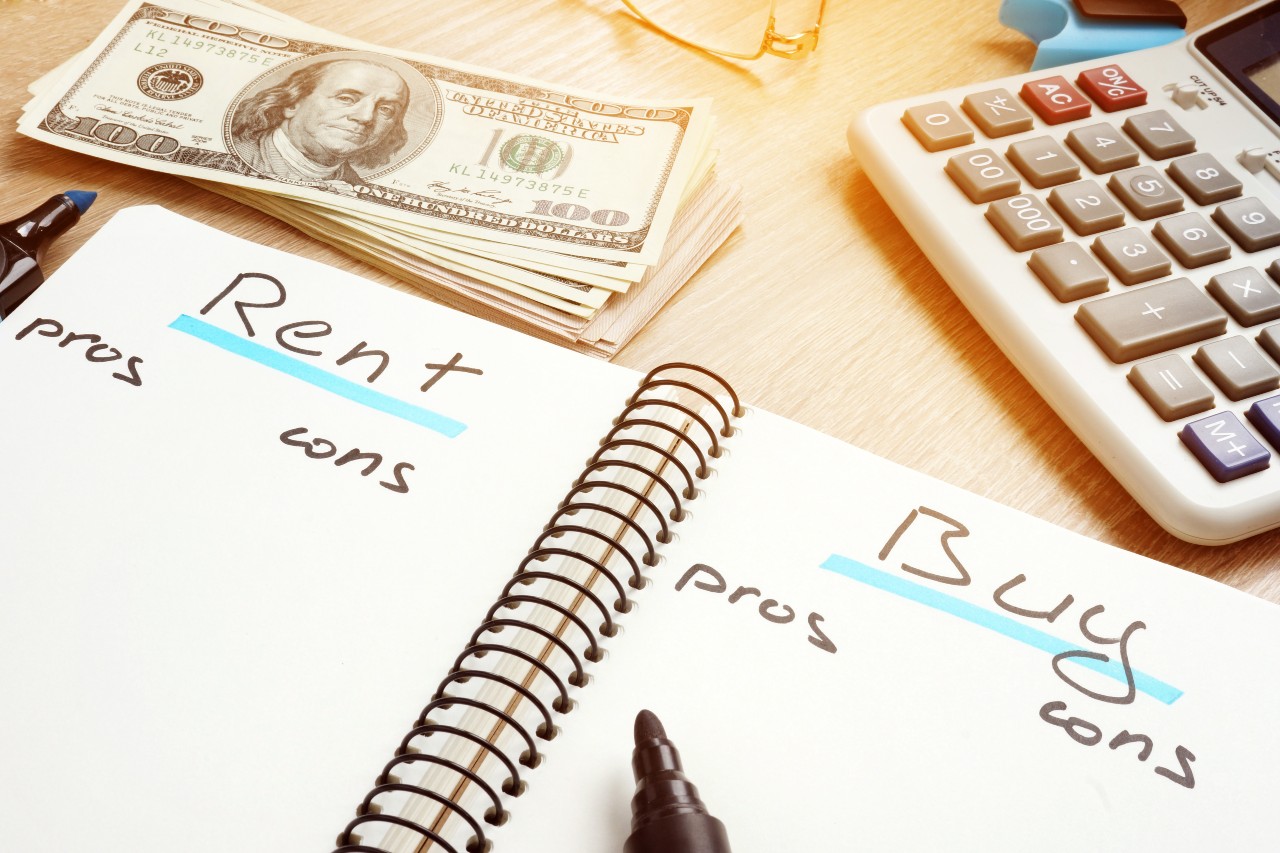 Security is important in all data centers, but poses an even greater challenge in colocation operations.
Companies like Google, Facebook and Amazon maintain their own facilities because data is at the core of their business model. This means that they can justify building a facility that only needs to protect their own data.
Colocation data centers need to focus on securing their premises and server rooms just like big tech companies, but they are also responsible for making sure that tenants can't access each other's equipment when they share a single server cabinet.
Both colocation and proprietary data centers carry valuable information that they have a legal responsibility to protect. Also, they are responsible for providing access to that data at all times. 
Any incident that results in a loss of data or downtime can result in a facility not meeting their Service Level Agreement (SLA) that they have with a tenant and therefore, their bottom line. 
This is why colocation cabinets are so important. They allow colocation data centers to provide their tenants the certainty that their equipment is secured to the fullest extent possible, without a surrounding secure server room. 
Colo cabinets can be more cost effective than racks
Data centers that offer colocation cabinets to tenants will be able to make more per dollar spent. There are a range of tenants with different needs, and Colocation cabinets perfectly suit those with low-maintenance demands. 
Without a colocation rack, data centers would have to offer full racks only, whether they be 12U or 48U. This is because equipment will need some physical separation for security purposes. 
Rather than purchase four 12U racks, an operator could purchase a single 48U cabinet that is separated into four compartments. The cabinet itself would cost more than a 48U rack, but renting it out to four tenants would bring in more money than renting out the single 48U rack. 
Here's an example of how the pricing would work:
Base Config

Base Config

Row 1

Rent

Row 1

Rent

48U Rack

$

499.00

Colo Cab 

$  1,196.00 

48U Rack

$

499.00

Colo Cab 

$  1,196.00

48U Rack

$

499.00

48U Rack

$

499.00

48U Rack

$

499.00

48U Rack

$

499.00

Revenue:

$  1,996.00

Revenue:

$  3,390.00
In this situation, a data center owns four 48U racks with minimal features that they rent out to the most low maintenance customers. The thing is, those customers might not need the entire 48U rack. 
Replacing half of those racks with an equivalent 48U colocation cabinet would increase the amount that the operator can charge while decreasing each tennants cost, because they would only be renting a single compartment. 
So, each tenant renting a colocation rack would be paying about $300, bringing the operators total revenue to $1200. In comparison, renting out a single 48U rack would cost the tenant $499 and therefore bring in $499 in revenue. 
Important colo cabinet features
Colocation cabinets range in security features and cost. This allows colocation data centers to offer a range of prices for tenants who may not be as worried about security. 
Key differences that you will see in colocation cabinet options are: 
Locks

Isolated Cable Channel 

Number of compartments 

Door material 
Number of cabinets
Colocation cabinets typically have 2 to 4 compartments within them. Racks with 2 compartments are often referred to as 'half cabs' while racks with 4 compartments are referred to as 'quarter cabs.'
Different cabinets will have different amounts of rack units (U space) within the compartment space. Half cabs will have more rack units than their quarter cab counterparts. The more U space a compartment has, the more IT equipment it will be able to store. 
Locks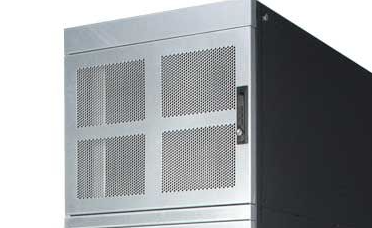 It's common to see either combination locks, key locks or space for an optional padlock built into the doors of colocation cabinets. 
Most of our colocation cabinets include a door handle that has a built in key and combination locks. Either the combination or key is required to open a compartment door.
We have special cabinets that are designed for point of presence (PoP) rooms have the option to opt out of the combination and key lock and instead purchase a handle compatible with padlocks.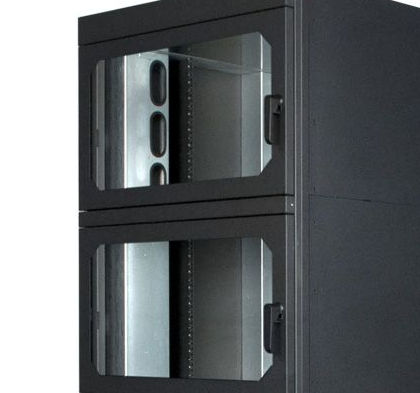 Isolated cable channel
Isolated cable channels are a unique feature that RackSolutions offers on our colocation cabinets. We designed these so that tenants can feel comfortable knowing that nobody has access to even their cables. 
When building a colocation cabinet, it's assumed that each compartment will store equipment from different parties. Because of this, not only do the cabinets need to be securely separated, but their cables do as well. 
In a cabinet with four compartments, there will be four isolated channels to route cables vertically through the rack, either out of the top or through the bottom.
Cabinet construction 
You will also want to ensure that the construction is appropriate for your security needs. 
Specifically, some racks have plexiglass panels in the door while others are solid steel with vents. Other racks might have removable separators between compartments instead of the rack being welded together. 
Rack construction ties everything together. Some might have isolated cable channels that are better than others. Some locks might be more secure than others. It's always best to take a look at all options before committing to a product. 
RackSolutions can design your physical security
On our website, we have a variety of colocation cabinets ready to order. Whether you need a quad cab, half cab, something with minimal or high security, we can get it shipped out to you fast. 
RackSolutions engineers also have over two decades of experience designing custom products for data centers. If you can't find exactly what you're looking for, give us a call and we can send a prototype out ASAP. Our in house manufacturing and experience communicating with some of the largest companies in the tech industry makes designing custom products a breeze. 
Summary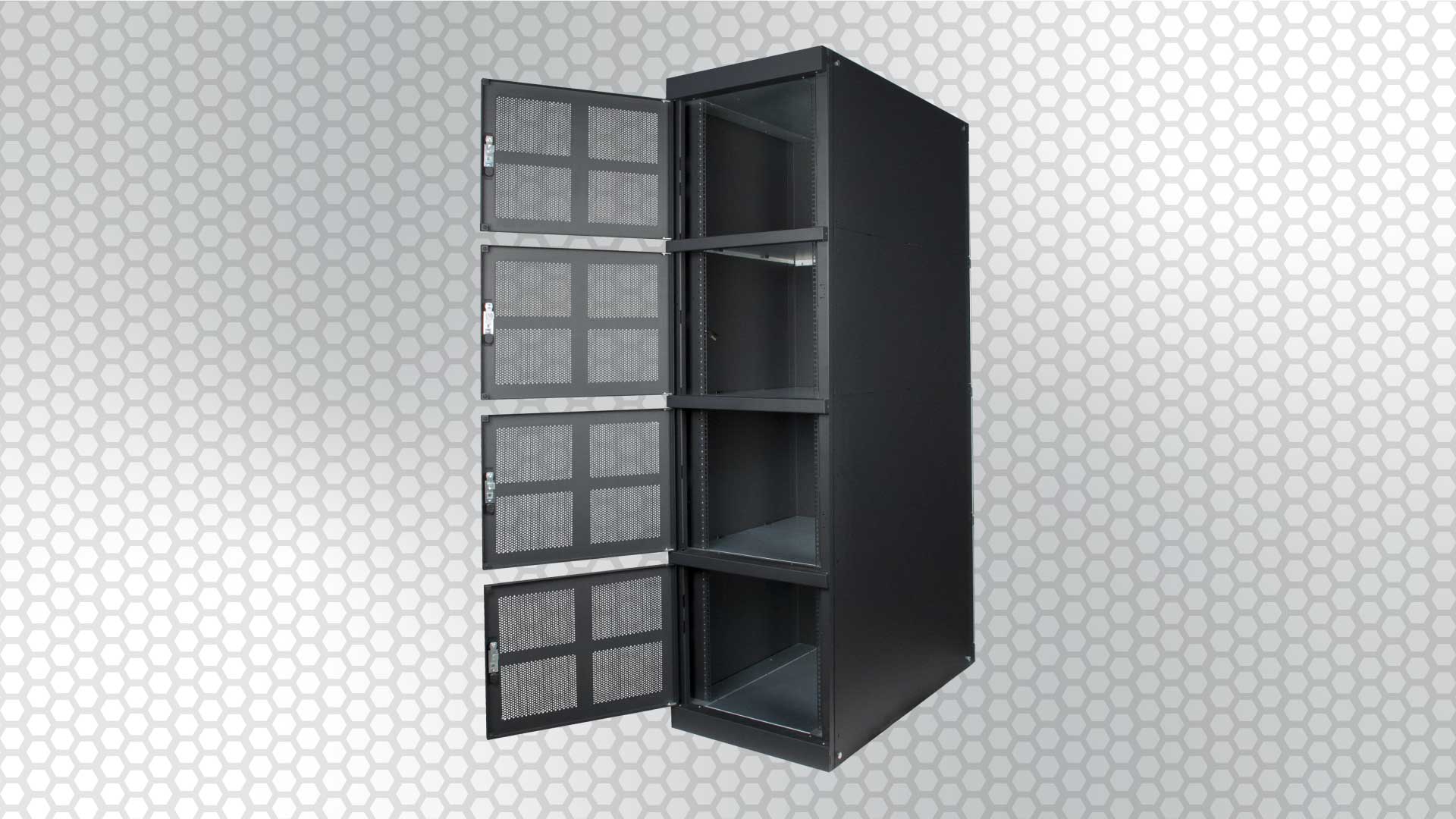 Article Name
Why colocation cabinets are so effective
Description
Colocation data centers allow customers to rent out rack space.
Author
Publisher Name
Publisher Logo