Rack Solutions Introduces New 15U Wall Mount Rack
Rack Solutions latest server rack product, the 15U Wall Mount Rack, is featured in the latest issue of Processor magazine as one of the featured products.  Below is the excerpt from the magazine:
Let's say you are in an office or business where space is at a premium. You need a place to store servers and other networking gear and keep them safe, but you don't have a data center, and finding the floor space for a regular rack or cabinet isn't easy.
It's the ideal environment for the RackSolutions 15U Wall Mount Rack, which can be mounted in an office, back room, or virtually any other location.
Because the rack doesn't require floor space, it stays out of the way while providing easy, centralized access to servers and other equipment. It has a durable, heavy-duty steel construction with a powder coated black finish and comes with all the necessary mounting hardware.
The 15U Wall Mount Rack offers several features unique to the market, says Rodger Baldwin, executive account manager. A Plexiglas front door lets you see and monitor equipment inside the rack and swings open to provide quick access.
At 15U tall and 24 inches deep, the rack is taller and deeper than other wallmount products on the market. That extra space means there's plenty of room to access power and cables on the backs of switches and other equipment.
"You can easily plug and unplug devices and route cables around the back of equipment," Baldwin says, plus mount equipment either horizontally or vertically. In fact, one customer noted that "there's U space all over the place," he says.
The extra depth, plus the rack's side panels with an open top and bottom, allow for plenty of heat exhaust and airflow. If needed, you can enclose the top of the cabinet with optional filler panels.
To learn more about the 16U cabinet, click on https://www.racksolutions.com/wall-mount-rack-15u-door.html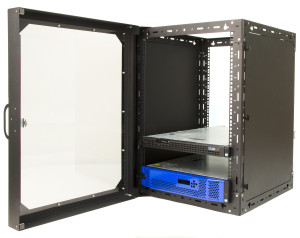 Summary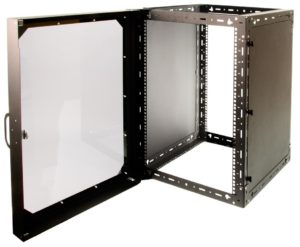 Article Name
Rack Solutions Introduces 15U Wall Mount Rack - RackSolutions
Description
RackSolutions new 15U Wall Mount Rack stays out of the way while providing easy, centralized access to servers and other equipment.
Author
Publisher Name
Publisher Logo