Choosing the Right Rack Shelves for Your Data Center
Whether you manage a data center or have the luxury of having your own network closet, you need to make sure that it is configured properly. Part of this is making sure you have the right rack shelves based on your current and future equipment needs. When evaluating which types of shelves you need, there are several different factors that need to be considered. RackSolutions has a huge selection of different types of shelves available, so whatever you need, you can order it and have it delivered right away.
Weight Requirements
One of the most important things you need to consider when ordering shelving for your server racks is the weight of the equipment that is being stored. Rack shelves are designed with a maximum weight limit that they can hold, and choosing a shelf that is not heavy duty enough for your needs can result in very costly damage to your equipment should the shelf break. It is best to get the precise weight of each piece of equipment that will be placed onto a shelf, but the following examples can help to give some guidance:
30 lb Limits – Small rack shelves with 30 lb weight limits are designed primarily for keyboards. While keyboards are quite light, the shelf must be able to support a user's hands and arms while typing too.
60 lb Limits – Shelves with this type of weight limit are still considered lightweight, but can be sufficient to hold a computer, monitor, keyboard, and some other basic equipment.
95 lb Limits – The 95 lb weight limits shelves are the beginning of the 'medium duty' category, and are great for common servers, multiple PCs, and other similar equipment.
200 lbs and Above – Once you get over the 200 lb mark it is entering the 'heavy duty' category. The weight limits in this category can go up to 500 lbs or even more. These shelves can hold stacks of servers, computers, monitors, or most any other type of equipment you need in a rack.
Sliding or Fixed Rack Shelves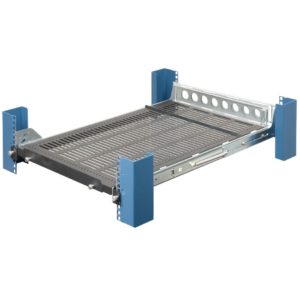 Another option to consider is whether you want shelves that can slide in and out (or up and down) in the rack, or those that are fixed in place. Having the ability to slide a shelf in and out of the rack can make it much easier to run new cables, troubleshoot issues, and even clean the servers to avoid dust and debris. Being able to slide a shelf up and down in the rack can allow you to adjust the configuration of the rack as needed, without having to disconnect equipment.
Fixed shelving can also be beneficial, however. Having a shelf that is locked in place can prevent accidental movement from occurring while working in the rack. A fixed shelf will also typically have a higher weight limit at a lower price than a sliding unit can offer. For equipment that is generally going to be installed and then left along for long periods of time, the fixed shelves can be an excellent option.
Size & Shape
There are many different shapes and sizes available for rack mounted shelves. Choosing the right shape and size will help ensure all the equipment is housed safely, without taking up any more room than is strictly necessary. You can get shelves that take up about half the depth of a rack so that there is still plenty of room to work on the equipment. For servers, switches, router, and other full sized equipment, a shelf that takes up the full area of a rack is a good idea.
Extra Equipment
When purchasing rack shelves for computer or networking equipment, it is a good idea to also look at some of the other available equipment that can help keep your rack organized and safe. The following items are affordable, and can really go a long way toward avoiding any issues with your equipment:
Anti-Slip Mats – Putting an anti-slip mat down onto a shelf can keep equipment in place while working on it or before it is bolted in.
Cable Straps – Cable straps can effectively bring multiple cables together for improved organization. This can be done just after the cables come out of the equipment before they go into the cable paths of the rack itself.
Transport Straps – Having straps to secure network equipment on carts or vehicles while it is being transported can help to avoid accidental damage.
Using the right shelving and other equipment can help ensure your network racks are clean and organized, and that your equipment will stay safe at all times. Take some time to evaluate the type of equipment you have, and how it should be stored, so you can make the right decision for purchasing your rack shelving. When using the Regular Duty Transport Strap with Plastic Buckle (1USHL-STRAP), the strap has to be routed a specific way for the buckle to grab. Here's a video demonstration on routing the strap through the buckle.
Summary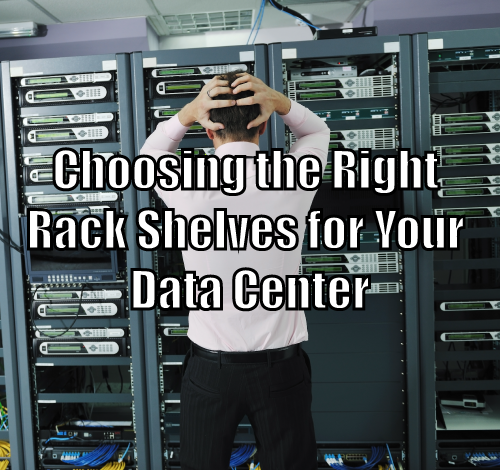 Article Name
Choosing the Right Rack Shelves for Your Data Center | RackSolutions
Description
If you manage a data center, having the right rack shelves based on your current and future equipment needs is necessary when configuring your server rack
Author
Publisher Name
Publisher Logo