RackSolutions Releases Two Custom Mounts for Apple's HomePod
In 2017 at WWDC, Apple announced its new HomePod, the company's answer to the growing AI powered smart speaker market.  Shortly after Apple's announcement, RackSolutions jumped at the opportunity to create a custom mount for the product under the H-Squared brand. H-Squared, a subsidiary of RackSolutions, is no stranger to creating innovative and attractive mounting solutions for Apple Products. With hits such as its tvTray for Apple TV, and the Mini Rack for rack mounting Mac Minis, the RackSolutions engineering team was excited to take on something new.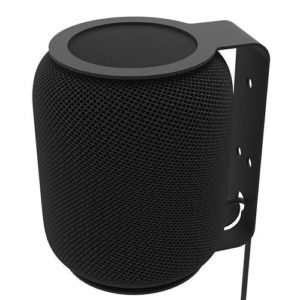 HomeBase
A wall mount was the first idea that came to mind. By itself, the HomePod has limitations on where it can be put, due to the fact that it's not a wireless speaker, therefore has to be placed close to an outlet. The challenge was finding a design that didn't damage the mesh exterior or interfere with the speakers or microphone, while providing adequate support for the 5.5 lbs. device, all while maintaining a sleek look.
The solution ended up being the "HomeBase", a clamp constructed from 14-gauge steel that provides both top and bottom support without interfering with any of the device's features. The HomeBase was initially released in black but due to increasing demand, was created in white as well.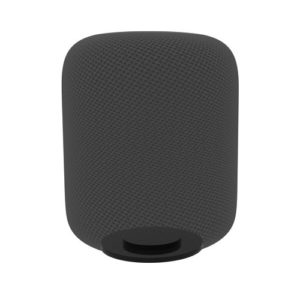 HomePlate
Shortly after the HomePod's release, complaints of the product leaving "white marks" on wooden furniture littered the news. It wasn't long before people started setting their HomePod's on coasters to protect their furniture. While this worked, regular coasters seemed unstylish and unconducive to the speaker's functionality. RackSolutions engineers heard these complaints and answered with the H-Squared's HomePlate.
This product blends seamlessly with the HomePod, while providing a protective barrier between the device and the surface of any wooden furniture. It's raised center fits perfectly under the HomePod, holding it in place and protecting your furniture. The rubber feet attached to the bottom of the disk absorbs vibrations from the speaker so there is no obstruction in audio output.
About H-Squared
H-Squared was founded in Seattle, Washington in 2005 as a small consulting firm for customers interested in home automation. The company later expanded into a manufacturing and fabrication company, specializing in innovative designs for mounting electronics. H-Squared created mounting products for popular electronic devices such as Apple's AirPort Extreme, Time Capsule, Apple TV, Mac mini, and Mac Pros. The company was purchased by RackSolutions in 2016 and re-located to North Texas, where they now maintain a larger staff to better support and provide for customers. Both the HomeBase and the HomePlate are available for purchase on H-Squared.