What's the difference between server rack shelves and rails?
There are so many variations of server rack shelves and rails that it can be hard to determine which one is best for you. Shelves and rails can slide, be fixed, work with 2 posts, 4 posts and mount a variety of equipment. 
Two main characteristics determine whether you should be using a shelf or rail. Rails are used for equipment that is built to be mounted on a rack while shelves are more versatile and carry anything that they can support. 
What are server rack rails used for? 
Server rack rails are designed to mount servers and other IT equipment in the most efficient way possible. 

Rails are very thin and require less space than a shelf. Using rails to mount all compatible equipment results in less wasted space. 
Server specific rails or OEM rails don't support equipment from the bottom like a shelf. Rather, they use pins in the server chassis called "shoulder screws" that lock into J-slots in the rail that stop movement and support weight.
OEM rails are sometimes hard to come across, only being sold by the manufacturer at the time of purchase or being discontinued within years of the server's release.
Server specific rails come in fixed and sliding variants: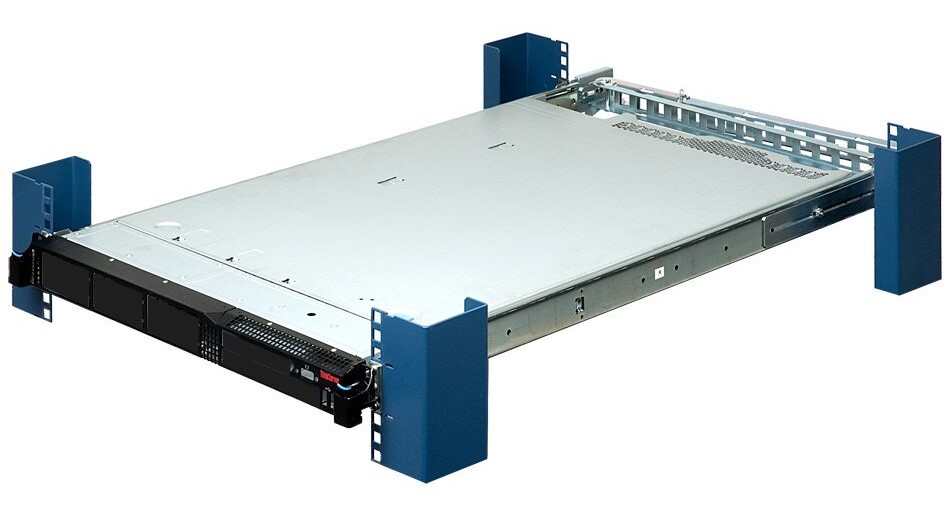 Fixed rails

are stationary, meaning that the server can only be removed if there is room above the rail. With these rails, you pay less, but lose ease of access to equipment.

Slide rails

allow the server to slide out because of two separate rails. One is attached to the server and the other is attached to the rack. These end up costing a bit more, but allow technicians to perform maintenance without detaching network cables. 
Universal rails, on the other hand, are essentially shelves that only hold the edges of servers. This means that they can hold any type of server while still optimizing space. The only criteria for universal rails is that the equipment fits dimensional limitations. 
Another benefit of universal rails is that equipment doesn't have to be locked like on a fixed rail. This means that it can slide out for easy maintenance. On the other hand, the only way to lock your equipment on universal rails is by using thumb screws, which not all servers support. 
What are server rack shelves used for?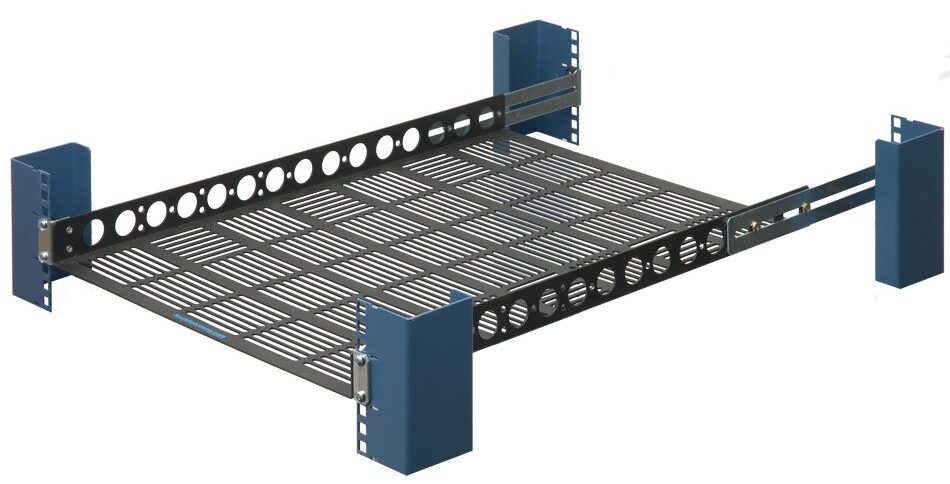 Rack shelves are used to store equipment that isn't designed to be mounted by rails. This includes UPS units, keyboards, laptops and more. 
Certain shelves are even specially designed to hold multiple Mac Minis or Intel Nucs. This shelf, for instance, is measured to perfectly fit Mac Mini's while directing airflow through a void. The same can be done with Intel Nuc computers.
Standard server rack shelves come as fixed or slide models.
Fixed shelves are one solid object and can come in many variants. 2-post cantilever shelves are small and built for lightweight equipment like switches. 4-post fixed shelves are stronger and suited for printers, desktop PCs, and can be more versatile than 2-post shelves.
Sliding shelves

are great for heavy equipment that need to be easily accessed such as NAS and UPS units. 
To summarize, shelves hold many types of non-mountable equipment that is necessary for different workloads.
Shelves are often available in vented or closed variants. Vented options are more expensive but are better at dissipating heat and improving airflow. Solid shelves are a better option if cost is limited. 
Do I need a server shelf or a server rail?
If you are mounting a server, we would recommend using a rail rather than a shelf. Shelves take up more space and generally cost more because of the extra material. That being said, if there is a shelf laying around and you'd rather not spend money on a rail, there is no harm shelving a server.
For most other equipment, there will be no choice but to use a shelf. The real question is whether you should use a slide or fixed shelf. In a situation where you need access to equipment, especially if it's heavy, a sliding shelf would be best suited. If you are shelving small equipment that can be easily picked up with one hand, a fixed shelf will do just fine.
Some exceptions to mounting and shelving are keyboards, monitors and miscellaneous items. KVM mounts look like shelves but are categorically different. They allow monitors to fold and be stored as if it was a server. Drawers are also available for miscellaneous items like troubleshooting equipment, CDs, thumb drives and registration keys.
Summary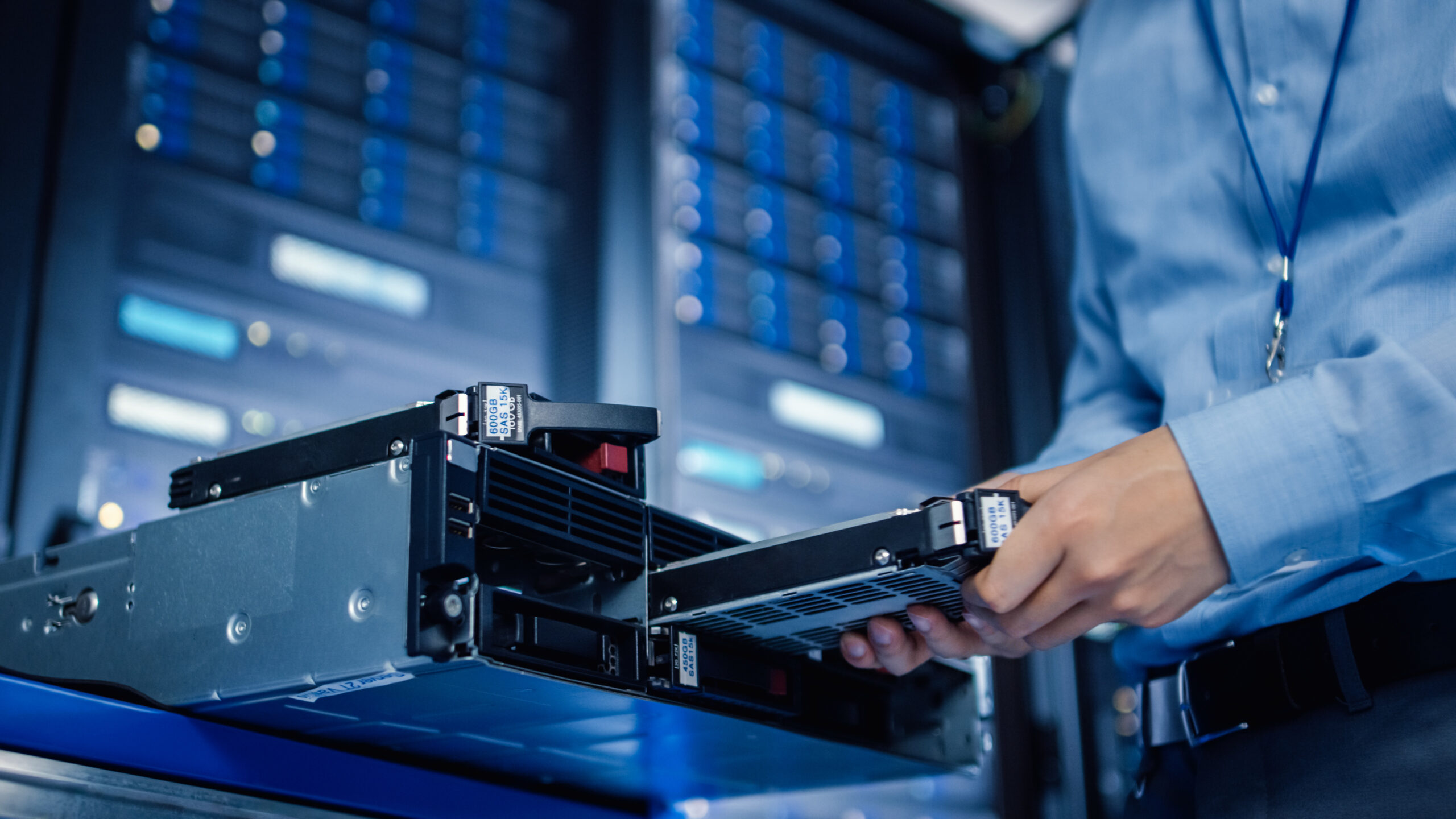 Article Name
What's the difference between server rack shelves and rails?
Description
Shelves and rails can both support server, but which one should you be using? Use cases can vary greatly depending on your equipment
Author
Publisher Name
Publisher Logo