1U Rack Mount Shelf for Apple Mac mini (3rd, 4th, 5th Gen)
Rack Mount up to 4 Mac minis Per Shelf
Left and right snap-in tool-less slide rails for quick installation and easy maintenance
Thumb screws lock the rail into place when needed
Integrated airflow ducting for optimal cooling and performance
All rear peripheral ports are accessible
Includes adhesive cable tie-downs
Compatible with Mac minis from 2010-2020
Works with 3rd, 4th and 5th gen systems
Developer Transition Kit (DTK) with A12Z SoC processor
2020 Mac mini with Apple's M1 Chip
See "Additional Information" for compatibility.




The Mini Rack Access is an ideal solution to create a mini power rack. In less than 1U, up to 4 Mac minis can be installed in a standard 19" server rack shelf or any standard equipment rack. No tools are required for installation of the mini access. The four USB 2.0 ports on the front allow for easy access to each Mac mini. The sliding shelf works with standard mounting depth server racks that are square hole. The design of the 19" shelf allows airflow from the front of the rack to exhaust directly to the rear of the rack shelf without trapping them in hot air, the temperature will stay cool even when the Mac mini self is mounted between two other components. The layout of the Mini rack allows cables from the front Mac minis to be routed down the center of the rack. Two cable management clips ensure the cabling stays put. There's also an option to install at the rear of the rack.
Tech Specs for Mac Mini Rack Shelf
Only compatible with racks with standard EIA 3/8" square holes
Mounting Depth: 27.77- 29.97" (705.5mm - 761.23)
Shelf Depth: 17.75" (450.85 mm)
Compatible with square hole 19" racks
Weight Capacity: 45 lbs (21 kgs)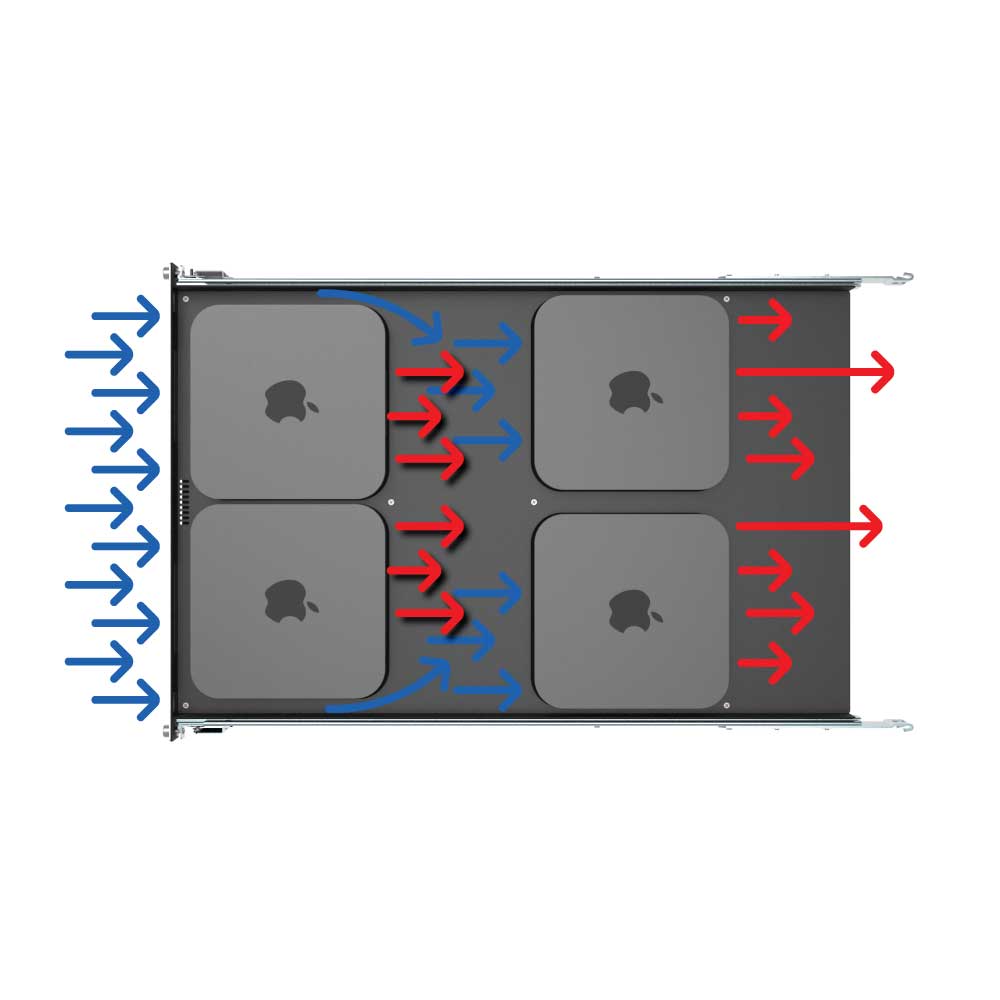 Integrated Airflow Duct
The ventilation system takes in cold air through the shelf's front air intake and moves the air to a lower chamber where each Mac Mini's air intake resides. Then the Mac Mini's own exhaust then pushes the hot air out, keeping hot and cold air separate.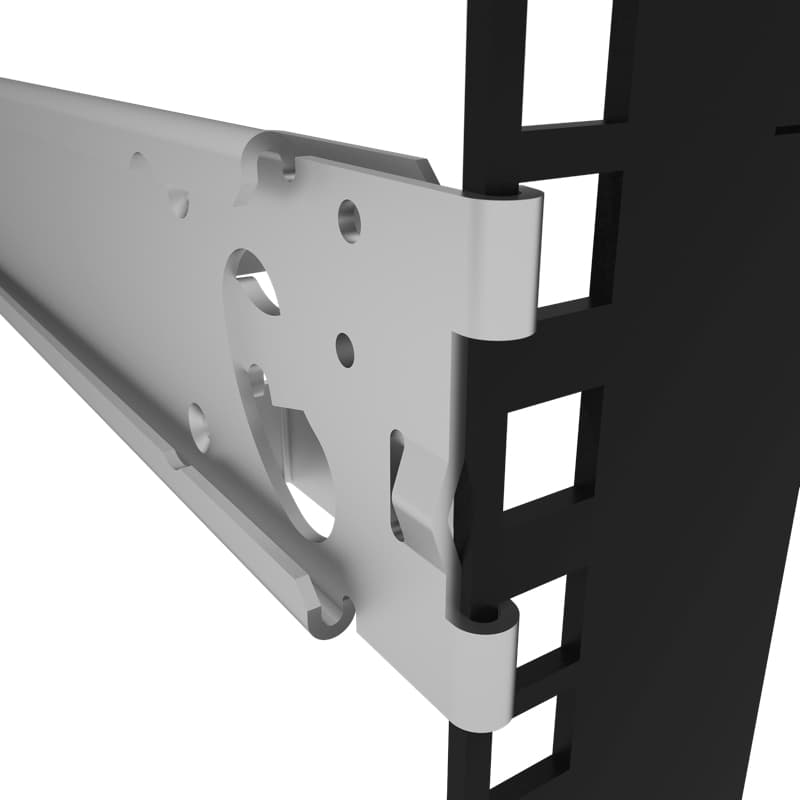 Tool-less Installation
The Mac Mini Shelf can be installed in less than 5 minutes, no tools required. Each rail securely engages the square mounting holes on each side of the rack which then allow shelf to just slide into place.
More Information
Equipment Depth
17.75" (451mm)
Shelf Type
Vented
Rack Type
4 Post
Fixed/Sliding
Sliding
Shelf Surface Area
17.75 x 16.375" (451 x 416 mm) L x W
Mounting Depth Range
27.77- 29.97"
Included Hardware
Cage nuts are provided for square hole racks
Weight Capacity
45 lbs (21 kgs) capacity
Tool-less/Standard
Tool-less
Overall Installation Depth
24" (610 mm)
TAA Compliant
Yes
RoHS Compliant
Yes
Tech Notes
Mac mini (Mid 2010)
Mac mini (Mid 2011)
Mac mini (Late 2012)
Mac mini (Late 2014)
Mac mini (2018)
Developer Transition Kit (DTK) with A12Z SoC
Mac mini with Apple's M1 Chip (Late 2020)