Wall Mount Cabinets: When a Server Rack is Too Much
When people think of server or computer cabinets, they often picture the large data center racks that are popular in large companies. For individuals and small businesses, however, wall mount cabinets can be much more effective. Wall mount cabinets, also known as wall mount racks or enclosed wall mounts, have many advantages when there is no need to house hundreds of servers in one area. There are quite a few different options for wall mounted computer space, so making sure to choose the right one is critical.
Advantages of Wall Mount Cabinets
Using wall mount racks rather than just having servers and other computer equipment placed on a tablet is very smart. For times when only a small number of pieces of equipment need to be stored, is also a much better option than using the large data center server racks. The following are some of the most important advantages of using wall mount cabinets:
Efficient Use of Space – Rather than having to have a large rack taking up floor space, the servers and other equipment can be placed on almost any wall so everything is up and out of the way.
Easy Cable Into Walls – Running cabling behind the walls is a clean and convenient option. With wall mount cabinets, it is easier than ever.
Secure Protection – Wall mount cabinets help keep computer equipment safe and secure. They are out of the way so they won't get bumped, and many models have locks to keep the risk of unauthorized access to a minimum.
Proper Air Flow – All enclosed wall mounts are designed with proper air flow in mind to help ensure the computer equipment doesn't overheat.
Easy Access – Accessing the equipment is quick and easy thanks to the hinged doors and smart designs.
Single Section Wall Mount Cabinets
Single section wall mount cabinets are great for mounting servers, switches, routers, patch panels, and other types of computer equipment. They can be easily secured to most any type of wall, and have a single door that can be opened, closed, and locked to keep everything safe and organized.
In most cases this type of cabinet will be mounted on the wall with the door facing outward, and the equipment facing the door for easier access. This is an ideal layout for heat distribution, cable management, and access to the equipment for troubleshooting.
Double Section (Hinged) Wall Mount Cabinets
Double section, or hinged, wall mount cabinets offer a unique design that can make storing and accessing equipment much easier. The rack is mounted on the wall, and has an access door on the front for accessing power switches, USB ports, and other commonly needed parts of the equipment.
If it becomes necessary to access the back of the equipment, the entire rack can swing out away from the wall, without having to have it dismounted. This strong back hinge makes it easier than ever to run new cabling, replace some equipment parts, and much more.
Other Wall Mount Rack Designs
In addition to the enclosed wall mount cabinet designs, there are quite a few other options that can be great for individuals and small companies that want the convenience of a wall mount, without the full enclosure. The following are excellent options to consider:
Open Frame Wall Mount Racks – Open frame wall mount racks come in a variety of sizes and hold equipment in place without restricting access.
Vertical Wall Mounts – Hang a server vertically  on the wall so they are out of the way, but without the bulk of a full rack mount system.
Secure Wall Mounts – Mounts a single server within a 2U enclosure on a wall, securing it within a lock. This product is a RackSolutions exclusive.
Choosing Your Cabinets
When looking to keep computer equipment safe without taking up any valuable floor space, wall mount cabinets and racks are the ideal option. Each of the different designs are made for different types of equipment, and offer great design features that help ensure easy access to all devices. Taking the time to evaluate all the different options will help ensure the right wall mounts are chosen, and that they meet all requirements for years to come.
Summary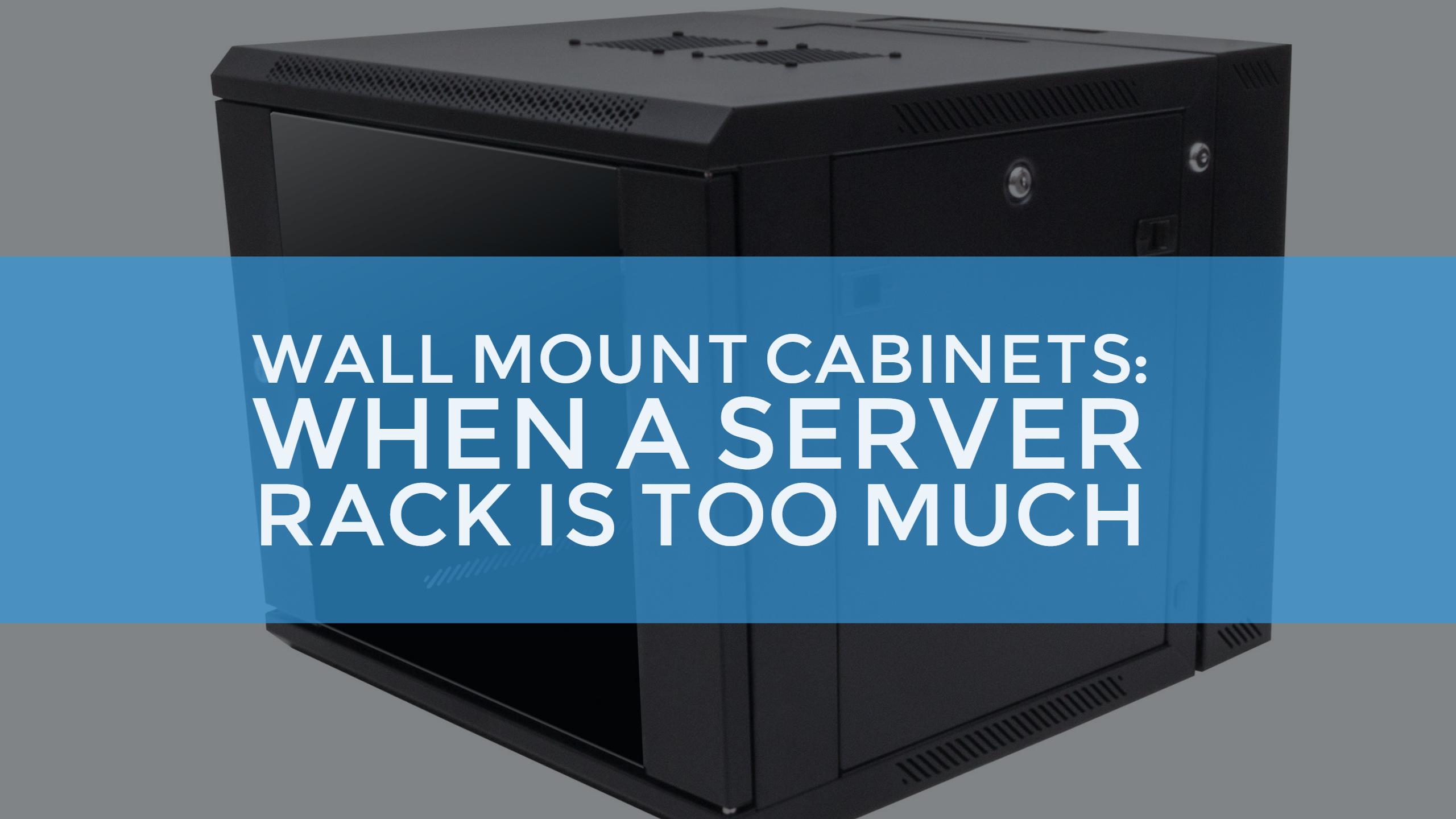 Article Name
Wall Mount Cabinets: When a Server Rack is Too Much | RackSolutions
Description
Wall mount cabinets, also known as wall mount racks, have many advantages when there is no need to house hundreds of servers in one area.
Author
Publisher Name
Publisher Logo