1U 2Post Cantilever Adjustable Switch Shelf
Most versatile switch shelf on the market
Fits switch widths from 6.3" to 11.4"
Equipped with a plated side tray to store power brick and cords
Includes a hook-and-loop strap to secure power bricks and cables to the shelf
Unused switch space is filled in the front to prevent improper airflow
Constructed of 16 GA steel
Comes fully assembled for a quick and easy install
RackSolutions has custom-designed the most adjustable switch shelf on the market. With the ability to slide down to 6.3" and slide back out to 11.4", this shelf has the capability to adjust to your equipment dimensional needs. Because this shelf is interchangeable with a variety of switches and routers, we constructed it from 16 GA steel to withstand the wear and tear of reusing our shelf over and over. This shelf is equipped with a tray built-in for your power bricks and cords to rest on. Also included is a hook-and-loop strip to prevent your cords from sticking out or hanging below your shelf. Rubber bumpers are incorporated to place on the rear end of the shelf to prevent your switch from falling out, and a sliding lock is built in to ensure your adjusted shelf width is locked in place to hold your product. The adjustable switch shelf comes fully assembled and is ready to install into your 2 post or 4 post rack. The front of the shelf is designed like a blanking panel to fill the empty space after determining your sliding width. Compatible switch brands include Cisco Meraki, Cisco, Ubiquiti, Netgear, Dell, and HPE. See the compatibility attachment above or check the tech specs for a list of all products.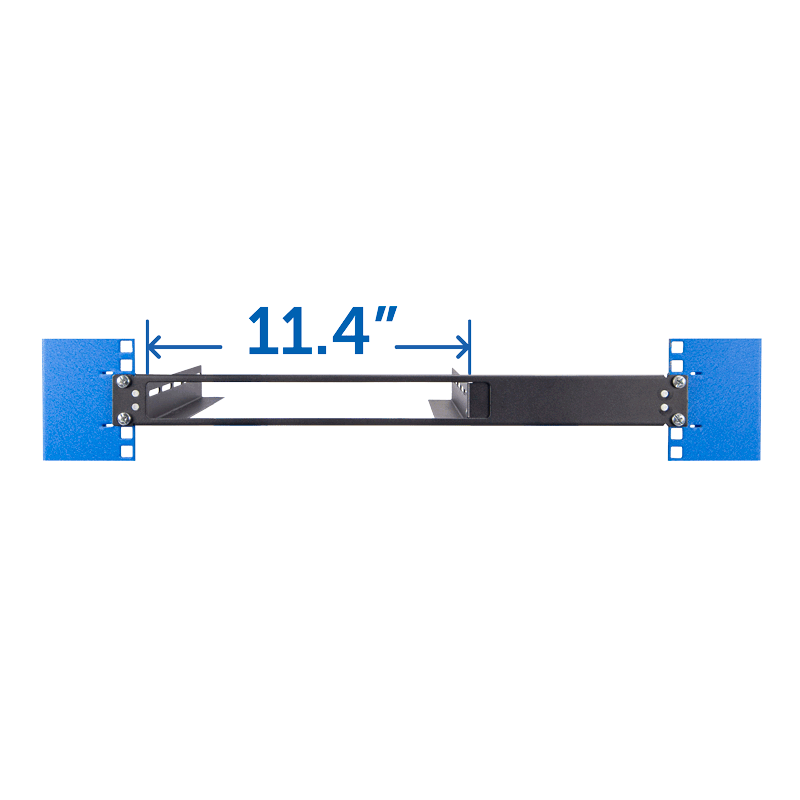 Adjusts to needed equipment width
The shelf can slide down to 6.3" and out to 11.4" to adapt to your switch size and fills in the unused space with the appearance of a blanking panel.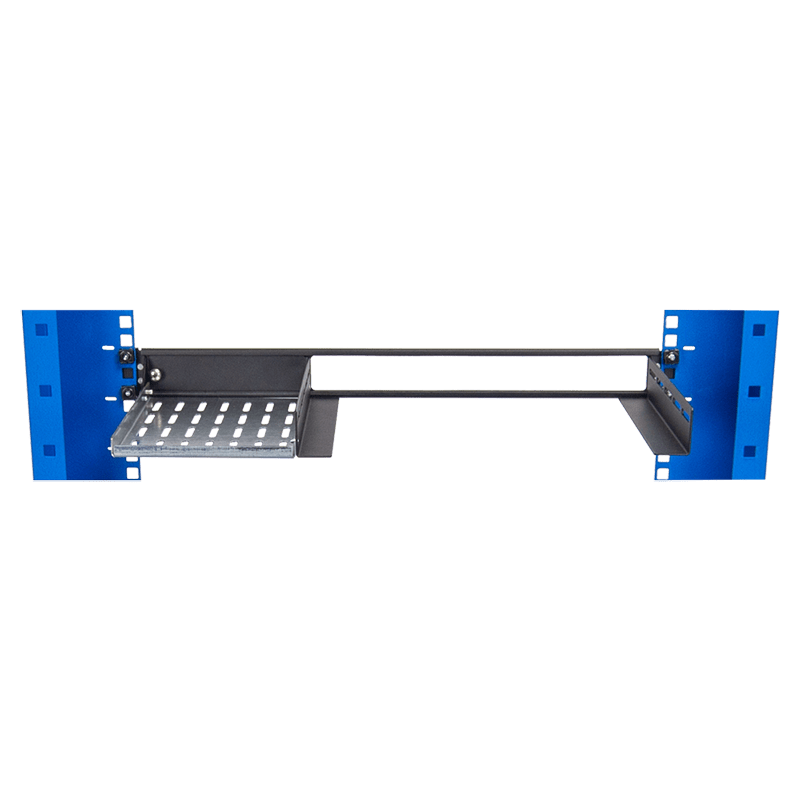 Power Brick and Cord Storage
The plated side tray serves as a storage area for your power brick and cords. Use the included hook and loop strip to secure your cords from hanging below or interfering with other U spaces.
More Information
Weight (lbs)
3.136000
Country of Manufacture
United States
Included Hardware
108-6899

Kit Contents:

(1) Adjustable 2-Post Shelf
(1) #10-32 Phillips Head Screw
(2) Push-In Bumpers
(1) Hook and Loop

Rack Mount Hardware x4:

(4) #10-32 Phillips Head Screws
(4) #12-24 Phillips Head Screws
(4) #12-24 Square Nuts
(4) #12-24 Cage Nuts

Synnex Part Number
108-6899 - 5767970
Ingram Part Number
108-6899 - 7GA548
Shelf Type
Vented
Rack Type
2 Post
Fixed/Sliding
Fixed
Finish
Black powdered coat
Mounting Depth Range
Mounting Depth: 7.9" Mounting Width Range: 6.3" - 11.4"
Weight Capacity
10 lbs
Rack Units
1U
Tool-less/Standard
Standard
Hole Type
12-24 Thread Note: can be installed into a square hole rack with the included cage nuts
Material
16 GA Steel
TAA Compliant
Yes
RoHS Compliant
Yes
Tech Notes
Compatibility:
Cisco Meraki MS120-8-HW MS120-8LP-HW MX64 MX64W MX65 MX65W MX67  MX67W MX67C MX68 MX68W MX68CW
Cisco SF100D-05 SF100D-08 SF100D-08P SG100D-05 SG100D-08 SG100D-08P SF110D-05 SF110D-08 SF110D-08HP SF110D-16 SG110D-05 SG110D-08 SG110D-08HP SG200-08 SG200-08P SG200-10FP SF300-08 SF302-08 SF302-08P SF302-08PP SF302-08MP SF302-08MPP SG300-10SFP SG300-10SFP SG300-10P SG300-10PP SG300-10MP SG300-10MPP
Ubiquiti Cloud Key Gen 2 UniFi Switch 8 UniFi Switch 8-60W
Netgear GC110 GC110P GS908E GS105Ev2 GS105PE GS108E GS108PE GS305E GS308E
Eero Eero Pro Eero Beacon
Asus XG-U2008
HPE HPE OfficeConnect 1405 Switch Series
Dell Dell EMC Ruckus Wireless Controllers
Vanco Digital HDMI®/DVI Video Selector A/B Switch HDMI® 3×1 4K2K Switch HDMI® 4×1 Selector Switch HDMI® 4×1 True 4K Selector Switch with ARC and HDR HDMI® 5×1 4K2K Switch RGB Component/Composite Audio/Video Selector Switch HDMI® 1×4 4K Splitter with HDR HDMI® 1×2 4K Splitter with HDR