Equipment needed for server rack cable management
Cable management is one of the most important parts of building out a server rack. Failing to do this will result in wasted time and money when you inevitably need to alter the rack for maintenance or upgrades. 
If you set up a rack without proper cable management, there is a low chance that you will be able to organize cables without downtime. Additionally, there are risks like crosstalk interference, and cooling efficiency that can directly impact your equipment's uptime and performance. 
Before anything, you'll need to know what equipment is necessary to manage cables.
Horizontal Cable Manager

Horizontal cable managers allow you to organize cables that are entering and exiting IT equipment. They are basically hollow tubes with openings to thread cables through. 
Ideally, horizontal cable managers will be positioned in between two units of IT equipment. This allows cables to be routed through from vertical cable managers on the sides of a rack and into equipment above and below the horizontal cable managers. 
There are two reasons these are so useful. One is that it holds excess cabling so that it doesn't droop onto equipment below where it is plugged in. The other is that the cables are less likely to become tangled, and therefore easier to insert and remove when needed. 
These, along with vertical cable managers are the most essential parts to creating a clean build. 
Vertical Cable Manager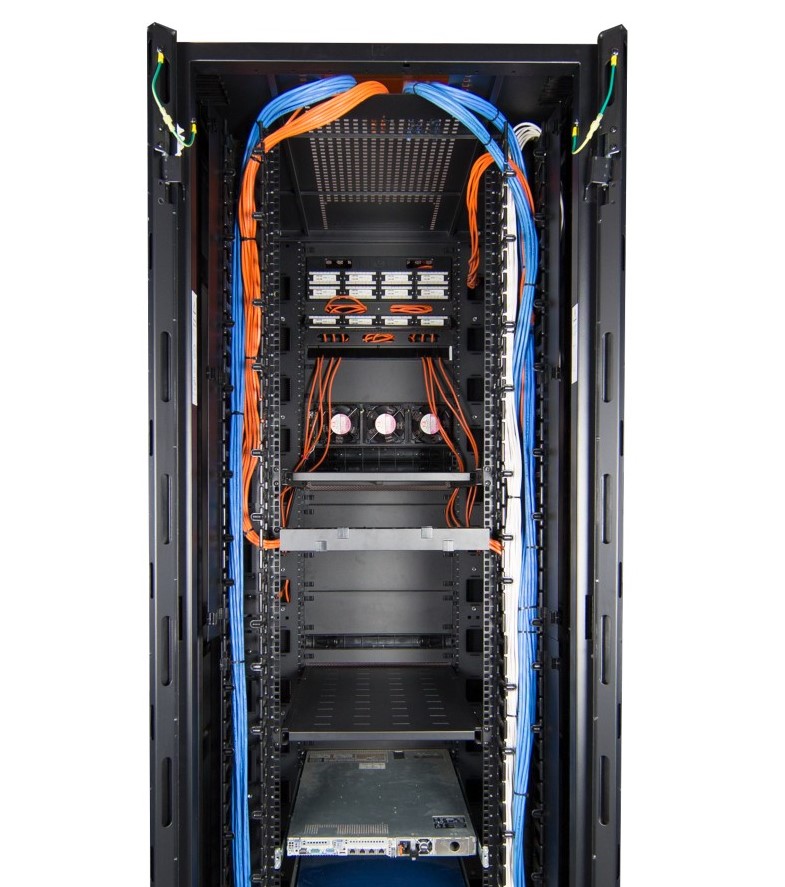 Vertical cable managers make routing cables into horizontal cable managers possible. No matter where a cable is coming from or entering, it should be routed through the horizontal cable manager to keep things tidy and manageable. 
These essentially look the same as horizontal cable managers but are engineered to be able to mount vertically on a rack. You can mount them on either side of a compatible rack because, like their horizontal counterparts, they have openings on both sides for entry and exit. 
Unlike horizontal cable managers, there is more of a need for zip ties or Velcro® cinch straps because gravity isn't holding these cables in place. All of RackSolutions' vertical cable management bars are designed with areas to attach zip ties and Velcro® straps to secure cables or a group of cables in the bar. 
Cable Management Arm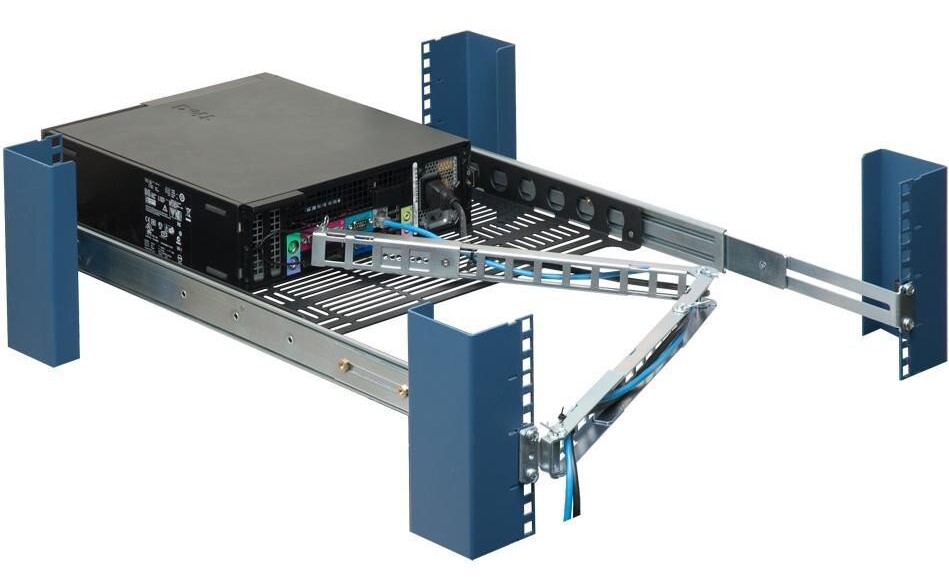 If you are connecting cables to equipment on a sliding rail or shelf, you probably should have a cable management arm. These allow you to simultaneously have cable slack accessible when sliding equipment out of a rack while still keeping things organized and not droopy. 
They attach to the same rack holes as your equipment is mounted on which is very space efficient. There are also holes for zip ties and Velcro® straps. 
Patch Cable Organizer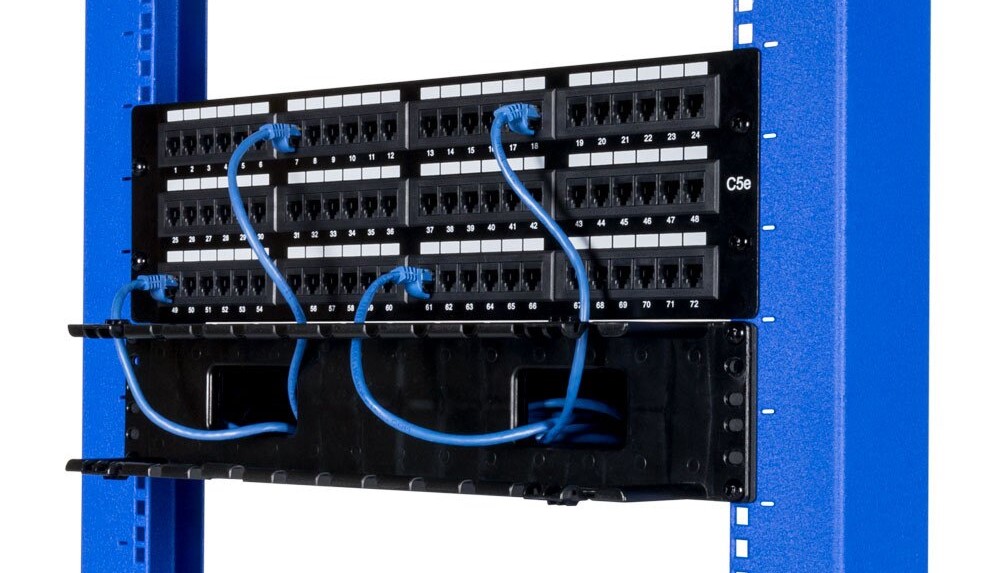 Patch Cable Organizers are very similar to horizontal cable managers, but they are specifically designed to manage excess cables. This is more important  for patch panels because they often have cables running to one another in a close distance. 
They act as an alternative to buying 6 inch networking cables as patch panel organizers ensures that in the absence of short cables, you can still be organized. You can learn more about a patch cable organizer in the video below! 
Offset Cable Tie Bars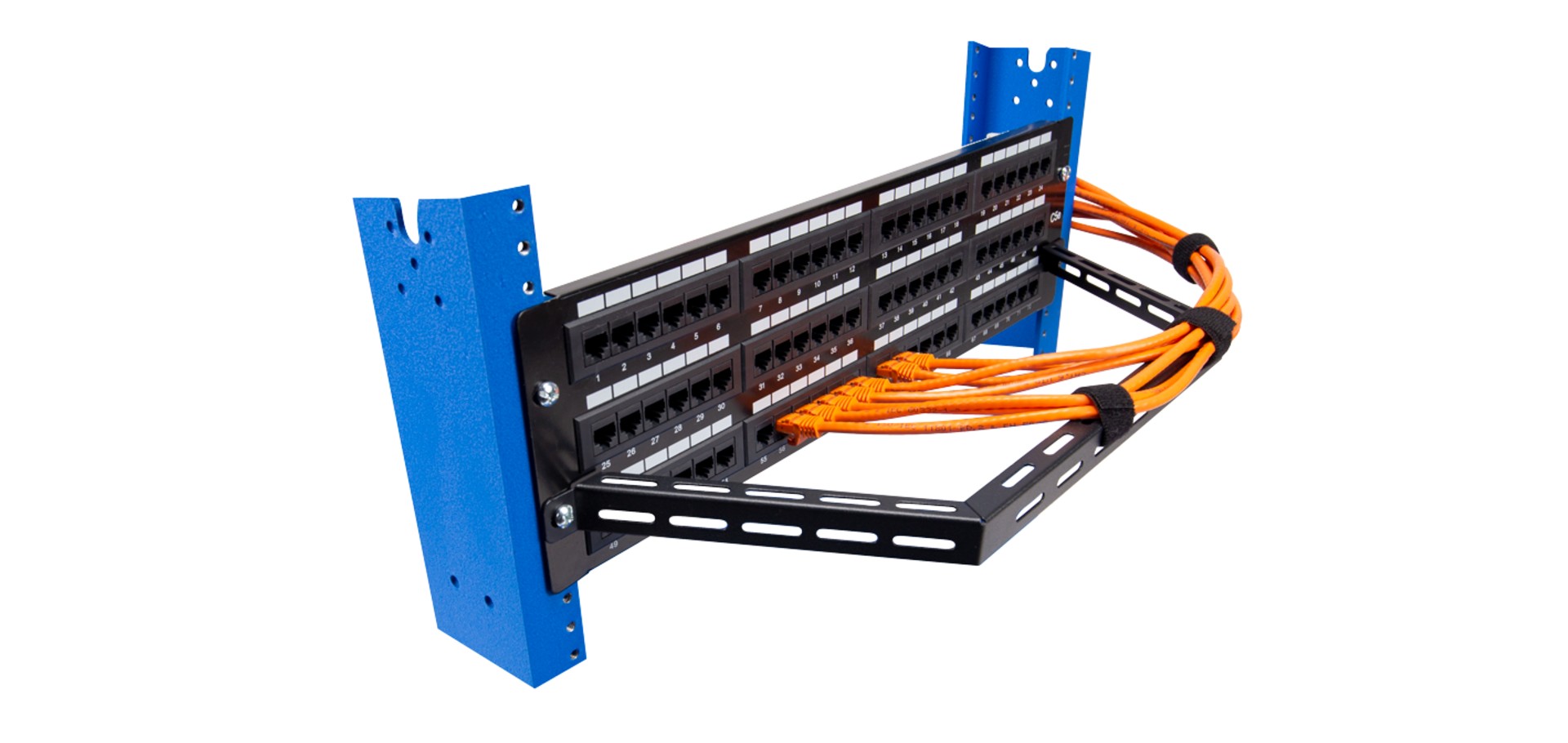 Another alternative to patch cable organizers is an offset cable tie bar. They also help manage excess cables, but specifically are designed to distribute weight more effectively.
These can be placed in between IT equipment while only using ⅓ of a rack U space. The L shape helps support longer cables without having to wrap them up and risk damage. There are also holes all across the cable tie bar that are great for Velcro® straps, as they are essential for keeping the cables organized. 
Cable Management Trays

You might want a cable management tray if you need to route a large amount of cables across a rack, while not necessarily needing to connect them to equipment in that rack. 
Unlike horizontal cable management bars, they do not have openings at the top and bottom to route cables through. Instead, the cable tray acts like a bridge carrying cables across the rack. They are designed with holes to easily secure cables onto the tray with zip ties and Velcro® straps. 
Velcro® Cinch Straps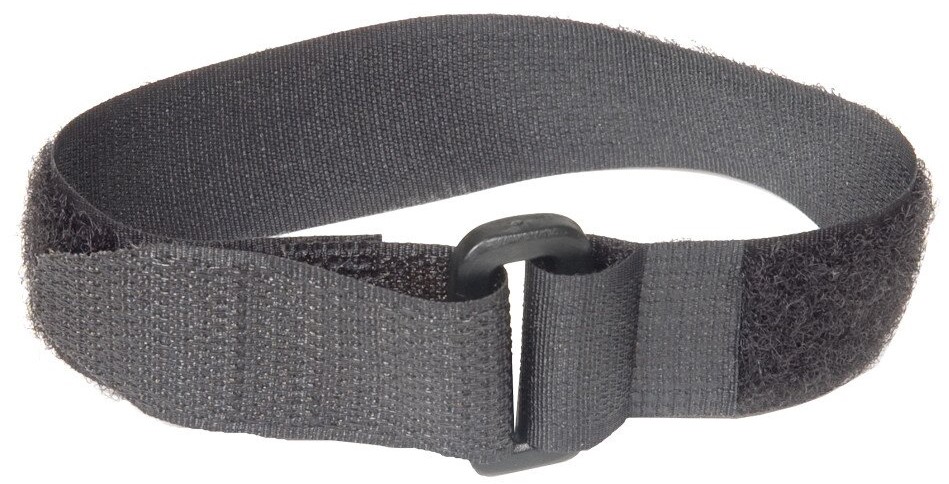 We've already mentioned these quite a few times in this post, but that's because they're awesome. Velcro® straps are easier to use, more environmentally friendly and nicer looking than zip ties. 
Most of the time, both options will work just fine, but Velcro® straps are reusable, thicker and can't accidentally be over-tightened to the point of breaking a cable.
Summary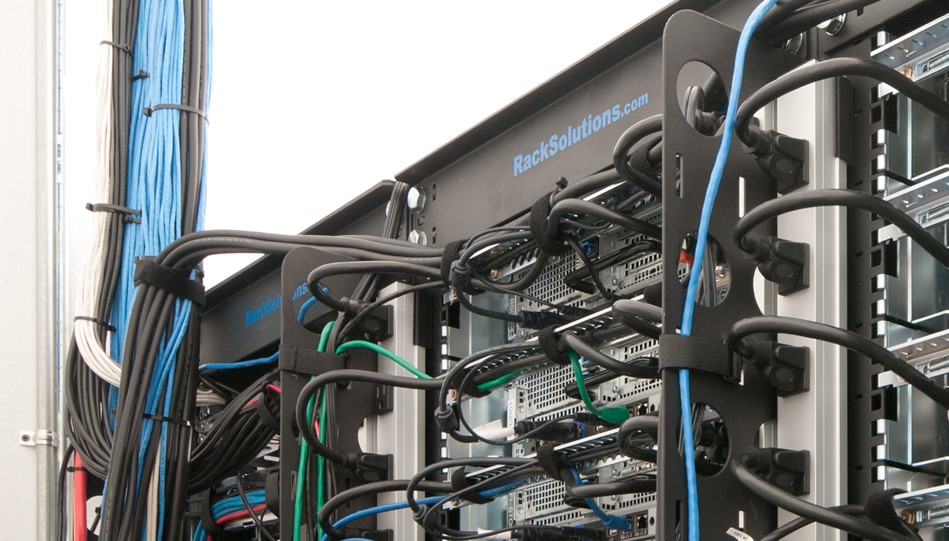 Article Name
Equipment needed for server rack cable management
Description
Before you start the cable management process, check out these must have accessories that make setting up a server rack clean and easy.
Author
Publisher Name
Publisher Logo