Selecting A Wall Mount Rack
Searching for a server rack can be difficult, especially if you have multiple options to choose from. You can select an open frame, enclosed, desktop, or wall mount rack. However, each rack type is specifically designed for different circumstances and needs. For those with limited office or home space, a wall mount rack is an affordable solution to optimize your workspace and keep your network equipment off the floor.
Types of Wall Mount Racks 
Wall mount racks typically come in open frame or cabinet styles, which are easy to install compared to other rack options. Open frame wall mount racks are an effective racking option, but it won't entirely keep your equipment secure. To avoid equipment tampering, you can add panels to the top, bottom and sides, as well as a front cover.  
The equipment installation, wiring, and cable management is easier for open frame racks than enclosed cabinets. An open design allows for optimal airflow, so you can increase the performance of your hardware if your network equipment is properly installed. For enclosed cabinets, you can install a fan for air circulation throughout the enclosure. Both styles are great, but if you need a rack that provides both the accessibility of an open frame rack with the security of an enclosed rack, then our Open Frame Wall Mount is perfect for you. 
What Height Do You Need?
Wall mount racks are available in different sizes for several applications and needs. The Open Frame Wall Mount Rack is configured by height and depth selections, with heights ranging between 8U to 15U. 
When selecting the height of your rack, you should determine how much U space you will need. Keep in mind that 1U is equivalent to 1.75″. For example, a rack could mount up to 21U (36.75'') of equipment in the front rack space. If you don't need the extra U space, then you may want to consider a 12U or 15U instead.  
What Depth Do You Need?
It's important to determine how much space is required to mount a piece of equipment in the rack. Before selecting the rack depth (measured in inches or mm), you need to accurately measure the depth of your equipment and allow for a minimum of 3" in the back for cabling. This will ensure that everything will fit inside the rack. If you select a rack that is 10.5'' deep, then your equipment should ideally be no more than 7.5" deep.   
How To Mount A Wall Mount Rack 
The Wall Mount Rack can be mounted on a wall or almost any flat surface, which will take up less floor space and stay out of your way. Wall mount racks have a weight limit, so you need to make sure that the capacity of the rack is greater than the total weight capacity of the equipment being mounted. 
Depending on the size that you select, a wall mount rack may support up to 300 lbs – 400 lbs of equipment. It is recommended that you review the installation instructions prior to purchasing a wall mount rack so that it corresponds to your preferred mounting configuration and location. The wall mount rack usually comes with assembly, mounting, and rack mount hardware, but it's good to review the product documentation to be certain. 
What Kind Of Equipment Can You Put In A Wall Mount Rack? 
Wall mount racks are primarily used for network equipment such as switches or patch panels, but servers can also be mounted vertically in the rack. No matter what type of equipment is in the rack, you will need to supply power to your equipment. When placing your equipment into the rack, you need to make sure you have space to plug them all in, and that they won't overload the circuit. 
In the image below, the rack has additional U space on the top and bottom of the rack. If you need a place to set your equipment, you can also mount a shelf into the rack, which can be used for a wireless access device or equipment that does not mount in a rack.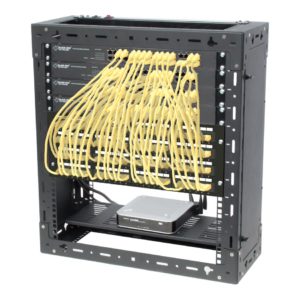 To save space and maintain access to the front and back I/O, equipment in wall mount racks are mounted vertically or horizontally. This 12U x 4U Wall Mount Rack has two 1U servers mounted vertically.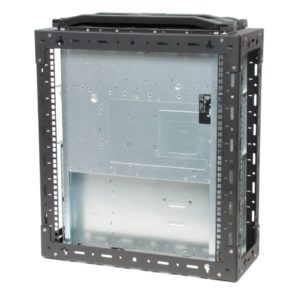 Tool-less filler panels may be used to enclose the open spaces in the wall mount rack. In the image below, a 3U filler panel was added to enclose the 4U top of the rack, but 1U of additional space was intentionally left open for accessibility. 

Mounting AV Equipment In The Ceiling 
Instead of mounting your equipment to any "wall", there are other ways to utilize a wall mount rack. Our Vertical Wall Mount Rack Bracket is another cost effective option that allows you to mount your equipment under a desk or to the ceiling. Impression AV used our vertical wall mount rack brackets to make a large screen presentation system invisible in a coffee shop. They were able to mount a complete AV system in the ceiling, save floor space, and efficiently hide cables. Read more about their challenges and unique solutions here. 
The Perfect Alternative To Full-Sized Racks
Selecting the right wall mount rack depends on how your network equipment or servers will be mounted. Regardless of what rack type you choose, it's important to consider the height and depth requirements for your ideal configuration. Compared to full-sized server racks, our selection of wall mount racks are a compact solution for mounting equipment on the wall, under a desk, or in the ceiling. The racks can also be used for small IT closets, classrooms, and restaurants. 
If you have any questions about which product will work best for your needs, feel free to contact us. With our high-quality, in house manufacturing, you can be confident that you are buying the best rack possible.
Summary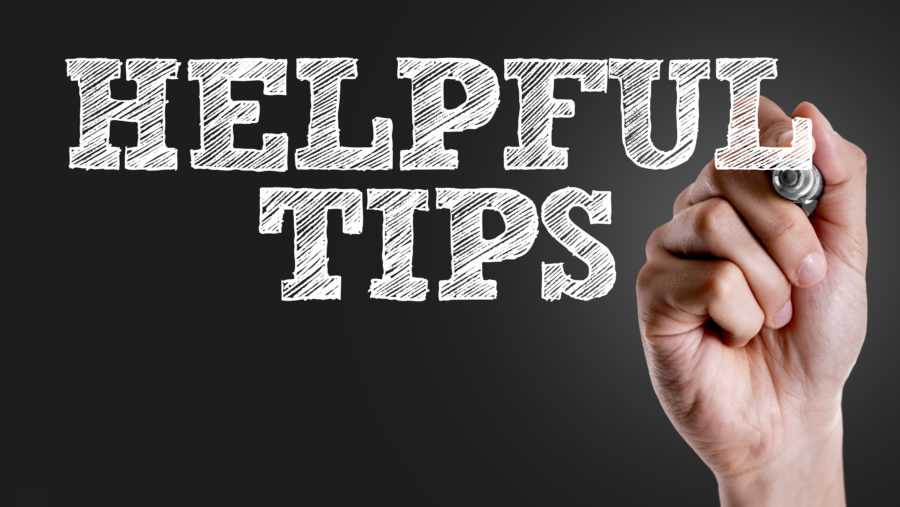 Article Name
Selecting A Wall Mount Rack
Description
For those with limited office or home space, a wall mount rack is an affordable solution to optimize your workspace and keep your network equipment off the floor.
Author
Publisher Name
Publisher Logo