Vertical Wall Mount Rack Might Be The Perfect Solution
While traditional computer equipment racks are great for data centers, there are many times when there just isn't enough room. Having a wall mounted rack allows you to place servers, switches, and other items securely in place, without taking up any floor space at all. The 5U vertical wall mount rack can be secured to most any wall to hold equipment securely.
The rack installs into the wall using the included hardware, with just 10'' of the rack sticking out from the wall.
A Vertical Wall Mount Rack Provides Security
Keeping equipment safe is critical, and this rack does a great job. The main access door has a strong lock, which will discourage anyone from attempting to get access, while making it simple to open up whenever you need to work on the equipment within. The rack itself is made of a strong metal, making it very difficult to break into if someone should be so inclined. It can also stand up to bumps or scratches if it is mounted in a public area.
Strong Materials
When mounting this onto the wall, it will be secured directly into the wall studs. This helps ensure it is very strong and can hold most any type of computer equipment. It is approved for a maximum load capacity of 150 lbs, which is more than enough to hold almost any type of equipment that could fit into this type of wall mount system. The adjustable rails make it easy to add or remove equipment, and are very durable so installing and moving items in the rack won't cause problems.
Excellent Cooling
Keeping network equipment cool is critical, and this vertical wall mount rack was designed with that in mind. The main door has vented slots, as does the bottom panel. If you're going to be putting equipment that generates a lot of heat in, you can install optional 120 mm fans into the bottom vents to generate a strong airflow to quickly disperse heat. Even the metal itself helps to absorb and disperse heat, making this rack a great option.
Easy Access
When installing this vertical wall mount rack you will find that there are several punch out panels in the back that can be removed to make it easy to run cables through it and behind the wall it is installed in. The equipment being placed into the rack uses adjustable slide rails, which can be secured in place, and held securely so wires can be added and removed without any trouble. Opening the front panel grants full access to the equipment within, making it faster and easier to perform cleaning or maintenance than most other types of rack systems.
Areas Commonly Used
This rack can be a great choice for keeping computer equipment secure in almost any situation. Whether for home or business, it is a good option to consider. The following are some of the places where this model is most commonly used:
Public Environments – When you need a small server in a public or open area, it is important to keep it secured so nobody damages or steals it. Using this wall mount will ensure it is easy to access when needed, but safe from anyone in the area.
Security Desks – Having a secured computer available for security desks at businesses is important. Placing a server that holds digital images or video from a security system, for example, in this rack will ensure it is safe and out of the way.
Data Centers – Even large data centers sometimes start to get crowded. Using a wall mounted rack like this can add additional space for certain types of equipment that needs to be out of the way.
Home Use – Placing computer equipment in a rack on the wall is a great way to keep a desk clean and ensure the maximum amount of space is available.
Anyone who is looking to ensure their computer or network equipment is kept safe, but out of the way, will want to consider this vertical wall mount rack. It is built to the highest standards and will help keep a wide range of different equipment safe, organized, and cool at all times.
Summary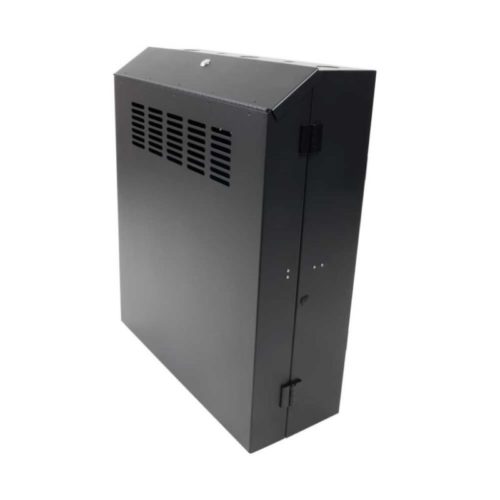 Article Name
Vertical Wall Mount Rack Might Be The Perfect Solution
Description
The 5U vertical wall mount rack itself is made of a strong metal, making it very difficult to break into if someone should be so inclined.
Author
Publisher Name
Publisher Logo