Top 8 most important accessories for server racks
Inherently, accessories aren't 'necessary.' Server rack accessories, on the other hand, exist in more of a gray area. This is because one might lose their mind if they try to manage a 42U server rack with no cable management accessories.
So, we've created a list of server rack accessories that will help keep you sane, organized and sometimes simply provide a more pleasant system admin experience.
Rackmount power strip with surge protection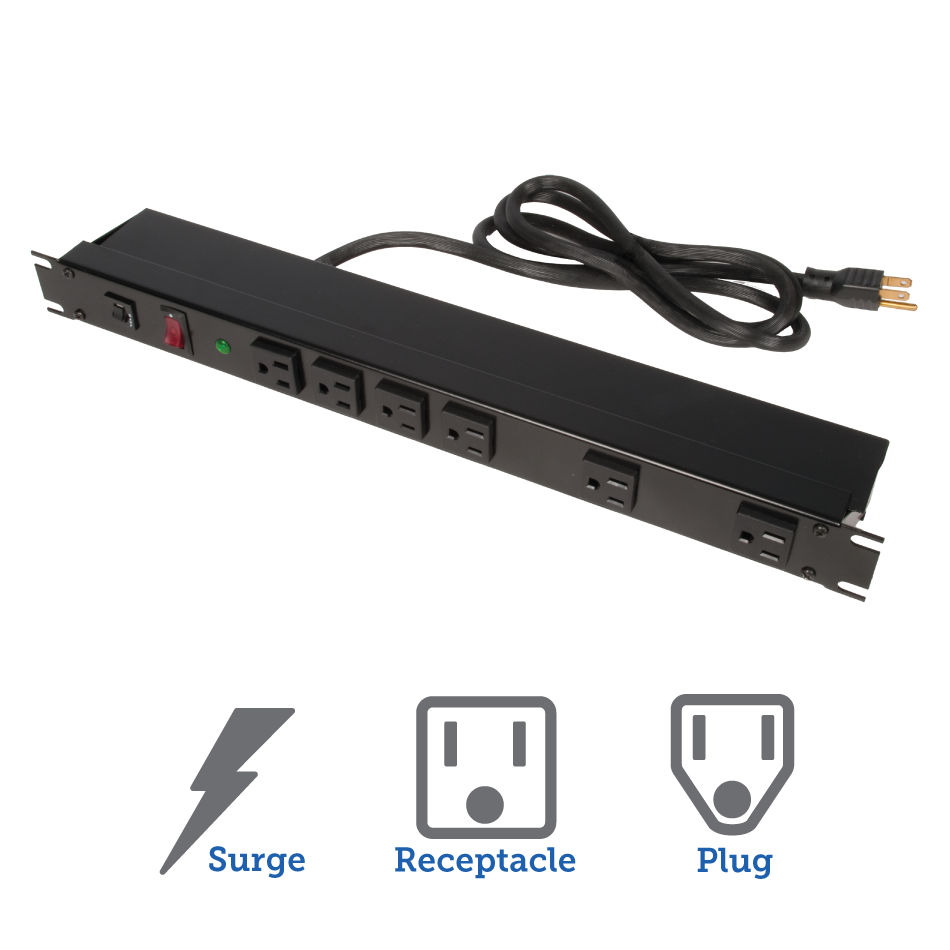 The main point of owning a server rack is to have data or computing power available 24/7. Data centers go great lengths to protect their equipment and ensure that the maximum up-time is kept. 
Because of this, surge protection is a basic necessity. If you don't use surge protectors, then you are at an increased risk of damaging your equipment or being the victim of a fire. 
Additionally, these can easily be mounted on your rack for a sleek look and convenient access. 19 inch rack power strips with surge protection are available with 15 ft cords.
Server rack KVM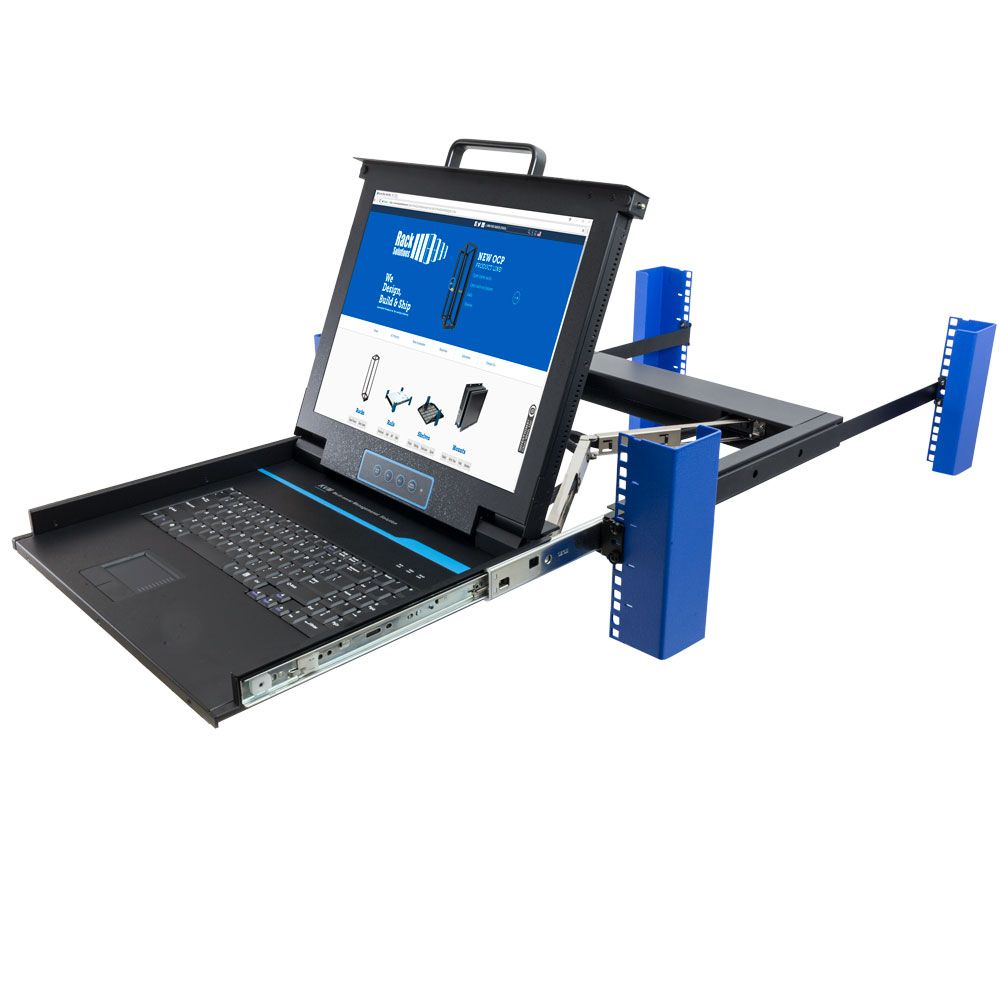 At the most basic level, a KVM is a solution for the keyboard, mouse and monitor you will use to control your equipment. Chances are, you won't be connecting your server to a frequently used home and leisure monitor; KVMs fix this as an all in one solution that fit inside of your rack. 
In a 1U space, you will be able rack mount a keyboard, mouse and monitor. The solution looks a bit like a laptop but can't run on its own. 
If you're looking for a KVM that can flip between multiple servers' video output, you will also need a KVM switch. These usually have a bit more I/O than KVMs themselves and can switch between outputs with the press of a button.
Blanking Panels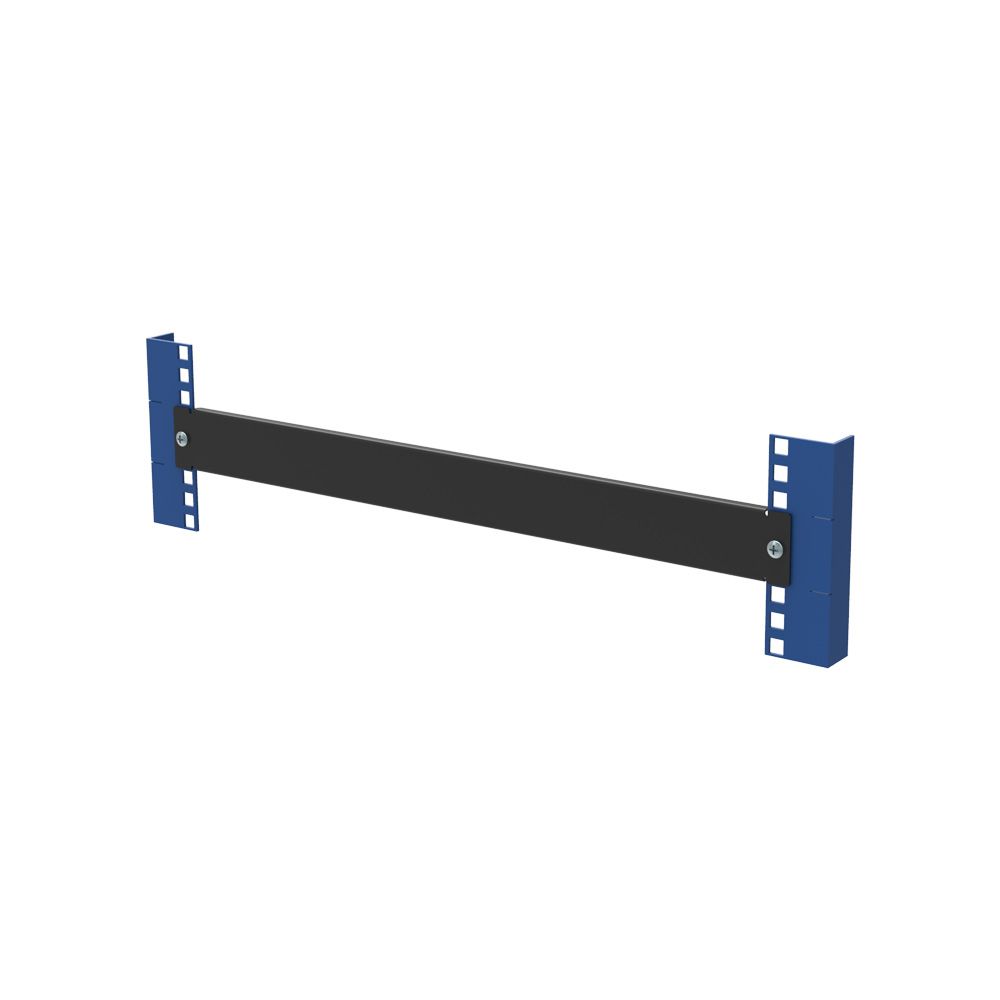 Racking up blanking panels is a simple and cost effective way to manage airflow. If your open or closed frame rack has some empty slots, these are necessary to maximize cooling efficiency.
The main goal when cooling servers is to get as much cool air through the front of a server as possible, and keep hot air contained in the back. 
When cold air is flowing towards your server, you want to block off all other possible entries to be certain that the air will be absorbed by the server's intake and not be lost inside the rack. Additionally, blocking those other entries will help keep cold and hot air separated. 
Blanking panels are some of the lowest cost accessories that you can purchase for a server rack. Besides the fact that they help with cooling, they will also give your rack a cleaner appearance. 
Server rack ventilation fan


The main purpose of adding fans to a server rack is so that you can break up any hot spot that might be forming in empty space. 
Hot spots can occur anywhere inside of your server rack where there is a lack of ventilation. Because servers are running constantly, that area of your rack can maintain high temperatures that can have a residual effect on performance of your equipment. 
So maybe there's empty space at the top of your rack that you've noticed feels more hot than the rest. Instead of using a blanking panel there, you might want to consider a Horizontal Rack Fan. This will help push cool air towards that spot while maintaining a separation from the hot air that it is cooling. 
4 post to 2 post rack adapter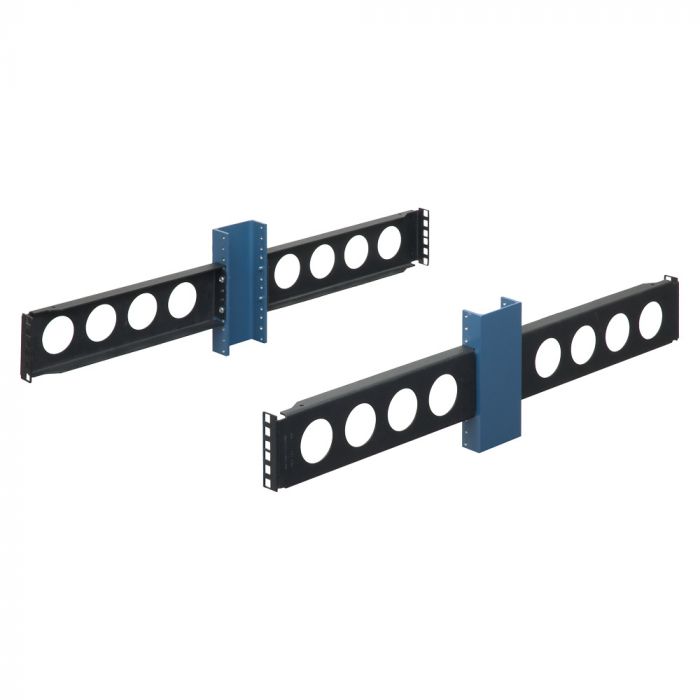 Even with a cantilevered 2 post rack, it's not safe to mount a server with a 4 post rail only attached to the front. 2 post racks that only allow center mounting will outright be incompatible with servers.
This is why RackSolutions designed the 2Post adapter many years ago. These adapters allow you to mount an entire 2 post rack full of servers. As long as the total equipment weight doesn't pass the rack's capacity, you will not need to worry about a thing. 
So, if you have a 2 post rack and want to mount a server – don't bother buying a new 4 post rack, just pick up a 2 post adapter. 
Cable management bars
Cable management products are the most difficult to classify as 'accessories' because of how they are almost necessary. 
There are tons of different products that can help you manage cables, but generally there are two priorities. You want horizontal bars to route cables to and from equipment and vertical bars organize cables traveling up or down through the rack.
As long as those needs are met, your cables have the potential to become very organized. That is, as long as you have zip ties or Velcro® straps to keep groups of cables together. 
Server rack drawer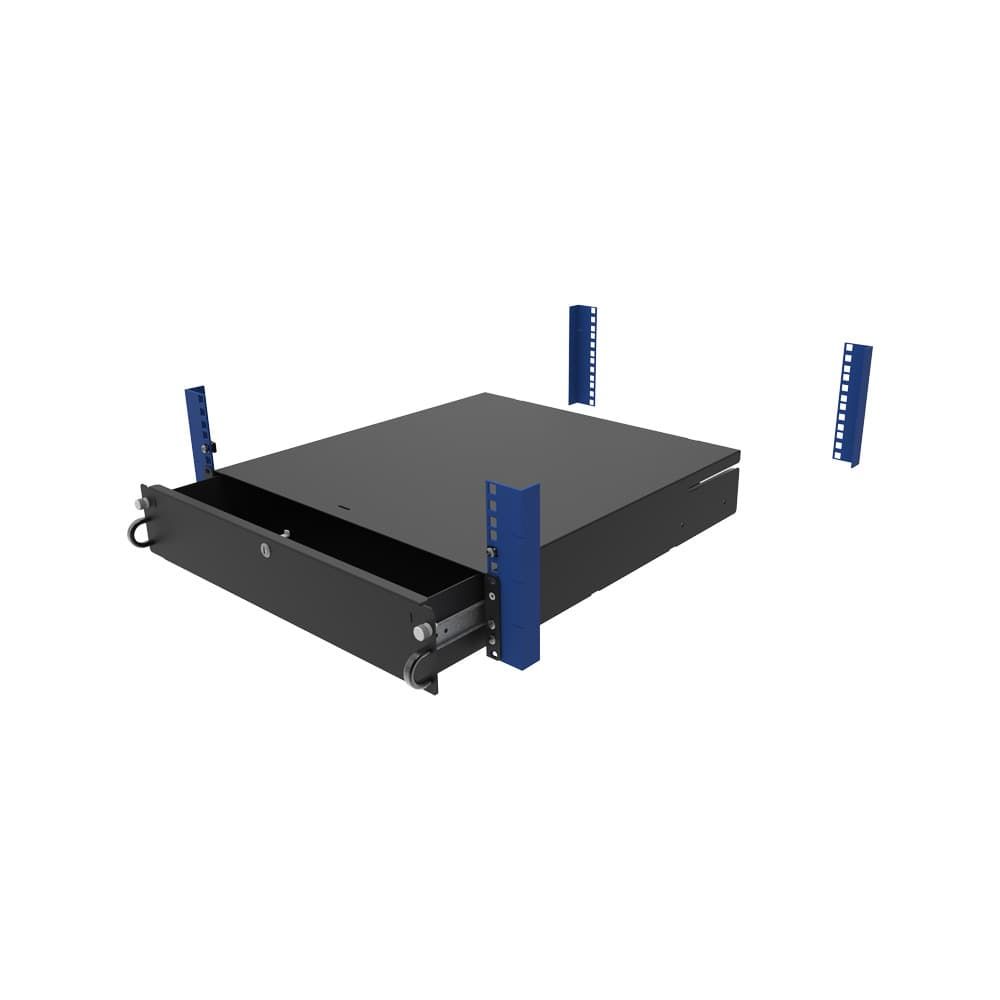 Store everything that you commonly use for server rack maintenance inside of the rack itself. Whether you have hard drives, thumb drives, keyboards, laptops or cage nut tools, it just makes sense to have them in the area that they are being used. 
RackSolutions has drawers available in a variety of heights and with different features. They will fit in any standard 19 inch 4 post rack.
Need help deciding what accessory is best for you?
We love helping customers learn the ropes. If you have any questions about which product will work best in your unique situation, feel free to contact us.
Summary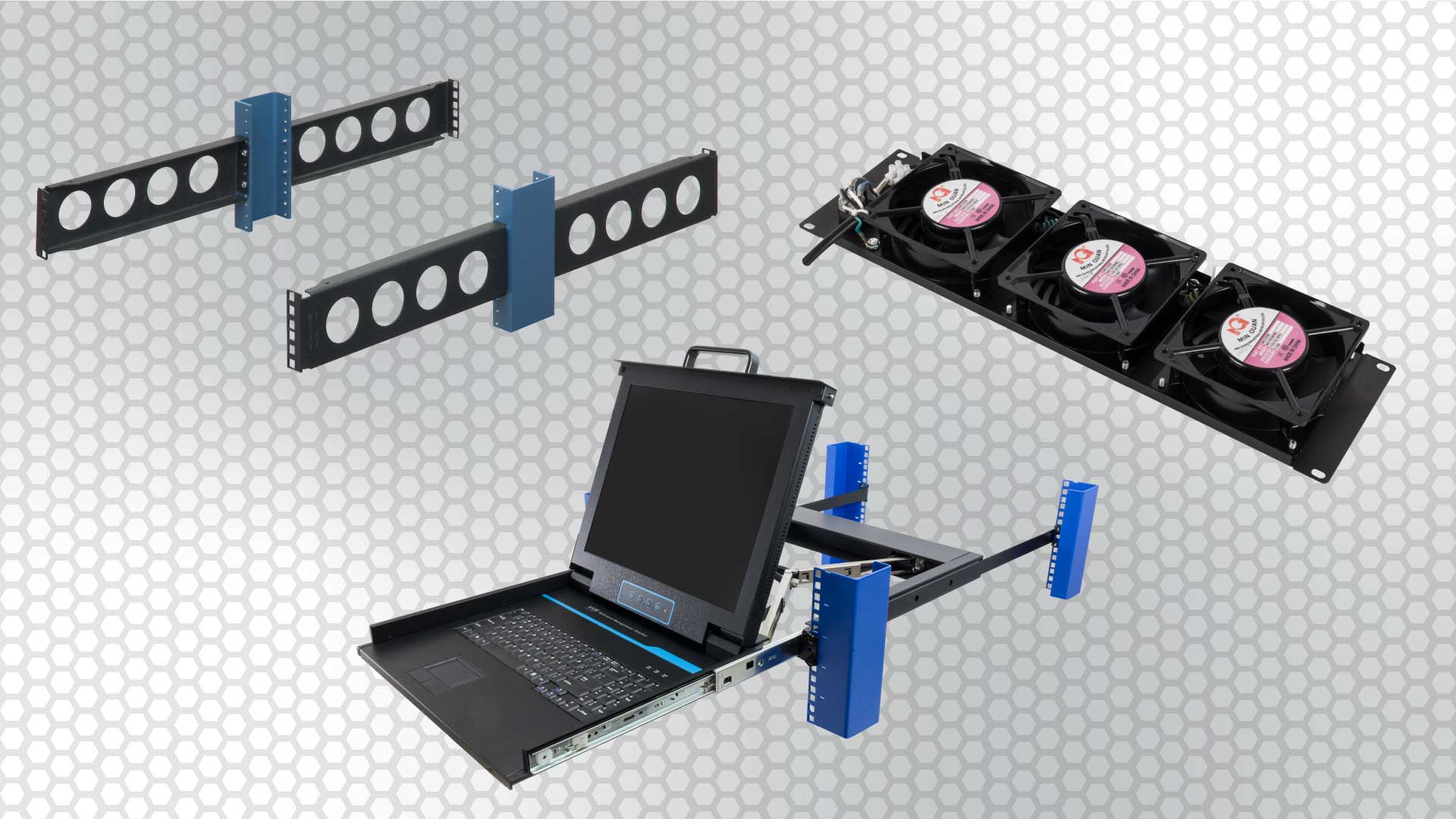 Article Name
Top 8 most important accessories for server racks
Description
We've created a list of server rack accessories that will help keep you sane, organized and sometimes simply provide a more pleasant system admin experience.
Author
Publisher Name
Publisher Logo