What are 2 Post Universal Rack Rails?
When it comes to setting up your equipment, universal rack rails are beneficial for mounting servers and other IT equipment in the most efficient way possible. Our universal rails and are easy to install, easy to use, and serve as a replacement for many OEM server rails, including those made by Dell, HP, IBM, Supermicro, and more. 
Before you purchase the rack rails, you also need to determine your server's mounting specifications. Once you know the chassis dimensions and weight, you can select the correct rail kit that is compatible with your server. If you're looking for an excellent alternative to OEM rails, then you should consider using our universal rack rails or 2 post universal rack rails that best fits your setup. 
What are Universal Rack Rails? 
As a way to avoid the ongoing expense of repurchasing rail kits, universal rails are used to support a variety of server racks, including those with square, round, and threaded holes. Our universal rack mount rails provide a flexible solution for incompatible server rack rails within your 19" rack. 
Moreover, our rails are not limited to 19" racks and can be attached to wider and narrower racks if needed. We provide universal server rack rails in 1U, 2U, or 3U sizes that are available to fit all your needs.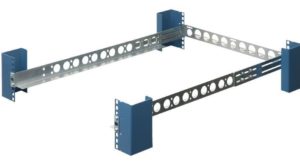 If you have a Dell server, you can also use our slam latch accessory kit to secure your servers in place when using our universal rails. The retaining plate is only compatible with 1U-2U standard width universal rails.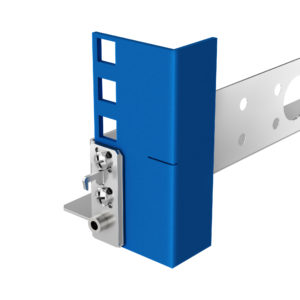 Universal Rails vs OEM Rails
Between universal rails and OEM rails, there are different benefits of selecting universal rails for your servers. To begin with, servers can last longer than 10 years, but the accessories associated with them may not. However, universal rails will always function the same as long as industry standard dimensions are consistent. Additionally, some brands don't provide server rack rails after the initial purchase.
Secondly, universal rails can be cheaper than OEM rails depending on your server model. If you need to mount a variety of servers, then it may be easier and less costly to purchase one type of rack rail for all of them.
Lastly, your OEM rails can't be utilized when it's time to update server equipment. Instead, you could save money more by using universal rails.
Our universal rack mount rails are a fixed rail type and provide a flexible solution for incompatible rack rails within 19" server racks. However, these universal rails are only designed for 4 post racks. If you have a 2 post rack, then you should consider using our 2 post universal rails. 
Do You Need 2 Post Rack Rails?
Specially designed for 2 post server racks, we provide 2 Post Rack Rails that serve as a durable, high-performance rail solution for standard 19″ server racks. These rack rails are simultaneously durable and versatile. Here are some of the following features:
Mounts in a 2 post server rack

: Our server mounted rails are designed to support a variety of server racks, including those with square or round hole racks (10-32, 12-24, metric M6 threads). These rails support 45 lbs for 1U devices, 75 lbs for 2U and a maximum weight of 200 lbs for 3U devices.

Alternative to OEM rails

: The 2 Post Rack Rails get their diversity from a form factor compatible with Dell, HP and IBM that can be installed in both center and flush mount configurations

Includes an integrated cable management

: 2 post server rails come with a built-in cable management bar to ease cable routing and hook-and-loop straps to help keep wires from going astray during installation and servicing

Easy to install

: Rails ship with screws, cage nuts and nuts for all rack types, easing installation and ensuring users have all the hardware they need to assemble the server storage solution.

Constructed from steel

: The rack rails are constructed with high-quality steel and ships directly from our Texas-based facility.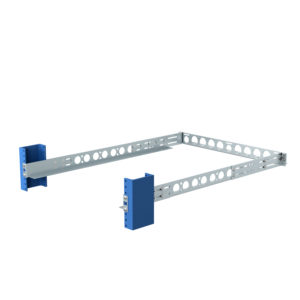 Measuring The Depth of Your Equipment
The 2 post universal rail has a mounting depth range of 10 – 31.75″ (254 – 806 mm). Before selecting your 2 post rack rails, it's important to measure the depth of your equipment. This will ensure that the rails you select are compatible with your equipment. 
You need to measure the depth from the front of the equipment to the back, including any protruding cables or connectors. Once you have this measurement, you can select rails that are the appropriate depth and will securely hold your equipment in place. 
Mounting 2 Post Rack Rails
Depending on your setup, the rails can be mounted in both center and flush settings, which makes them easy to deploy in a variety of settings. 



2 Post Rack Rails: Installation Demonstration and FAQs
Additional Accessories
Need an easy way to install cage nuts? Before installing your server rails, we recommend using our Cage Nut Tool. Cage nuts are able to be installed without tools, but after putting in more than a few, it can be uncomfortable and potentially hurt your hand.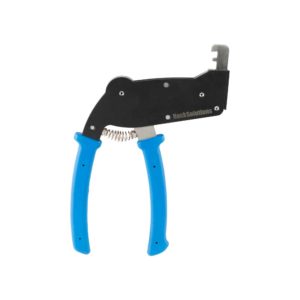 Do You Need a Custom Rail Kit? 
RackSolutions is always prepared to create custom products for your specific needs. We can design solutions and immediately send out prototypes. Our rail kits are designed in house and are custom made to last. If you need a custom rack rail kit, then we can make it happen. Contact us today and we'll be ready to discuss with you! 

FAQs: Server Rack Rails
What U height should my rail be?
If you are buying rails which are designed for a specific server, they are already sized to be the optimal U height for that piece of equipment.
Universal rails, on the other hand, will be able to hold your server as long as it is under the weight capacity. For instance a 1U universal rail can hold a 2U server as long as that server is less than 45 lbs. Best practice is to purchase a rail that takes up the same number of rack units as your server.
What's the difference between mounting depth and equipment depth? 
Mounting depth refers to what sized rack the rail will fit inside. For example, a Cobra 90 Rail with a mounting depth range of 20" – 30" will fit inside of racks with 20" – 30" of space between the connection points on the uprights.
Equipment depth, on the other hand, describes what length equipment must be to fit on the rail. A Universal Rail can mount equipment up to 35" deep. This is mostly relevant to rails that are compatible with multiple servers.  
Is all the hardware included? 
Most of our rails work with square, round and threaded hole racks. Because of this, we include all the hardware that is needed to mount the rails in any type of rack. All you'll need is a phillips head screwdriver, unless you're using our tool-less rails in which case you don't need any tools at all.
Summary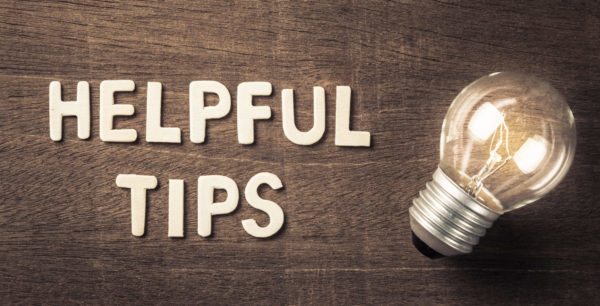 Article Name
What are 2 Post Universal Rack Rails?
Description
Properly securing your equipment with 2 post universal rack rails is essential for installation and organization. Learn more about universal rack rails in our guide.
Author
Publisher Name
Publisher Logo