2U 2Post Adjustable Center Mount Rack Shelf 20in Depth
Center Mounted 2 Post Shelf Configurable to Your Needs
Shelf position configured along the mounting bracket
Equipment stops easily adjusted or removed
Vented or solid shelf options
Rack shelves can mount upside down
Compatible With 2 Post Racks
Weight Capacity: 150 lbs (68 kgs)
Shelf Depth: 20" (508 mm)
Compatible with 3" to 8" uprights
Compatible with round, threaded, or square rack holes
See "Additional Information" for Technical Specifications.
RackSolutions' center mounted configurable 2Post rack shelves can be adjusted to fit a wide variety of mounting needs. The shelf's mounting position can be adjusted along the attachment ears using the holes along the sides of the shelf. Slots for equipment straps are also found along the side of the rack, which can be used for securing equipment to the shelf. The flanges, or equipment stops, can be adjusted along the entire length of the shelf in 1" increments, or removed altogether. This 2 post rack shelf has a shelf depth of 20 inches (508 mm) and a weight capacity of 150 lbs (68 kgs), making it perfect for mounting a large variety of electronic equipment in a 2 post rack that might not ordinarily rack mountable. Our relay rack shelves are compatible with any Standard EIA 19" (opens in a new tab) 2 post relay or telecommunications rack.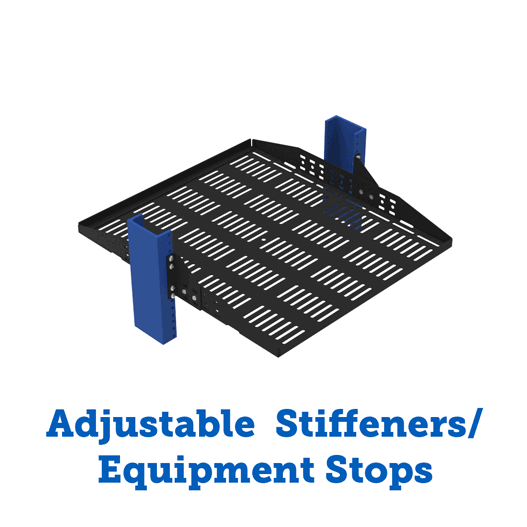 Fully Configurable
The shelf can be adjusted and configured to best suit your needs.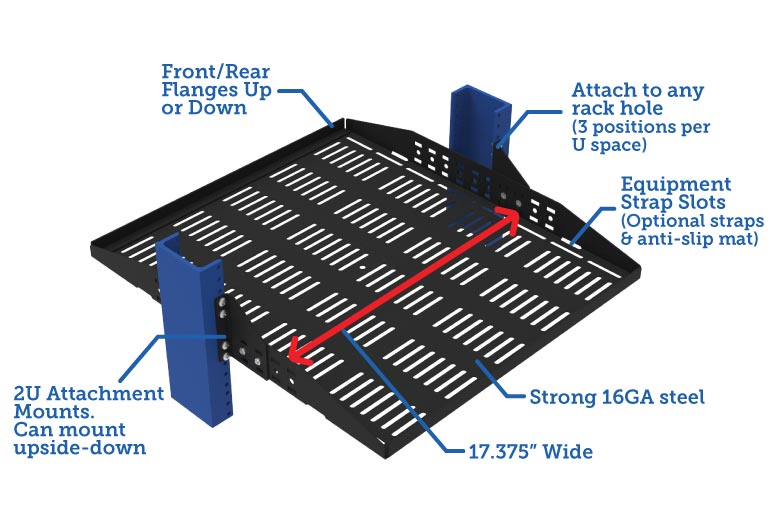 Features at a Glance
The 20" configurable relay rack shelf is designed to fit a variety of needs. The shelf's position can be adjusted along the center mounting brackets and comes with equipment stops that can easily be moved or removed altogether.
More Information
Dell Part Number
2USHL-020FULL-20V - A8169465
Synnex Part Number
2USHL-020FULL-20S - 5050854 2USHL-020FULL-20V - 5050852
Ingram Part Number
2USHL-020FULL-20S - E93434 2USHL-020FULL-20V - NA1117
Assembly Notes
Phillips head screwdriver required
Equipment Depth
The equipment can be deeper than the rack mount shelf as long as the equipment is installed on the opposite side of the flanges. The flanges are used to increase the load bearing capacity of the rack mount shelf or used to prevent equipment movement.
Shelf Type
Solid , Vented
Rack Type
2 Post
Fixed/Sliding
Fixed
Shelf Surface Area
20" x 17.375" (508 mm x 441 mm)
Finish
Black, textured powder coat
Mounting Depth Range
These relay rack shelves are cantilever mounted and will install into any relay rack as well as any 4Post server rack
Included Hardware
10-32 & 12-24 pan head screws
Weight Capacity
150 lbs (68 kgs)
Rack Units
2U
Tool-less/Standard
Standard
Overall Installation Depth
20" (508 mm)
Material
16 GA Steel
Amazon ASIN
2USHL-020FULL-20V = B0006I5GIW 2USHL-020FULL-20S = B0006I5GJQ
TAA Compliant
Yes
RoHS Compliant
Yes
Tech Notes
The relay rack shelf can be installed in a 4Post server rack
Shelf depth is measured from front to rear excluding flanges
We found other products you might like!