RS148 Data Center Server Cabinet
This Product Ships Freight
42-48U of Rackable Space
42" or 48" of physical depth will easily accommodate modern equipment
42U rack dimensions with casters: 79.75" H x 42" D x 24" W
48U rack dimensions with casters: 90.25" H x 48" D x 24" W 
Usable depth: 42" deep ranges from 2" - 36", 48" deep ranges from 2" - 42"
No internal airflow recirculation
Includes: top panel, side panels, key(s), leveling feet, pre-installed casters, lockable and perforated doors
Designed for Data Centers
42U height easily rolls through doorways
All doors open 180°, four-point latching system for additional security
Locking, removable side panels
4 vertical cable management bars included
Casters, leveling feet included
Static and dynamic load: 3,000 lbs
Our RS148 Data Center Server Cabinet provides a secure solution for rack-mount equipment in IT environments. The enclosed server cabinet meets EIA standard for 19" server racks and is compatible with rack-mount servers, networking, and telecommunications equipment from Dell, HP, IBM, and other brands.
Perfect for any server room or data center, the enclosed server cabinet comes fully assembled in 42U or 48U height. The 42U or 48U rack options come with 4 vertical cable management bars to organize cables and support power distribution. Constructed from 13 GA steel, the rack frame is finished with a black powder coat. Mounting points allow for custom solutions and additional accessories to be used. The side panels are lockable and removable, allowing for in-rack serviceability. You can use the same key for the side panels and doors.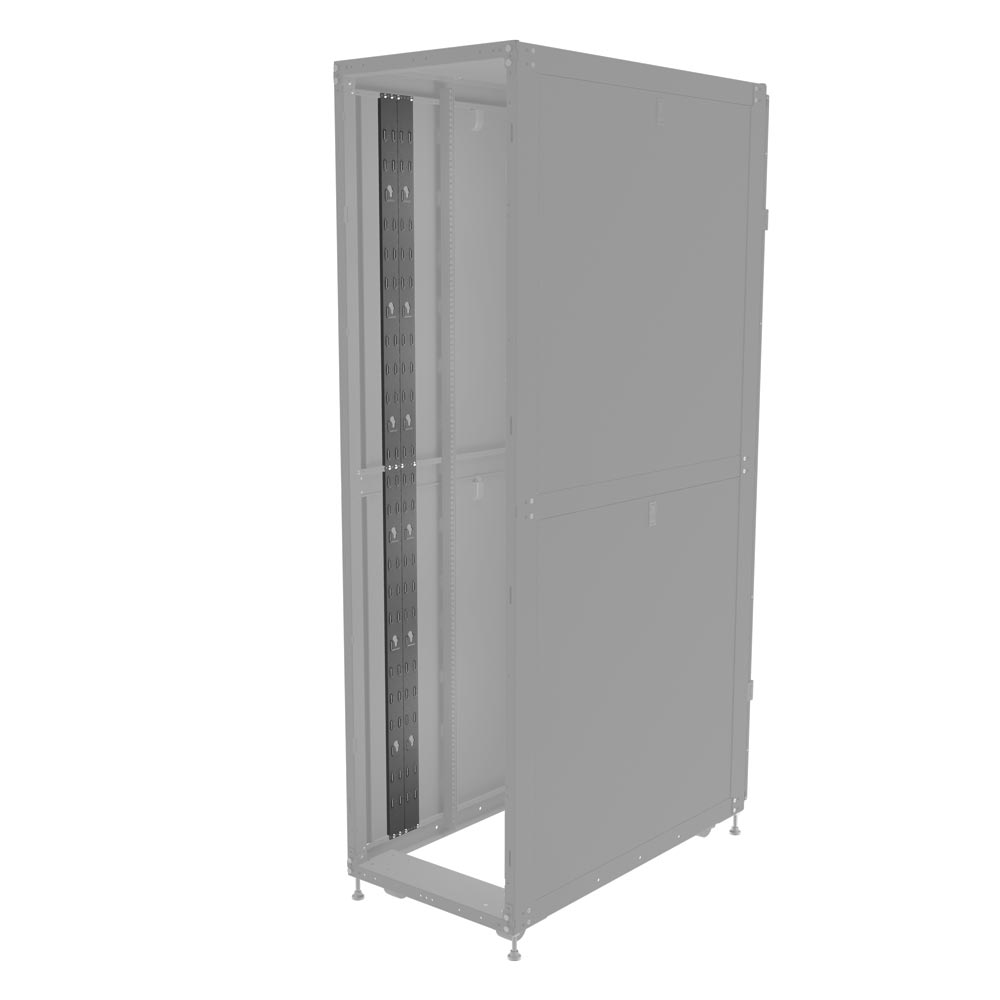 Cable Management Bars
Each of these enclosed server cabinets come standard with 4 adjustable cable management bars. The 2.5" width of the cable management bars create enough room to mount 2 standard PDUs side by side. The design is compatible with tool-less button style PDUs and includes lances to make cabling easier.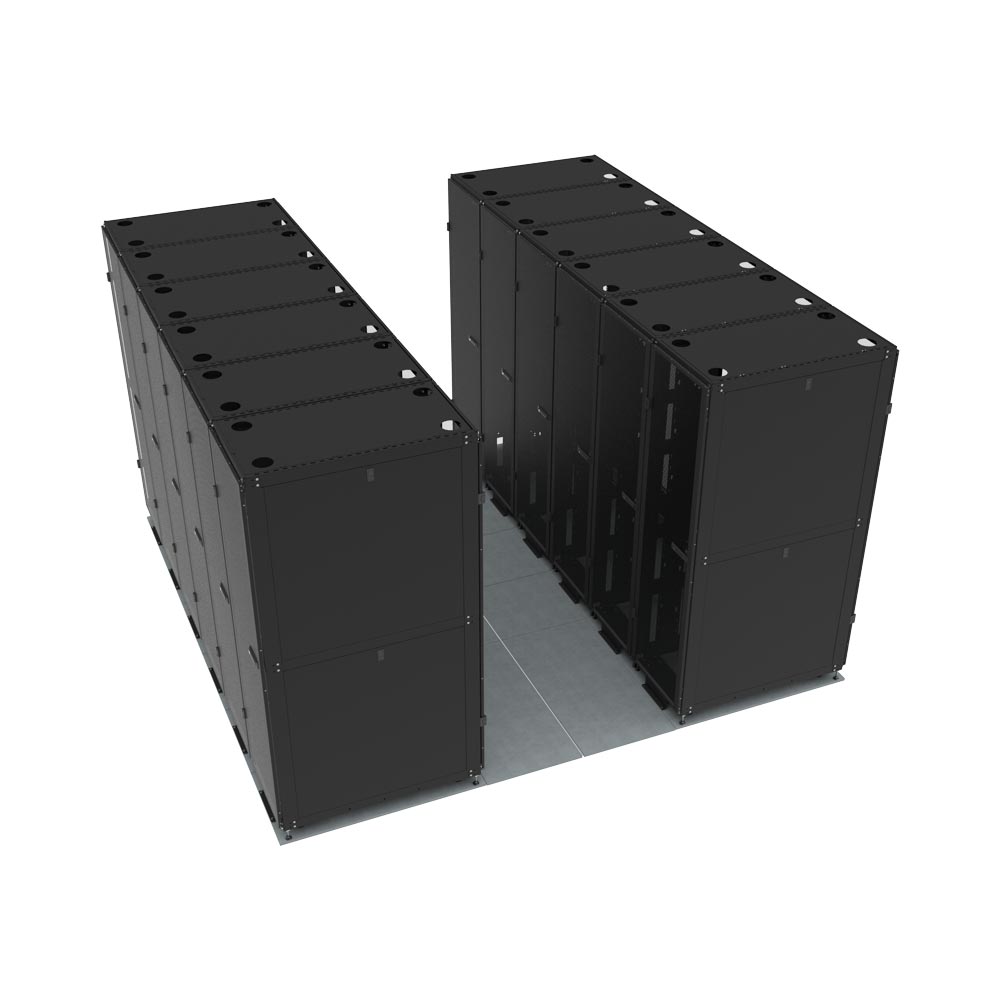 Call to Customize
Customization of the rack is available via phone or chat with our sales team, including removal of sides, doors, etc. As an example, if you are purchasing racks in bulk for a data center we can work with you to only include side panels on the two end racks. Contact us (opens in a new tab) so we can discuss your custom order today.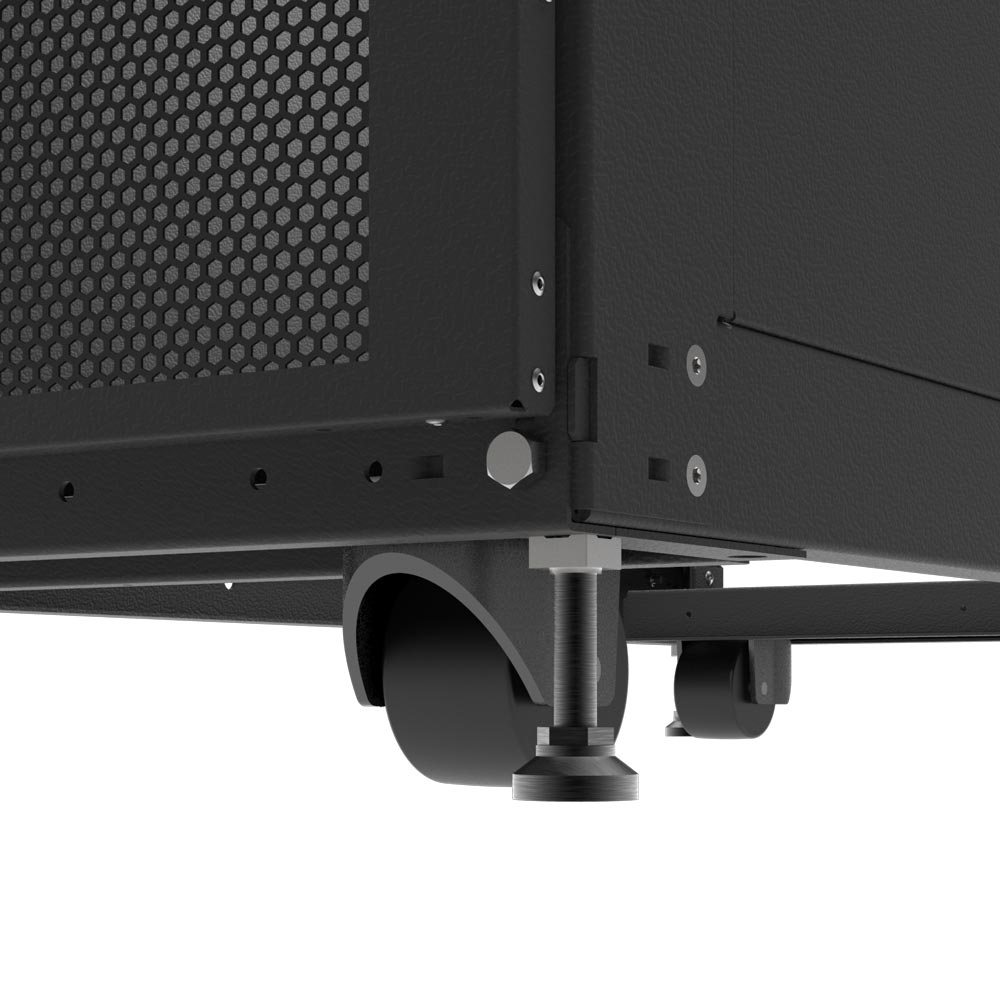 Casters & Leveling Feet Kit
Each rack comes built with recessed casters, allowing for clearance through a standard height doorway. The casters have the ability to move while fully populated with 3000lbs. Once the Data Center Server Cabinet is rolled into place, it can then be set on the leveling feet.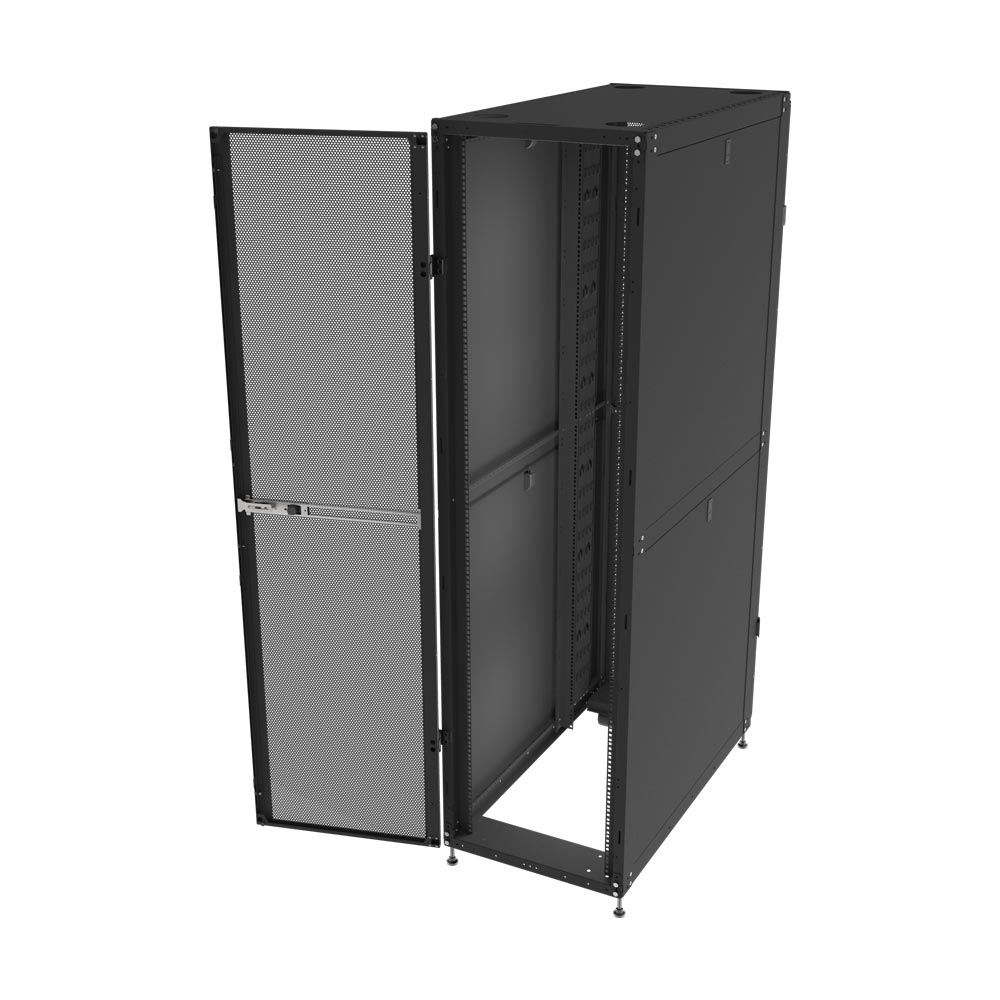 180° Doors
Tool-less install and reversible, all doors (front and rear) pivot 180°. Each door features a 4 point hook locking mechanism, a 1/4 turn swing handle latch and lock (multiple keys and master included). Doors and side panels use the same key.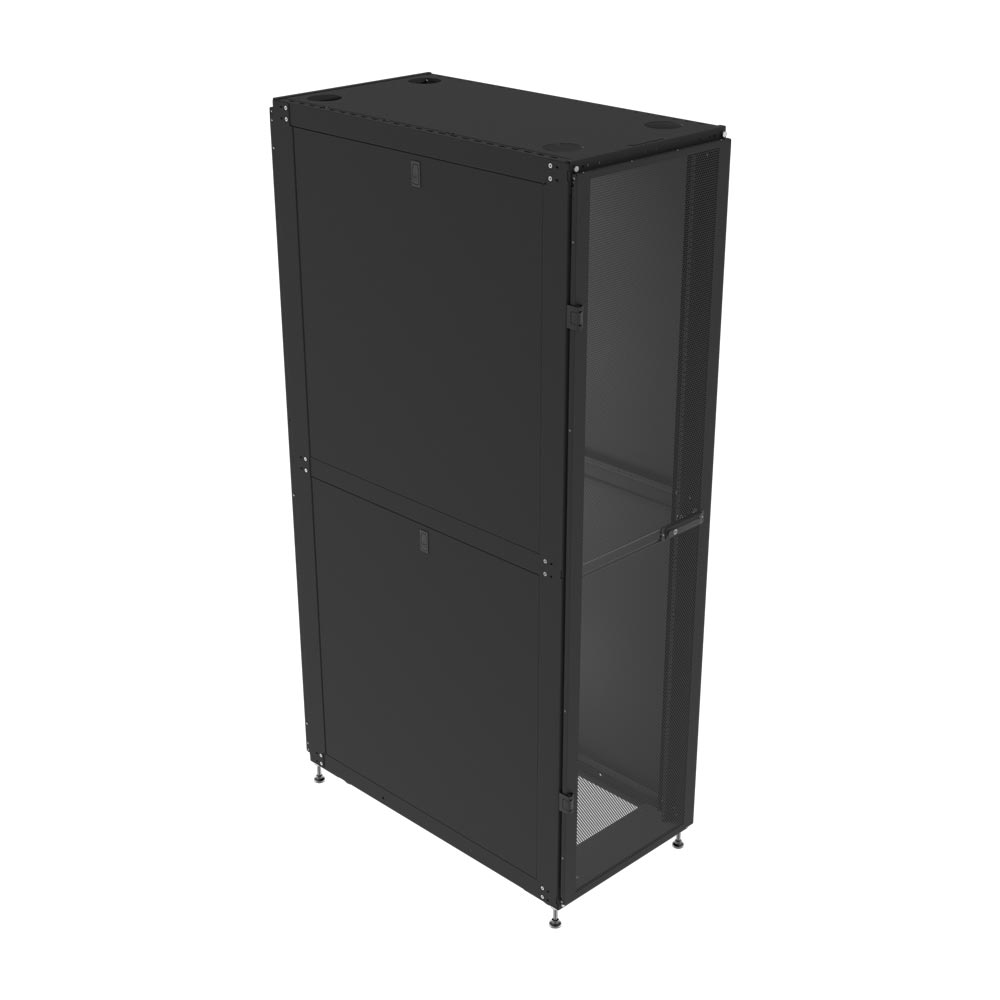 Half-Height Side Panels
Half-height side panels reduce size and weight for easy handling and accessibility to equipment. The side panels are lockable by utilizing a single key with the doors.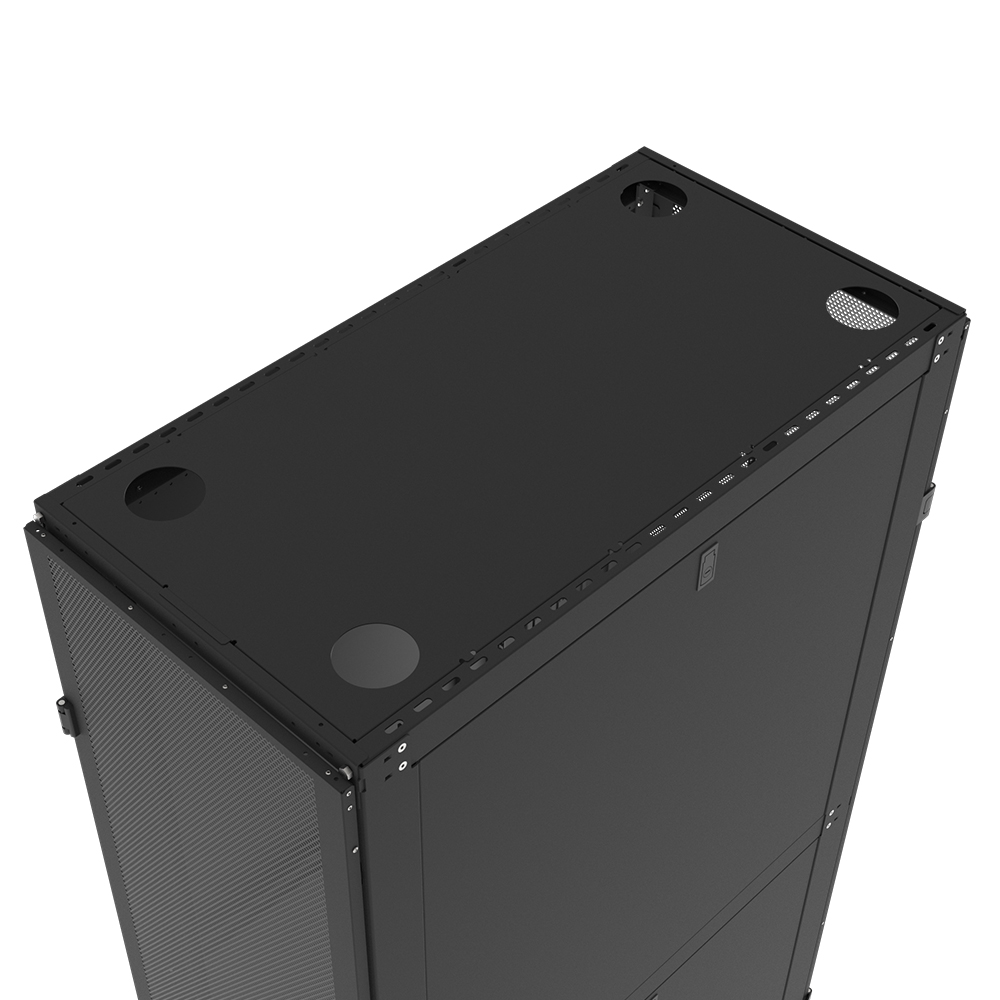 Rack Top
The rack top allows you to fight debris and dust while maintaining the ability to pass through cables. Featuring 4 round holes, the access openings allow you to route cables in the most efficient way possible.
Bulk Shipping Available
If you have more than three racks, bulk savings are available to save on shipping costs. For bulk shipping, the racks come partially assembled and ship 5 per pallet.
Note: Racks are only partially assembled for bulk shipping on a pallet.
---
More Information
Country of Manufacture
United States
Rack Type
4 Post Rack
Hole Type
Compatible with square, round and threaded holes
Rack Depth
148-8423: 42" Depth
148-8450: 48" Depth
148-8601: 48" Depth
Rack Height ( U Height)
42U-48U
Mounting Depth Range
Mounting depth adjustable 24" - 30" in 1" increments Mounting depth preset to 29
Rack Outside Dimensions
42U rack dimensions with casters: 79.75" H x 42" D x 24" W
48U rack dimensions with casters: 90.25" H x 48" D x 24" W
Rack Casters
Casters, leveling feet included
Rack Units
42-48
RoHS Compliant
Yes
TAA Compliant
Yes