Universal PC Wall Mount for Large Size Equipment (2.70in+)
Wall mount for PCs
Adjustable height for PCs up to 18" (457 mm)
50 lb (23 kgs) maximum weight capacity
Compatible with major OEMS such as Dell, HP, IBM and more
Compatible with most SFF PCs from Dell and HP
Mounts any PC to a wall, desk, or flat surface
Sheet rock anchors and adjustable equipment strap included
PC is easily removed for maintenance
Tower configuration available for server
Rack-To-Tower Installation:
If you need to mount a server, the mount can also be used for rack-to-tower installations, allowing you to mount the server on its side in a "tower" like configuration and save space. Designed to securely hold your server in place, this solution is a perfect alternative to rack mounting your server.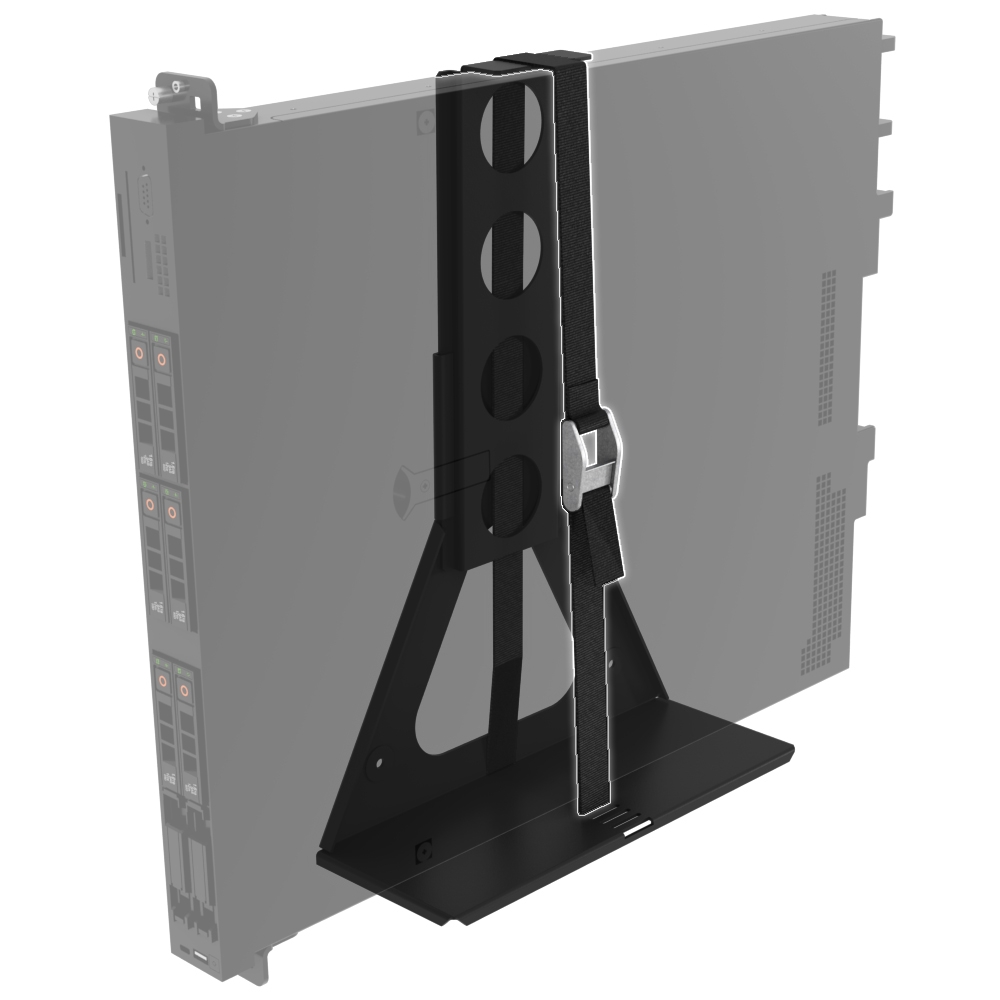 The RackSolutions PC Wall Mount allows you to easily mount a PC to a wall, desk, or any flat surface. Designed to be universal, the wall mount meets diverse mounting needs that arise in data centers. Our Adjustable Universal Tower PC Mount is compatible with PCs from Dell, HP, IBM, and more.
The mount's diverse compatibility range stretches to its physical design parameters, including an adjustable support for PCs ranging between 11" - 18" (279 - 457mm) in height. Computers with a depth of 10" (254 mm) or less will also fit on the mount's supportive tray. The mount's ability to meet a variety of size needs does not come at the expense of stability. For installation, all necessary hardware to safely attach the platform to the wall and mount any compatible PC on its tray is included. Hardware includes auger-style, drywall anchors and a nylon strap to secure devices on the mount.
More Information
Weight (lbs)
4.600000
Country of Manufacture
United States
Included Hardware
WALL-MOUNT-PC

Assembly Hardware:
(1) Base
(1) Slide
(1) Strap
(4) Drywall Anchors with Screws
(2) Foam Strips

Dell Part Number
WALL-MOUNT-PC - A0361857
For a full list of Dell SKUs setup in the Dell ordering system visit our Dell SKU page.
Synnex Part Number
WALL-MOUNT-PC - 4614591
Ingram Part Number
WALL-MOUNT-PC - D34830
Compatibility
Universal
Assembly Notes
Phillips head screwdriver required
Assembly Notes
Phillips head screwdriver required
Weight Capacity
50 lbs (23 kgs)

Dimensions
Equipment Height: Minimum 11" (279 mm)
Maximum 18" (457 mm) Equipment Depth: 10" (254 mm) Equipment Width: Any reasonable width
Rack Type
Wall Mount
Finish
Black, textured powder coat
Tech Notes
Total shear strength: 540 lbs (vertical)
Total pullout strength: 160 lbs (horizontal)
RoHS Compliant
Yes
TAA Compliant
Yes