Is Cable Management Important For Server Racks?
An important element of data centers is the cabling and supporting cable management system, which is sometimes overlooked upon. Cable management allows you to easily access cables, troubleshoot the network and hardware, and perform basic tasks. Selecting the right cable management accessories will have a huge impact on the airflow, cooling efficiency, and system performance. 
By properly managing your server rack cables, you will also be able to increase availability for maintenance and scalability. Once your cables are organized, you can locate where the cables are plugged and easily prevent the cords from overlapping.
What are the Benefits of Cable Management?
Tangled cables are frustrating to deal with, especially if you're wasting a lot of time untangling them. For large data centers and home offices, cable managemenhttps://www.racksolutions.com/cable-management-button-mount.htmlt is important if you want to create a clean, structured, and visually appealing work environment. Benefits of server rack cable management include: 
Easier access to cables 

Prevent cable sparks or fires

Troubleshooting hardware

Improve system performance 

Improve maintenance and serviceability 

Increase scalability

Increase airflow and cooling efficiency 

Reduce signal interference 

Reduce downtime and outages

Reduce cable damage from improper bending, movement, or sharp edges

Reduce human error

Cost-effective solution in the long run
How Do You Organize Cables in a Server Rack?
Now that you have a better understanding of cable management benefits, here are some tips to consider for cabling. To efficiently manage cables in your server rack, you need to: 
Plan Appropriately

– To ensure that you have a smooth server rack management process, you can consult a professional cabling contractor for them to design, develop and implement data cable installation. They will ensure that all cables are tested, documented, and labeled correctly. 

Determine Where Your Cables Will Be Routed

– It's ideal to have an idea of where your cables will be routed before installation and organization. If you incorrectly connect cables before you decide to organize them, you will have to remove them all and restart. You will also need to determine if the cables will enter from the top or bottom of the server rack. Once you do, then you need to plan the routes to separate power and data cables. 

Color Code

– Color coding your cables will help you identify and differentiate between all of the cables in your rack. 

Label Both Ends of Your Cables – Other than color coding your cables, you can also label the ends of your cables to locate where exactly they go and what they are being used for.

Route Cables Through The Rack Side – Cable management bars are used to route all the cables through the side of the rack. This will help you keep the cables out of the way of things that need to be accessed.

Route and Retain Cables

– The cables need to be protected at points where they might come across sharp edges or heated areas. You can use cable ties and cable managers, which helps to prevent cable damage.

Secure Cables

– Cables and connectors should be secured to prevent excessive movement and to provide strain relief of critical points.

Prevent Heating Issues

– Restrained airflow can cause heating issues that will shorten your device's expected lifespan. By improving the cable management to increase airflow and cooling efficiency, you can be sure that your equipment will last longer.

Document and Maintain Organization

– Documenting the complete infrastructure including diagrams, cable types, patching information, and cable counts is important. Documenting the complete infrastructure including diagrams, cable types, patching information, and cable counts is important to have for your reference.

Plan to Expand

– While you're developing a detailed plan for equipment placement before installation, you need to consider plans for future expansion. By planning your server rack layout and equipment location, you will be able to have a good idea of how to manage your cables as your infrastructure grows.
What Equipment Can You Use for Cable Management? 
Cable management accessories are designed to handle small or large bundles of cables for networking and telecommunications equipment mounted in a server rack. Here are 7 essential server rack cable management accessories that you may find useful: 
1. Horizontal Cable Manager – You can use a horizontal cable manager to organize and secure cables within a server rack. Essentially, they are hollow tubes with openings to thread cables through. Horizontal cable managers are positioned in between two units of IT equipment. This allows cables to be routed from vertical cable managers on the sides of a rack. It will also be routed into the equipment above and below the horizontal cable managers. Furthermore, the cables are less likely to become tangled, so it is easier to insert and remove when needed.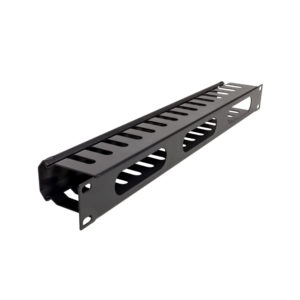 2. Vertical Cable Manager –  Even though it looks the same as horizontal cable managers, vertical cable managers are designed to be vertically mounted on a rack. You can mount them on either side of a compatible rack since they have openings on both sides for entry and exit, similar to a horizontal cable manager. This allows you to organize, manage, and protect network cabling in telecommunication rooms and data centers. In comparison to horizontal cable managers, you will have to use zip ties or VELCRO® cinch straps to ensure that the cables are in place. For your convenience, all of our vertical cable management bars are designed with areas to attach zip ties and VELCRO® straps when securing cables or a group of cables in the bar.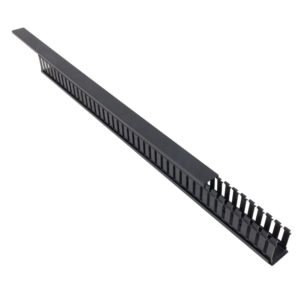 3. Cable Management Arm –  If you are connecting cables to equipment on a sliding rail or shelf, you should use a cable management arm. A cable management arm is recommended for most sliding equipment (rack shelves and rails) because they help manage cable slack when extending and retracting. It allows you to efficiently route cables so that there is adequate slack for the rail or shelf, no matter how far it extends. You can read more about the benefits of using a cable management arm here.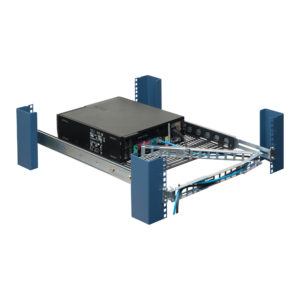 4. Patch Cable Organizer – Patch cable organizers are similar to horizontal cable managers, but they are specifically used to manage excess cables. They often have cables running to one another in a close distance. Instead of buying 6 inch networking cables, a patch panel organizer ensures that you can efficiently organize and hide your excess cabling.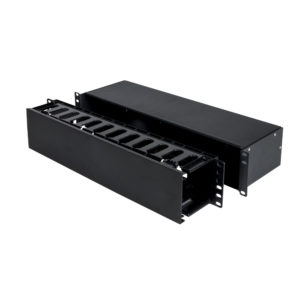 5. Offset Cable Tie Bars – Another alternative to patch cable organizers is an offset cable tie bar. They help manage excess cables, but are specifically used to distribute weight more effectively. You can place these bars in between IT equipment while only using ⅓ of a rack U space. The L shaped flanges are also designed for tying down cables without having to wrap them up and risk cable damage. Additionally, the holes all across the cable tie bar are great for VELCRO® straps, as they are essential for keeping the cables organized.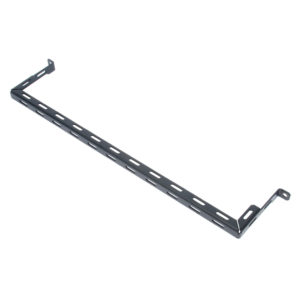 6. Cable Management Trays – A cable management tray will be beneficial if you need to route large bundles of cables across a rack, while not necessarily needing to connect them to equipment in that rack. Unlike horizontal cable management bars, a cable tray does not have openings at the top and bottom to route cables through. Instead, the cable tray acts like a bridge to carry cables across the rack. They are also designed with holes to easily secure cables onto the tray with zip ties and VELCRO® straps.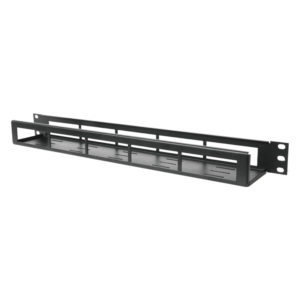 7. VELCRO® Cinch Strap –  Compared to zip ties, VELCRO® straps are a quick solution for cord management, bundling, and securing your cables. This hook-and-loop strap is reusable, strong, and cannot be accidentally over-tightened to the extent of damaging your cables.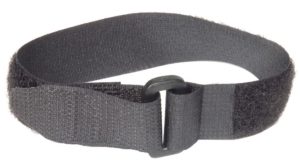 Do You Need Cable Management Accessories? 
Effective server rack management helps to improve physical appearance, cable traceability, airflow, cooling efficiency and troubleshooting time while eliminating the chance for human error. In the long run, cable management will definitely save you money. Your business will be able to run more smoothly, have fewer outages, and less maintenance and repairs.
If you need cable management accessories to purchase for your data center or home office, feel free to contact us for more information. We provide a variety of cable management solutions that will help you manage cables and optimize the airflow throughout your rack to ensure an organized operating environment for your equipment. With our high-quality, in house manufacturing, you can be confident that you are buying the best equipment possible for your setup!
Summary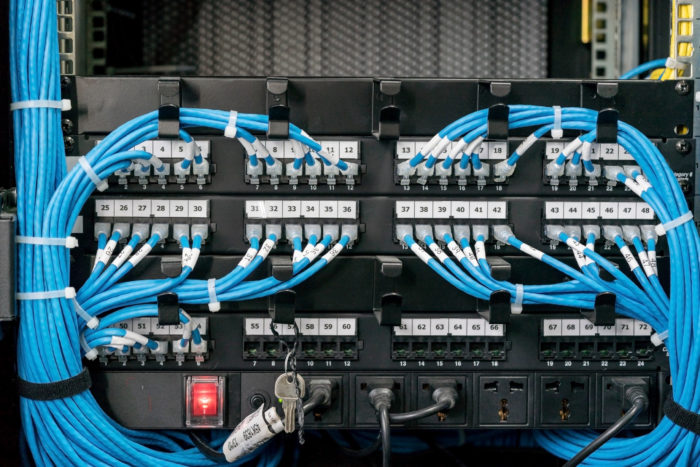 Article Name
Is Cable Management Important For Server Racks?
Description
Server rack cable management is important because it allows you to easily access cables, troubleshoot the network and hardware, and perform basic tasks.
Author
Publisher Name
Publisher Logo