12U rack for Server, PC, NAS
Adjustable depth from 19"-29" (483-737 mm)
Compatible with Dell, HP, IBM, Apple
Universal square holes
Lock position is available for padlock
Secure, Portable, and Adjustable
Optional heavy duty caster and handles (600 lbs capacity)
Optional front and rear covers
Casters and labeled U Markings included
Covers can be secured with separate padlock
---
RackSolutions 12U Portable Server Rack is engineered to provide individuals with mobility and accessibility. Our portable rack is compatible with any standard 19" rack equipment including Dell, HP, IMB, and Apple servers. The self-squaring design features an adjustable mounting depth of 19"-29", 450 lbs maximum capacity, and includes ball-bearing casters.
Prevent unwanted access and protect your equipment with lockable door covers. The covers are designed with 63% perforation required by OEM manufacturers. The front and rear door covers can be secured with a padlock for additional security. Padlock is not included and must be purchased separately. The padlock must have a 3/16" diameter shackle with 1/2" horizontal clearance. The slot for the optional lock is located on the bottom piece of the rack. When attaching the door covers, the padlock must be looped under and over the 2 holes (slots).
Constructed with 16 GA and 13 GA steel and finished with a black powder coat, our portable server rack is flat-packed for easy storage. The cabinet top also supports monitors, printers, and other equipment. The sides are casted with louvers to improve cooling. Optional heavy duty handles on the side, front, and rear covers. All necessary tools and hardware are included for assembly. Our 12U portable server racks have approximately 20 minutes of assembly time.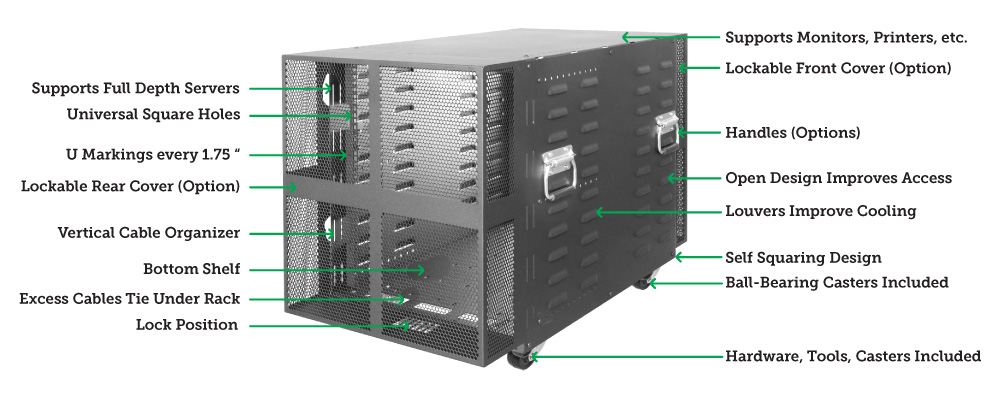 More Information
Weight (lbs)
65.000000
Country of Manufacture
United States
Included Hardware
RACK-117-12

Metal Components:

(1) Top Panel
(1) Bottom Panel
(1) Left Side Panel
(1) Right Side Panel
(1) Rear Left Square Hole Upright
(1) Rear Right Square Hole Upright

Assembly Hardware:

(4) Casters, Swivel
(28) Screw, 1/4-20, Black
(18) Screw, 10-32, Silver
(18) Nuts, 10-32
(1) Hex Key, Long - For Black Screws

Rack Type
4 Post Rack, Enclosed
Hole Type
3/8" EIA square holes
Rack Internal Width
EIA 19" Standard Rack
Dell Part Number
RACK-117-12 - A8512541
RACK-117-COVERS - A1263898
RACK-117-MOBILE-KIT - A1470577
For a full list of Dell SKUs setup in the Dell ordering system visit our Dell SKU page.
Synnex Part Number
RACK-117-MOBILE-KIT - 4614654 RACK-117-COVERS - 4614607 106-2378 - 5178594 RACK-117-12 - 4614606
Ingram Part Number
RACK-117-MOBILE-KIT - N54325 RACK-117-COVERS - N54324 106-2378 - TW1726 RACK-117-12 - D34826
Tech Notes
Unit weight: 65 lbs
Rack Height ( U Height)
12U
Finish
Black, textured powder coat
Rack Post Shape
L-Form (opens in a new tab)
Assembly Notes
All required tools and hardware are included
Assembly time: approximately 20 minutes
Mounting Depth Range
19" - 29" (483 - 737 mm)
Adjustable in 1" increments (25 mm)
Rack Doors
Optional covers have a 63% perforation required by all OEM equipment manufacturers.
The non-hinged covers are easily secured with a thumbscrew.
The covers can be secured with a padlock if additional security is required (padlock is not included).
NOTE: Padlock must have 3/16" diameter shackle with 1/2" horizontal clearance.
Recommended product: MasterLock #105 (opens in a new tab)
Rack Outside Dimensions
H x W x D
Standard caster, without covers: 25" x 21.5" x 31" (635 x 546 x 787 mm)
H x W x D
Mobile kit with covers: 26.6" x 22.2 x 40" (674 x 564 x 1016 mm)
Rack Casters
Standard casters included
Optional, heavy duty casters
Rack Ventilation
63% perforation on covers
Louvered sides
Rack Sides
Louvered, non-removable
RoHS Compliant
Yes
TAA Compliant
Yes