VEX Robotics Utility Rack
Prevent disorganized robotics classrooms
Perfect for storing your VEX competition classroom kits
Steel counter top works as a robust classroom work surface
Self-squaring frame for quick and easy assembly
Constructed from high quality 16 GA steel
3 sets of rails designed to hold 6 VEX IQ storage bins
1 shelf provides additional storage and customization
Rails allow bins to easily slide in and out of the rack
Locking casters provide the rack with added mobility for quick classroom reconfiguration
Uses VEX hole patterns throughout the rack align with EDR and IQ parts for creative solutions
Shelves and rails can be adjusted in 2" increments
Shelf's tie down points allow customization like mounting battery chargers
See "Additional Information" for Tech Specs.


The VEX Utility Rack prevents disorganized, messy classrooms and creates a clutter-free work environment. The rack was designed in collaboration with our sister company, VEX Robotics (opens in a new tab), to give students, teachers, and coaches the ability to organize, store, and move supplies with ease by providing an all-in-one solution for robotics education classrooms.
The utility rack features an integrated steel countertop to work as a robust classroom work surface and includes 3 sets of rails for storing VEX IQ storage bins and 1 customizable shelf. The shelf is extra wide, allowing enough space to store any extra VEX product supplies you might need, including 2 additional storage bins. The shelf also features tie-down points for custom configurations for organizing VEX robotics parts, such as VEX IQ battery charging stations. The utility rack shelves sturdy 16 gauge steel construction features a 200 lb weight capacity, making it more than capable of handling all of your classroom equipment. The VEX Utility Rack from RackSolutions is the perfect solution for classrooms and teams using VEX equipment.
See the relationship between VEX Robotics and RackSolutions. (opens in a new tab)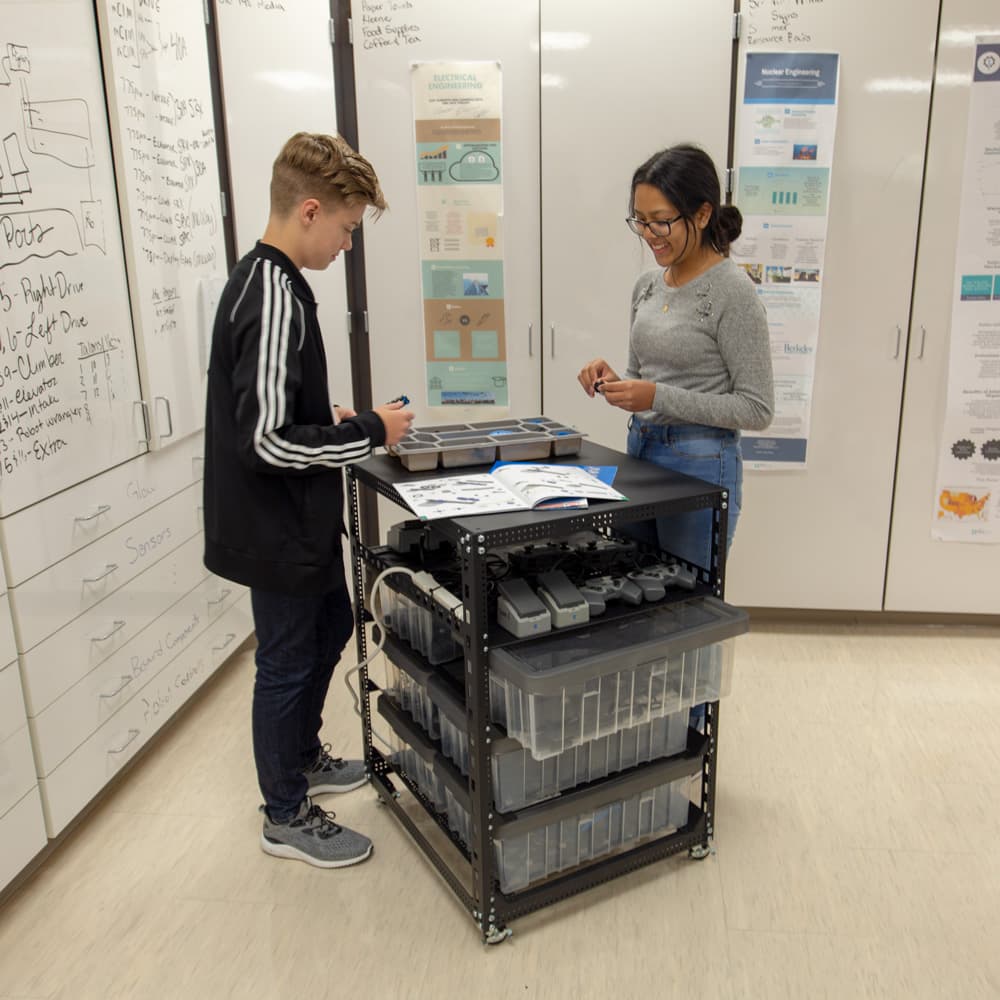 Classroom Storage
Designed with 3 sets of rails to hold 6 VEX IQ storage bins and 1 additional shelf for storage and customization this Rack is perfect for storing all of the VEX competition and classroom kits.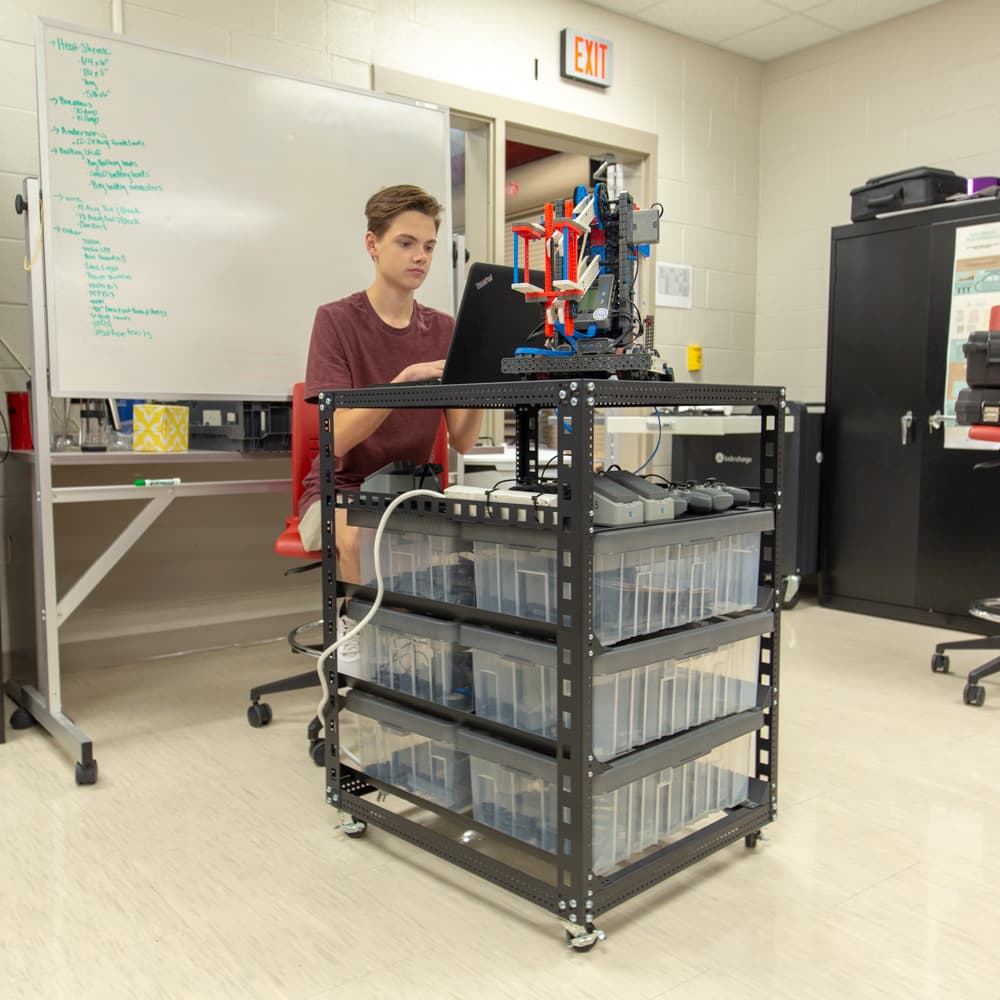 Moveable Workstation
Locking casters provide this rack with added mobility around the classroom while the steel countertop can work as a robust classroom surface.
More Information

| | |
| --- | --- |
| Country of Manufacture | United States |
| Rack Type | Open Frame |
| Tech Notes | Material: 16 GA steel |
| Finish | Black, Textured Powder Coat |
| Rack Outside Dimensions | Height: 36 in Depth: 27 in Width: 23.5 in |
| Rack Casters | Included |
| RoHS Compliant | Yes |
| TAA Compliant | Yes |