Vertical Wall Mount Rack 1U - 4U
Vertical Rack for 19 Inch Network Equipment
Mounts server and network equipment flush against the wall to save space
Low-profile vertical rack perfect for when a server rack is too much
Great for mounting servers, network switches, routers, patch panels, KVM switches, and power strips
Also mounts under a desk or to the ceiling. 
Equipment mounts to standard EIA universal, square mounting holes
Installation hardware, sheetrock anchors, and cage nuts included
Built to Last
Proudly made in Texas from high-quality 16-Gauge cold-rolled steel
200 lb weight capacity when mounted on 16" wooden center studs 35 - 105 lb weight capacity (depending on size) when mounted to dry wall using included sheetrock anchors
See "Additional Information" for Tech Specs.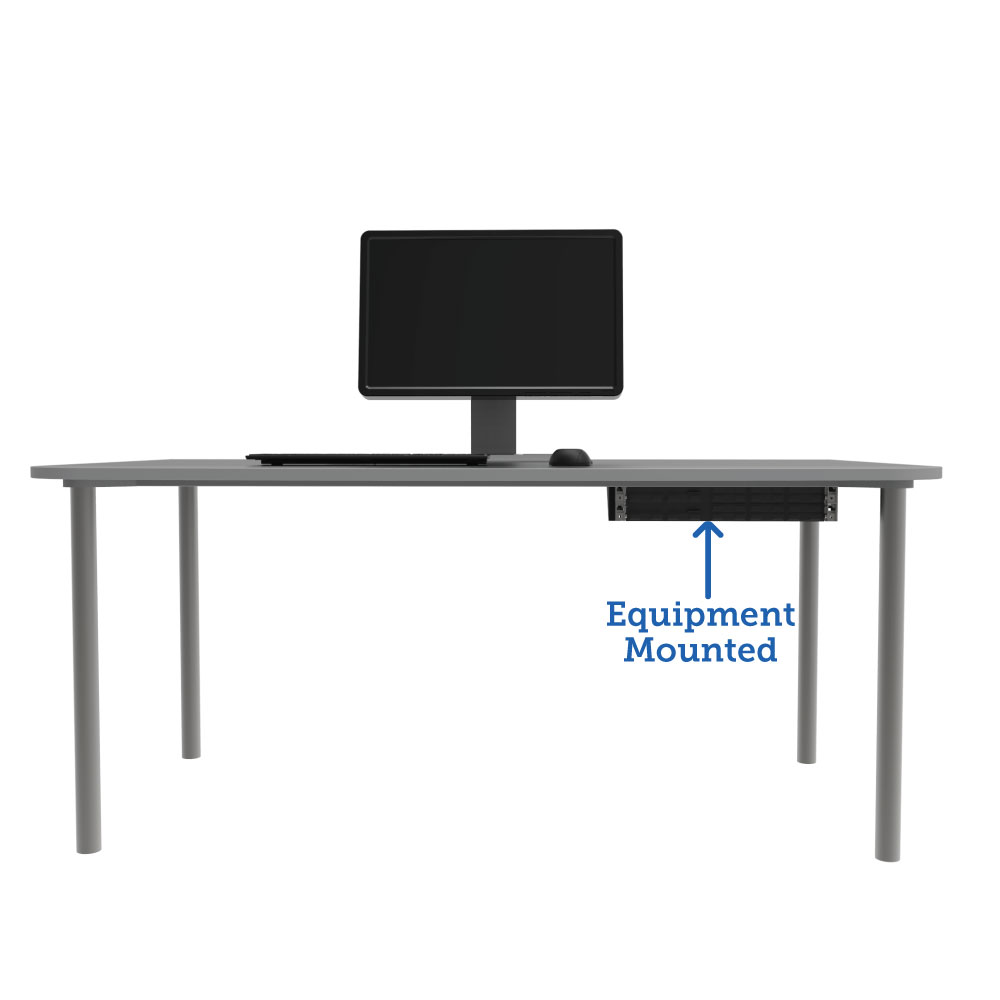 Mount It on a Wall or Under a Desk
The vertical wall mount rack's low-profile flush mounts networking equipment against the wall can hide it under a desk.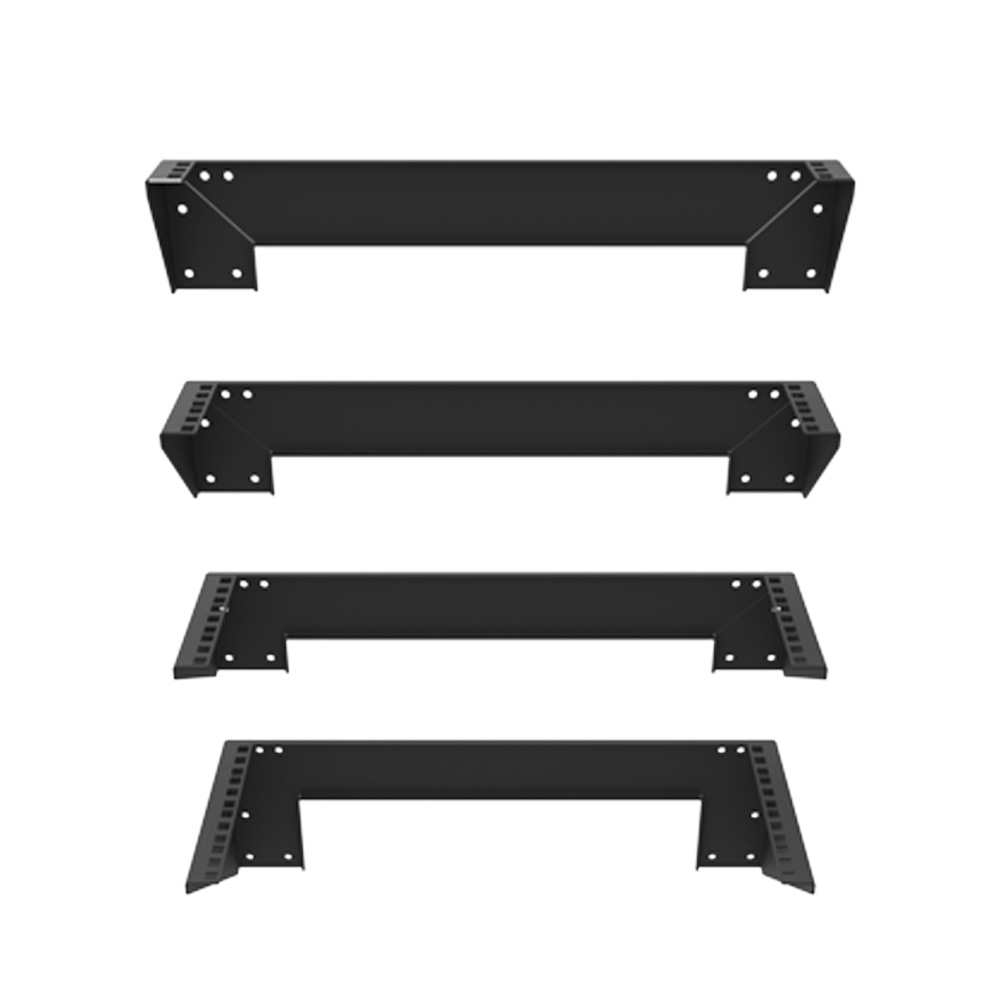 1U - 4U Sizes Available
1U - 4U vertical network racks available for rack mounting 19-inch server and telecommunications equipment including heavy servers, patch panels, routers, and network switches.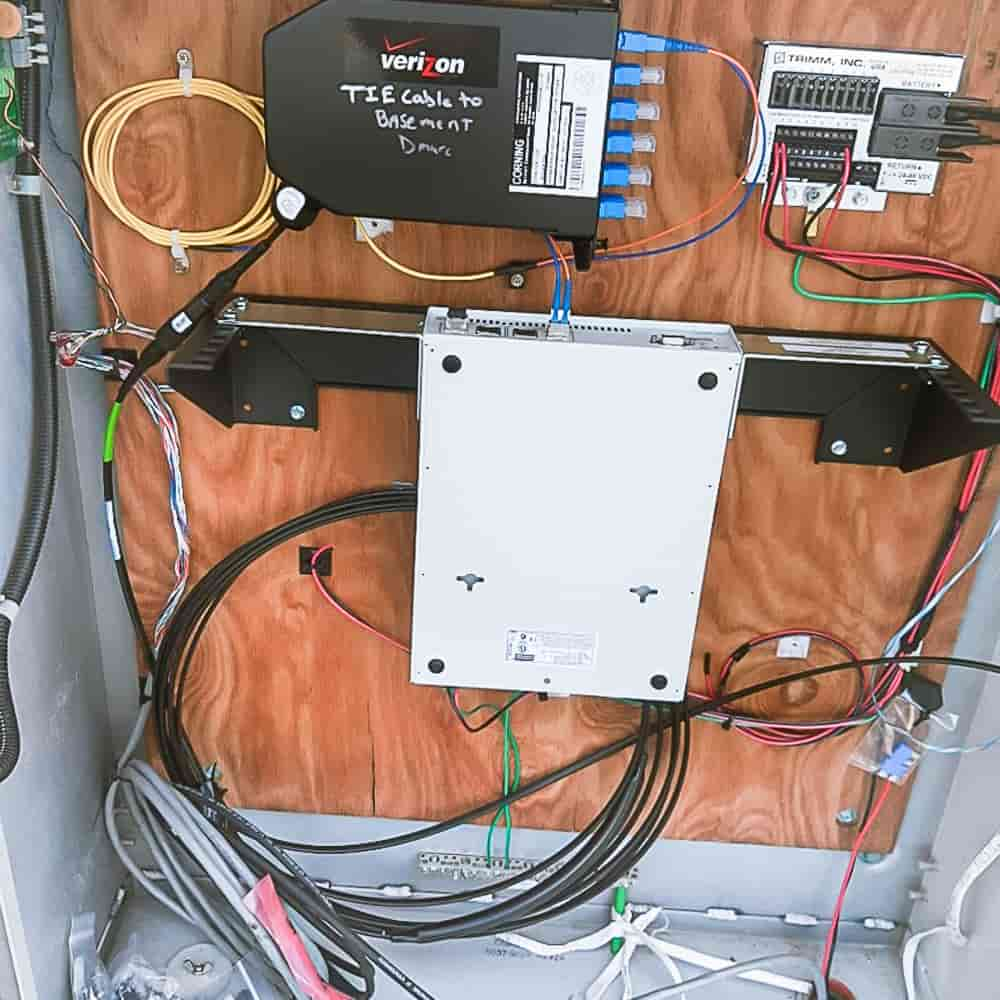 Installation Example
This is not only an example of how our vertical wall mount can be utilized in a business setting but how you can add reducer brackets, converters or adapters that allow you to mount all types of equipment on it.
Our rack mount bracket is a perfect solution for small or home offices. In environments where a server rack is too much or there's just not enough room, this wall mount can flush mount your 19" equipment vertically to the wall or horizontally to the bottom of a desk. With up to a 200lb load capacity, can handle everything from switches and patch panels to heavy servers. Any equipment mounted horizontally must be attached with two brackets so that there are four areas of support. This vertical wall mount rack works with standard 19" server, networking, and telecommunications equipment from Dell, HP, IBM, Apple, Sun, Intel, Cisco, Juniper, 3Com and more.
More Information
Country of Manufacture
United States
Included Hardware
1URACK-119 | 2URACK-119 | 3URACK-119 | 119-5028

Assembly Hardware:
Rack Mount Hardware:

(4) 10-32 x .500 Pan Head Screws
(4) 12-24 x .500 Pan Head Screws
(4) 12-24 Square Nuts
(4) 12-24 Cage Nuts

Drywall Anchor Hardware:

(6) #8 x 1.250" Anchor Screws
(6) Drywall Anchors

Rack Type
Wall Mount
Rack Internal Width
EIA 19" Standard Rack
Dell Part Number
119-5028 - A8930307
1URACK-119 - A0414987
2URACK-119 - A0646538
3URACK-119 - A0586373
For a full list of Dell SKUs setup in the Dell ordering system visit our Dell SKU page.
Synnex Part Number
1URACK-119 - 4614587 2URACK-119 - 4614588 3URACK-119 - 4614589 119-5028 - 4614590
Ingram Part Number
1URACK-119 - E93178 2URACK-119 - E93179 3URACK-119 - E93180 119-5028 - 4F3453
Tech Notes
Note: Metal has a weight capacity of 200 lbs. The weight capacity with the included drywall anchors are as followed: 1URACK-119: Weight Capacity of 35 lbs (16 kg) 2URACK-119: Weight Capacity of 70 lbs (32 kg) 3URACK-119: Weight Capacity of 105 lbs (48 kg) 119-5028 (4U):Weight Capacity of 105 lbs (48 kg) Load capacity is limited by fasteners. For increased load capacity up to 200 lbs contact a professional engineer for mounting recommendations.
Rack Height ( U Height)
1U - 4U
Finish
Black, textured powder coat
Assembly Notes
Phillips head screwdriver required
RoHS Compliant
Yes
TAA Compliant
Yes
Dimensions
(H x W x D)
1U: 4.0 x 19.8 x 2.0" (102 x 503 x 51 mm)
2U: 4.0 x 19.8 x 4.5" (102 x 503 x 114 mm)
3U: 5.9 x 19.8 x 5.6" (150 x 503 x 142 mm)
4U: 6 x 19.9 x 7.5" (152 x 506 x 191 mm)