1U-7U Conversion Bracket 4-Pack (3in Uprights)
Mount 4Post equipment in 2Post racks
Creates a 4Post rack in a 2Post rack
Only convert the space you need
1U, 2U, 3U, 4U, 5U and 7U size brackets available
Compatible with many Dell, HP, IBM, other equipment
Preferred 2Post mount by OEM manufacturers
Weight capacity: 50 lbs per rack unit
Hardware Included
Compatible with most 2Post Racks
Works with standard EIA 19" racks or 23" telecommunications racks
Compatible with 3" uprights
Quick and simple installation
Note: The server chassis + rail kit width can not exceed 17.72" to be compatible.
In order to ensure that your equipment will mount properly using the 2Post Conversion Brackets, you must measure the width of your device's chassis (with the mounting rails installed) to see if the overall width exceeds 17.72". If it does, the Conversion Brackets may not work with your equipment. See illustration above for an example of how to measure the overall width.
The RackSolutions 2 Post, Center Mount Conversion, 1U-7U server rack mounting kits allow users to create both 4 post cabinets on a 2 post rack, or mount 4 post equipment on 2 post racks. For 4 post cabinets on a 2 post rack, the equipment is designed for quick and easy assembly and installation. It is also easy to customize the setup for server rack cabinets, allowing users to convert only the space they need, instead of engaging in a larger project than necessary. When the assembly is configured to handle 4 post equipment on 2 post racks, it is compatible with 3" uprights and Dell, HP, IBM and other major server types. This setup is preferred by most leading OEM manufacturers. The 2 Post, Center Mount Conversion includes a number of features to help users easily create a server rack solution that meets their specific needs. At its simplest, the assembly can be set up to support a single, rackmount server, allowing the user to customize the rack's location to match where the server needs to go. However, solid steel conversion brackets equipped with coupling capabilities let users combine the brackets to support multiple rackmount servers or create an entire server cabinet.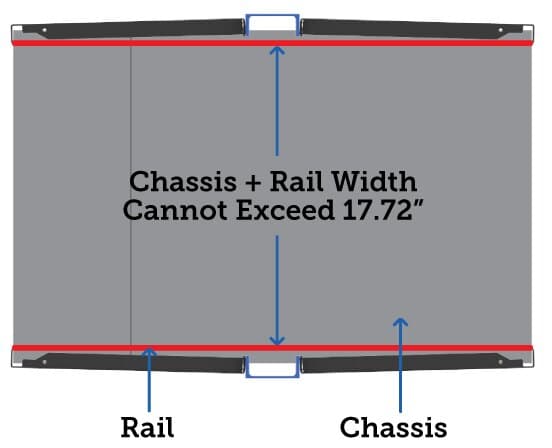 Compatible with Most Servers
The server chassis when attached to the rail kit can not exceed 17.72" to be compatible.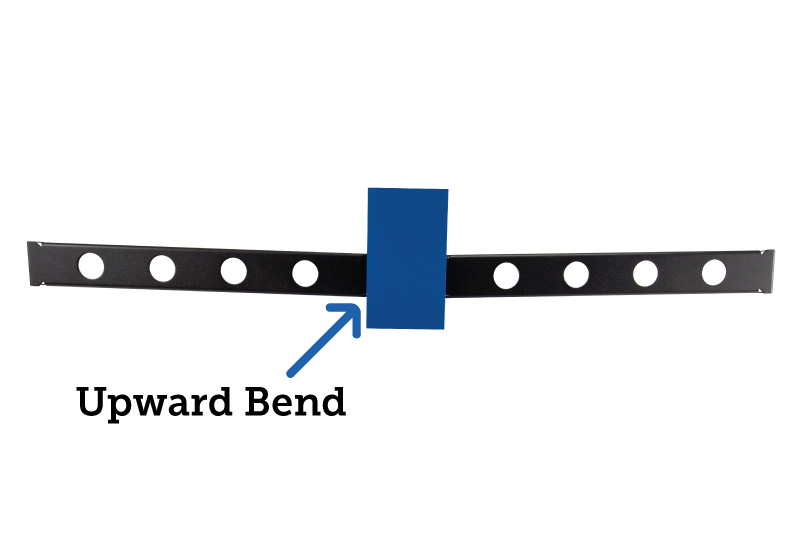 Upward Bend in 1U Conversion Kit
Notice in the 1U conversion kit that there is an upward bend to increase the load strength of the bracket.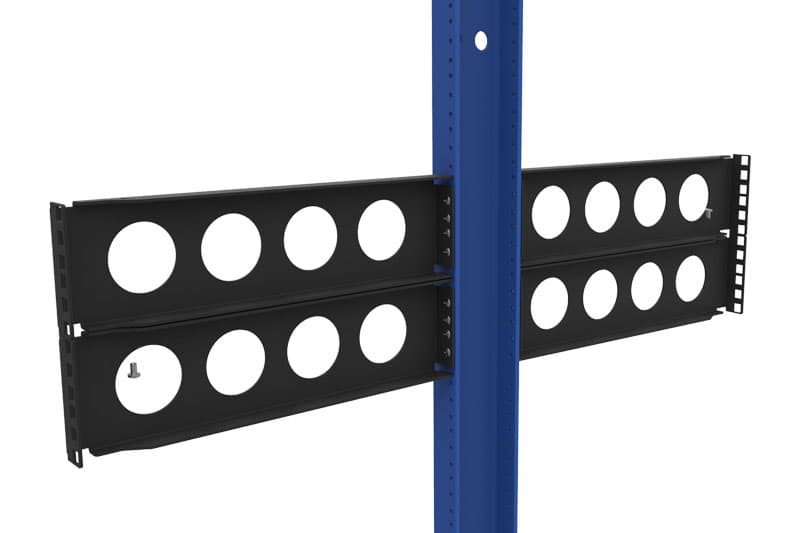 Combine Multiple Conversion Kits
Hardware is included to couple conversion brackets together, if using multiple sizes in the same rack.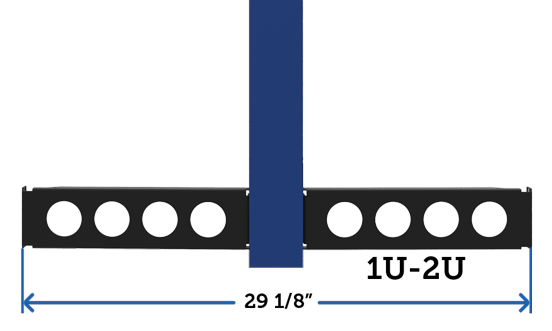 Multiple Size Options
Chose the amount of U space that needs to be converted to 4 post mounting by picking between the 1U-7U size options.
More Information
Country of Manufacture
United States
Dell Part Number
101-6883 - AB540940
2POST-2UKIT - A0421207
2POST-4UKIT - A0532626
2POST-5UKIT - A0558741
2POST-7UKIT - A8094108
For a full list of Dell SKUs setup in the Dell ordering system visit our Dell SKU page.
Synnex Part Number
2POST-2UKIT - 4614576
2POST-3UKIT - 4614577
2POST-4UKIT - 4614578
2POST-5UKIT - 4614579
2POST-7UKIT - 4614580
Ingram Part Number
101-6883 - 7BB560
2POST-2UKIT - 870984
2POST-3UKIT - 870939
2POST-4UKIT - 870957
2POST-5UKIT - 870975
2POST-7UKIT - 870976
Finish
Black, powder coated
Rack Units
1U, 2U, 3U, 4U, 5U or 7U
Material Type
Solid steel construction
Included Hardware
101-6883

Kit Contents:

(2) Left 1U Conversion Brackets (13" Long)
(2) Right 1U Conversion Brackets (13" Long)

Rack Hardware Kit:

(9) 10-32 Phillips Head Screws
(9) 12-24 Phillips Head Screws
(9) M6 Phillips Head Screws

Bracket Hardware Kit:

(13) 12-24 Phillips Head Screws
(13) 12-24 Cage Nut

2POST-2UKIT | 2POST-3UKIT | 2POST-4UKIT | 2POST-5UKIT | 2POST-7UKIT

Kit Contents:

(2) Left Conversion Brackets
(2) Right Conversion Brackets

Bracket to Rack Hardware Kit:

(16) 12-24 Slotted Hex Bolts

Equipment Install Hardware Kit:

(10) M6x0.1mm Pan Head Screws
(12) M6x0.1mm Cage Nut

Assembly Notes
This 2Post Conversion kit creates a standard depth 4Post rack.
Equipment designed for square holes will typically install without issues.
Use the provided cage nuts and screws when threaded holes are required. Part Number 2UBRK-000C 2U tall x 12.95" deep. 2Post conversion bracket for 3" uprights
RoHS Compliant
Yes
Hole Type
EIA standard square hole pattern for rack mount servers
Bracket Dimensions
Rack Mounting Depth is 29 1/8" deep for 3 inch 2-Post Racks
Height depends on U size
TAA Compliant
Yes